Anax
Last Updated: April 9, 2022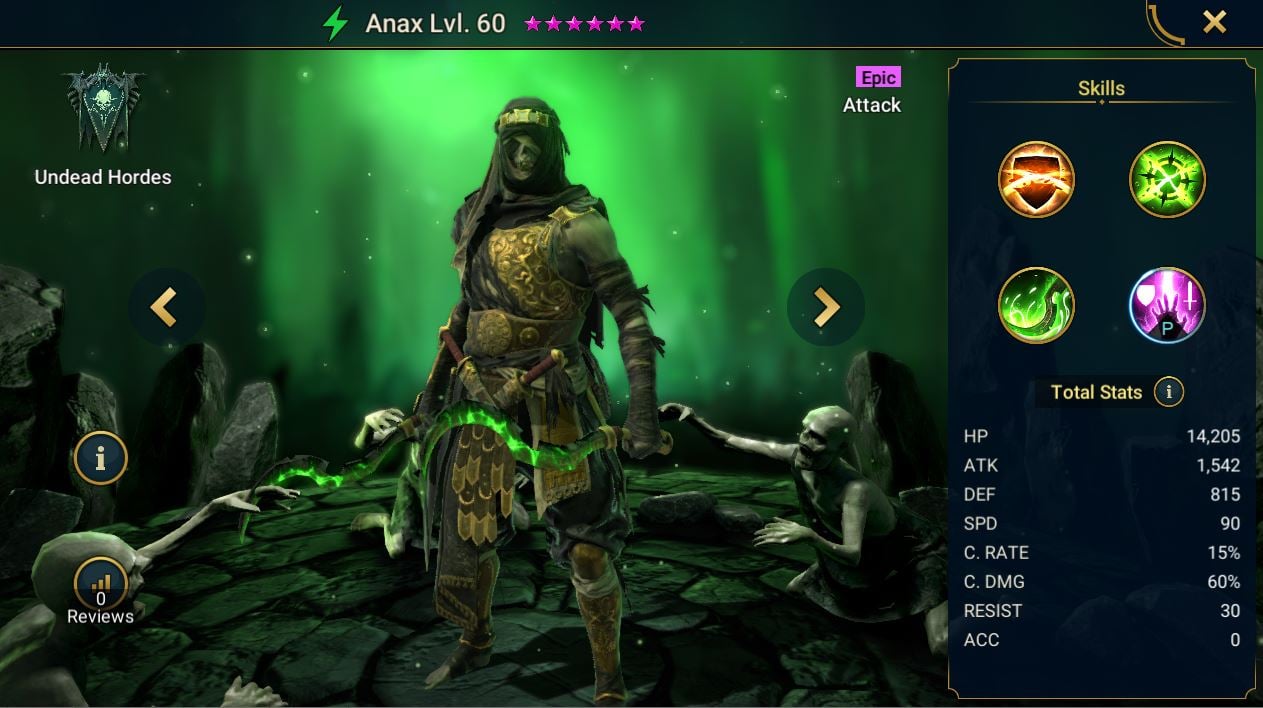 Champion Overall Rating:

3.5
Key Areas
| | |
| --- | --- |
| Arena Def: | 3 |
| Arena Atk: | 4 |
| Clan Boss: | 9 |
| Hydra: | 5 |
| Doom Tower: | 6 |
Dungeons
| | |
| --- | --- |
| Spider: | 7 |
| Fire Knight: | 7 |
| Dragon: | 6 |
| Ice Golem: | 7 |
| Iron Twins: | 7 |
Faction Wars
Decrease Defense:
Damage:
Protection and Support:
| | |
| --- | --- |
| Magma Dragon: | 7 |
| Frost Spider: | 5 |
| Nether Spider: | 8 |
| Scarab King: | 3 |
| | |
| --- | --- |
| Eternal Dragon: | 6 |
| Celestial Griffin: | 7 |
| Dreadhorn: | 8 |
| Dark Fae: | 2 |
Anax
Aladin lived a shorter life than most people know. The love of his life Yasmine betrayed him secretly plotting with his genie to end his life but even a genie cannot genie his master one final wish, to live an eternal life. Aladin didnt realise that meant in the realms of the Undead. He changed his identity and went by the name of Anax, the gutter rat.
Anax is a Spirit affinity epic from the Undead Hordes. Anax was added to Raid Shadow legends in January 2021 in patch 3.20 and Anax offers a lot of strong single-target debuffs including decrease defence, decrease accuracy, poison, and weaken. This champion can be helpful anywhere except Arena however will not be the most useful against waves whilst getting to a boss. You will need to ensure you build Anax with strong accuracy to land these debuffs and have a good supporting cast around him. He is widely considered one of the best epics to use in Clan Boss block damage teams using champions like Roshcard the Tower, Demytha or Helicath to form the teams.
Be careful if trying to use him in Clanboss unkillable setups as his passive can trigger extra turns to throw him out of sync.
Piercing Shotels [ATK]
Attacks 1 enemy 2 times. Each hit has a 30% chance of placing a 60% [Decrease DEF] debuff for 2 turns.
Level 2: Damage +5%
Level 3: Damage +5%
Level 4: Damage +5%
Level 5: Buff/Debuff Chance +5%
Damage Rating
Multiplier: 3.2*ATKOverall Grading*: Godlike
Deathly Ichors [ATK] - 4 Turn Cooldown
Attacks 1 enemy 2 times. Each hit has a 75% chance of placing a 50% [Decrease ACC] debuff and a 5% [Poison] debuff for 3 turns.
Level 2: Damage +5%
Level 3: Damage +5%
Level 4: Buff/Debuff Chance +5%
Level 5: Buff/Debuff Chance +10%
Level 6: Buff/Debuff Chance +10%
Level 7: Cooldown -1
Damage Rating
Multiplier: 2.8*ATKOverall Grading*: Strong
Soul Feast [ATK] - 4 Turn Cooldown
Attacks 1 enemy. Has a 75% chance of placing a 25% [Weaken] debuff for 2 turns. Heals this champion by 50% of the damage inflicted.
Level 2: Damage +10%
Level 4: Buff/Debuff Chance +5%
Level 5: Buff/Debuff Chance +10%
Level 6: Buff/Debuff Chance +10%
Level 7: Cooldown -1
Damage Rating
Multiplier: 6*ATKOverall Grading*: Strong
Revenant (Passive) - 5 Turn Cooldown
Passive Effect:
Places a 60% [Increase DEF] buff on this champion for 2 turns when their HP drops below 75%.
Places a 50% [Increase ATK] buff on this Champion for 2 turns when their HP drops below 50%
Active Effect
Cooldown 5 Turns
Grants an extra turn when this Champion's HP drops below 10%
Offense
Defense
Support
Offense
Defense