Apothecary
Last Updated: May 22, 2023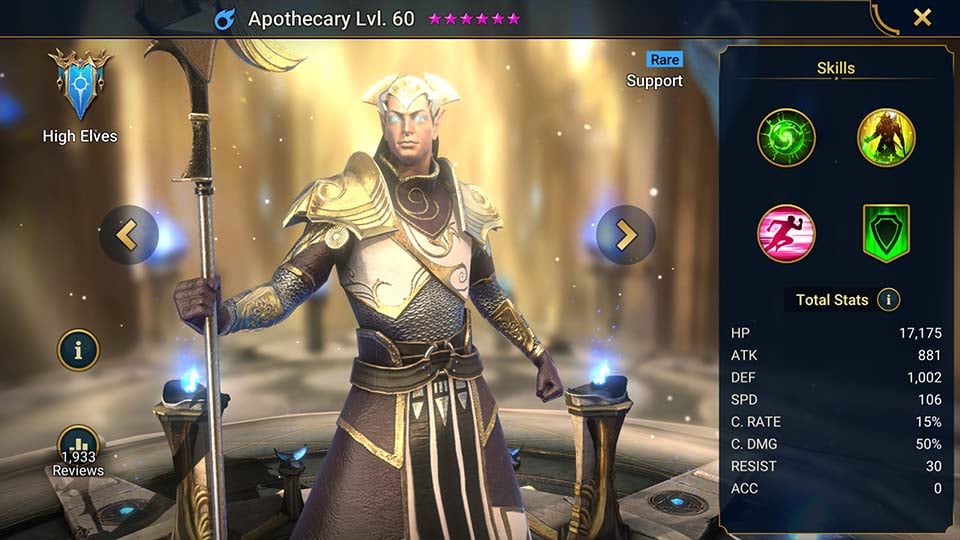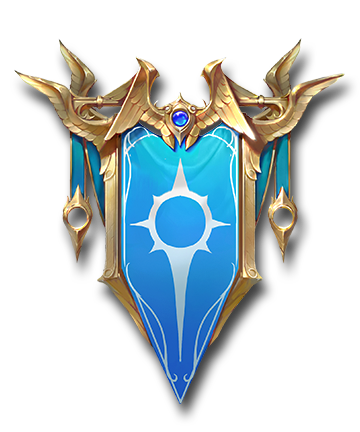 Champion Overall Rating:

3.5
Key Areas
| | |
| --- | --- |
| Arena Def: | |
| Arena Atk: | |
| Clan Boss: | |
| Hydra: | |
| Doom Tower: | |
Dungeons
| | |
| --- | --- |
| Spider: | |
| Fire Knight: | |
| Dragon: | |
| Ice Golem: | |
| Iron Twins: | |
| | |
| --- | --- |
| Magma Dragon: | |
| Frost Spider: | |
| Nether Spider: | |
| Scarab King: | |
| | |
| --- | --- |
| Eternal Dragon: | |
| Celestial Griffin: | |
| Dreadhorn: | |
| Dark Fae: | |
Damage:
Turn Meter Control:
Protection and Support:
Apothecary Overview
Often the go-to Rare for most players starting out in the game, Apothecary is a great champion to help you progress in the early through mid game aspects of Raid: Shadow Legends.
He brings three key components that you will need early one. Speed is one of the most important stats for most players and Apothecary brings an Increase Speed buff in addition to a Turn Meter boost. This allows him to be your fastest or 2nd fastest champion in arena, a Clan Boss champion to help you get more attacks in or to help you take down waves in the Dungeons. In addition he has a powerful single target heal that crit. Finally he has a triple attack A1 allowing you to run Giant Slayer mastery and maximise your Clan Boss Damage early.
Players will be looking for this champion very early into the game because he brings a lot to the team! He just is one of the best rares in his position! Absolute Beast!
You won't find a better rare to get your account going but at later stages of the game, Apothecary will be replaced by more powerful champions.
Apothecary Skills
Scatterbolt
Attacks 3 times at random.
Level 2: Damage +5%
Level 3: Damage +5%
Level 4: Damage +5%
Level 5: Damage +10%
Damage Rating
Multiplier: 1.4*ATKOverall Grading*: Weak
Soothing Chant - 3 Turn Cooldown
Heals a target ally by 35% HP. This Heal can be critical.
Level 2: Heal +5%
Level 3: Heal +5%
Level 4: Heal +5%
Level 5: Cooldown -1
Boon of Speed - 5 Turn Cooldown
Places a 30% Increase Speed buff on all allies for 2 turns. Fills the Turn Meter of all allies by 15%.
Level 2: Cooldown -1
Level 3: Cooldown -1
Aura
Increases Ally DEF in Dungeons by 21%
Apothecary PVE Masteries
Offense
Defense
Support
Offense
Defense
Support
Apothecary PVP Masteries
Offense
Defense
Support
Apothecary Blessings
We recommend you use these blessings for Apothecary.
Team Blessings should be limited to 1 per team. For more information, please read our Team Blessings guide
here
.
Clan Boss

survival instinct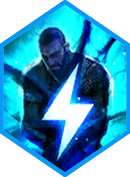 Apothecary Gear Recommendations
Recommended PVE Artifact Sets
Speed , Immortal, Lifesteal
Recommended PVP Artifact Sets