Azure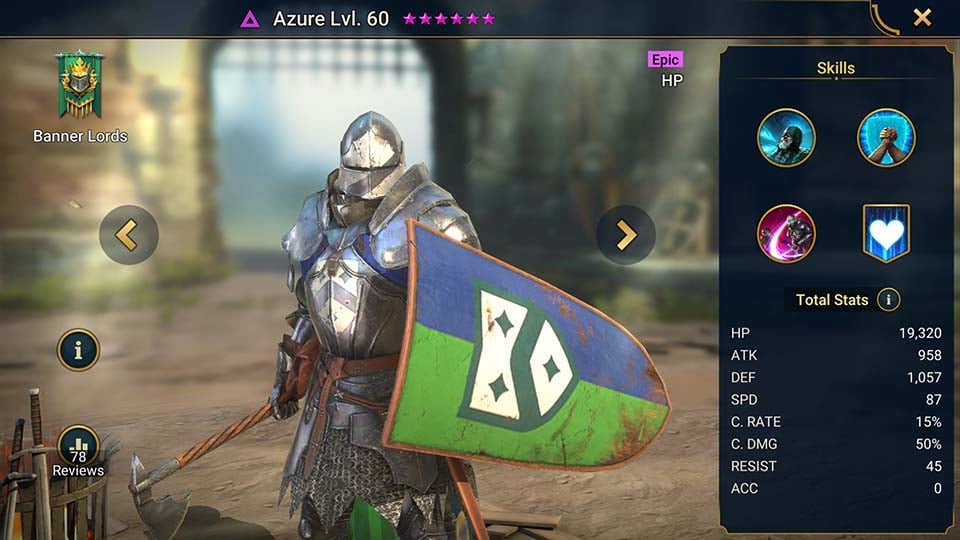 Champion Overall Rating:

2.5
Key Areas
| | |
| --- | --- |
| Arena Def: | 5 |
| Arena Atk: | 4 |
| Clan Boss: | 5 |
| Faction Wars: | 8 |
Dungeons
| | |
| --- | --- |
| Spider: | 4 |
| Fire Knight: | 5 |
| Dragon: | 5 |
| Ice Golem: | 6 |
Doom Tower
| | |
| --- | --- |
| Magma Dragon: | 5 |
| Frost Spider: | 5 |
| Nether Spider: | 2 |
| Scarab King: | 5 |
Azure
Azure is a Void affinity epic from the Banner Lords faction. Azure was buffed in September 2020 with high hopes from the player base.
The buff has seen him as useful for the Banner Lords in Faction Wars and capable of doing that job at level 50 with the right gear.
Outside of Faction Wars, he is mediocre with lots of champions doing similar skills but more effectively.
Lunge [ATK]
Attacks 1 enemy 2 times. Each hit has a 30% chance of placing a Stun debuff for 1 turn. This chance increases if the target has an Increase SPD buff.
Level: 2 Damage +5%
Level: 3 Damage +5%
Level: 4 Damage +5%
Level: 5 Damage +10%
Level: 6 Damage +10%
Damage Multiplier: 2.1 ATK
Aegis
Cooldown: 6 turns
Places a 50% Ally Protection buff on all allies except this champion for 2 turns. Places a Shield buff on this champion equal to 40% of this champion's MAX HP for 2 turns. This buff cannot be removed.
Level: 2 Cooldown -1
Level: 3 Cooldown -1
Damage Multiplier: 2 ATK + 0.2 HP
Coup de Grace [ATK, HP]
Cooldown: 5 turns
Attacks 1 enemy. Places an extra hit if the target has a Stun debuff. The extra hit is always critical. Steals 50% of the target's Turn Meter if they are not under a Stun debuff
Level: 2 Damage +5%
Level: 3 Damage +5%
Level: 4 Cooldown -1
Level: 5 Damage +10%
Level: 6 Damage +10%
Level: 7 Cooldown -1
(Aura)
Increases Ally HP in all battles by 25%
Recommended PVE Artifact Sets
Speed, Lifesteal, Immortal, Cruel, Defence
Recommended PVP Artifact Sets