Castigator
Last Updated: May 5, 2023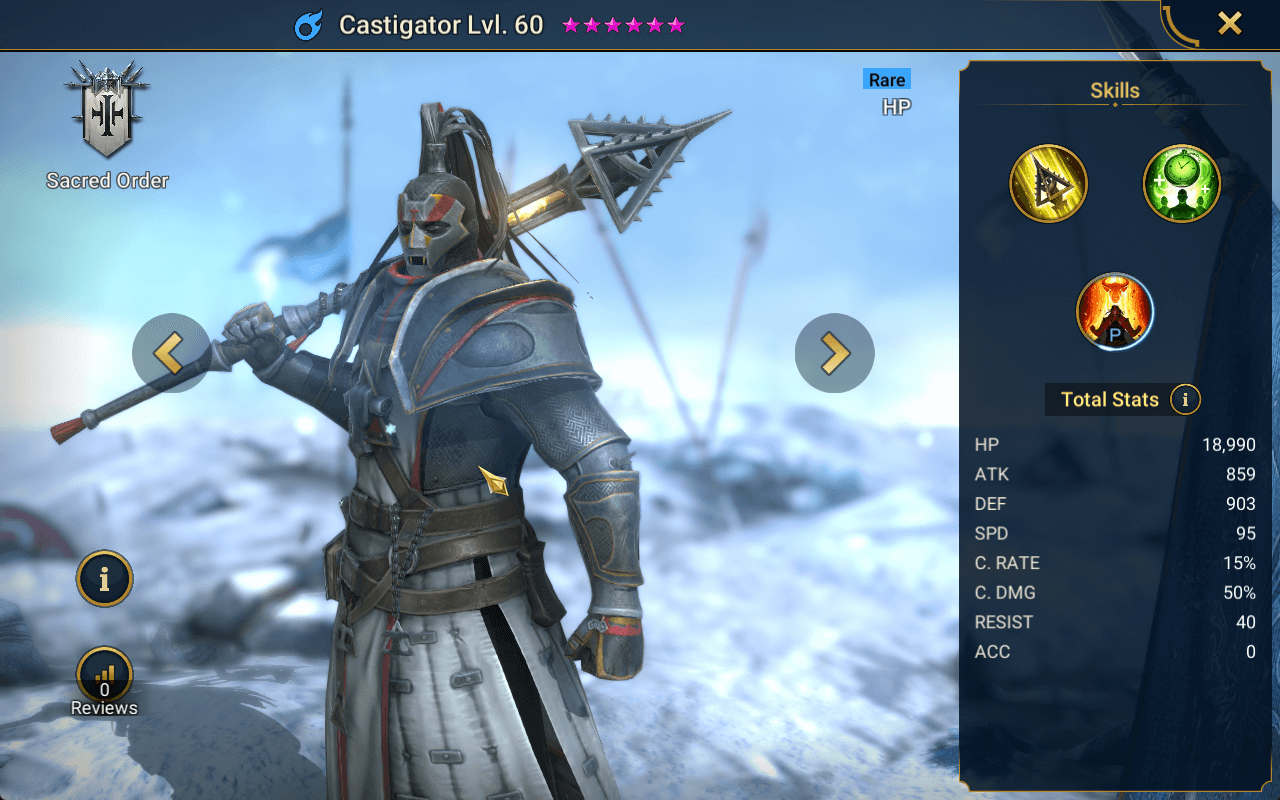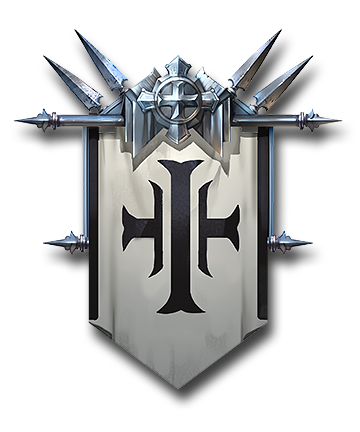 Champion Overall Rating:

3
Key Areas
| | |
| --- | --- |
| Arena Def: | |
| Arena Atk: | |
| Clan Boss: | |
| Hydra: | |
| Doom Tower: | |
Dungeons
| | |
| --- | --- |
| Spider: | |
| Fire Knight: | |
| Dragon: | |
| Ice Golem: | |
| Iron Twins: | |
| | |
| --- | --- |
| Magma Dragon: | |
| Frost Spider: | |
| Nether Spider: | |
| Scarab King: | |
| | |
| --- | --- |
| Eternal Dragon: | |
| Celestial Griffin: | |
| Dreadhorn: | |
| Dark Fae: | |
Damage:
Crowd Control:
Protection and Support:
Castigator Overview
Mask up, Heal up that's the orders of Castigator as he joins the Sacred Order as part of the 2021 Christmas Fusion Event. Usually the rares are average additions to the game when it comes to fusions however Castigator has a very powerful ability on his A2.
Much like Sinesha's A3 ability, Holy Equity has the quite rare Equalize HP ability. Unlike Sinesha, he will heal before he equalises making this more powerful. Additionally this can be booked to a 4 turn cooldown and grants him an extra turn. This ability for a rare is incredibly powerful and certainly worth considering for anyone still working through the Faction War or looking for a useful equalise HP.
His other main role is provoking enemies on his A1 with 40% chance which is pretty high for an A1. Combined with a defensive passive and good base stats, this champ is actually a good addition to the game.
Castigator Skills
Castigate
Attacks 1 enemy. Has a 25% chance of placing a [Provoke] debuff for 1 turn.
Level 2: Damage +5%
Level 3: Damage +5%
Level 4: Buff/Debuff Chance +5%
Level 5: Buff/Debuff Chance +10%
Damage Rating
Multiplier: 0.24*HPOverall Grading*: Weak
Holy Equity - 6 Turn Cooldown
Heals the ally with the lowest HP by 20% of this Champions MAX HP, then equalises the HP levels of all allies and grants this Champion an Extra Turn.
Level 2: Heal +5%
Level 3: Heal +5%
Level 4: Cooldown -1
Level 5: Cooldown -1
Rebuff [P]
Receives 15% less damage from enemies under [Provoke] debuffs.
Castigator PVE Masteries
Offense
Defense
Support
Castigator PVP Masteries
This champion is not recommended for use in PvP
Castigator Blessings
We recommend you use these blessings for Castigator.
Team Blessings should be limited to 1 per team. For more information, please read our Team Blessings guide
here
.
Early Game

survival instinct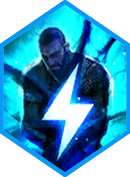 Late Game

miracle heal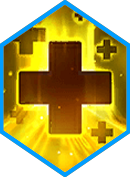 Castigator Gear Recommendations
Recommended PVE Artifact Sets
Recommended PVP Artifact Sets