Corpse Collector
Last Updated: April 9, 2022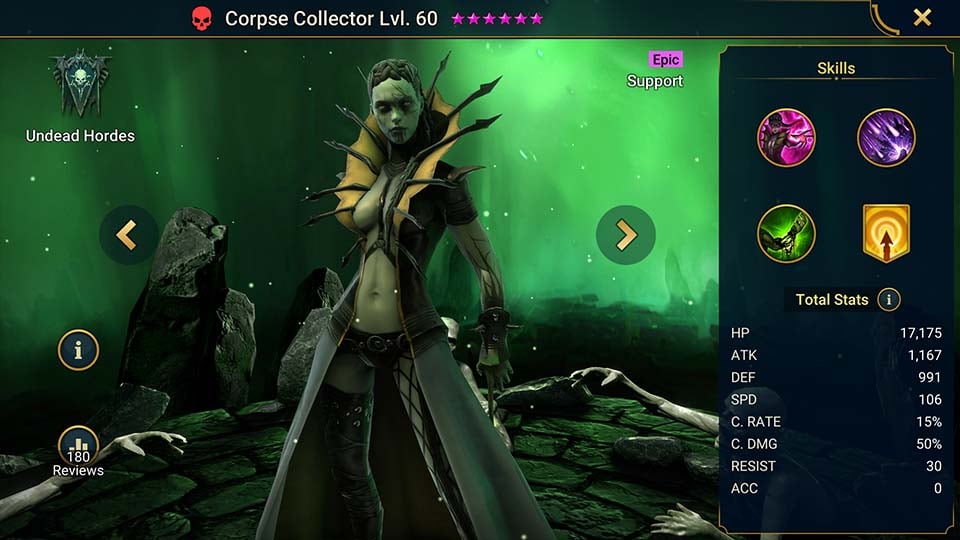 Champion Overall Rating:

3
Key Areas
| | |
| --- | --- |
| Arena Def: | 4 |
| Arena Atk: | 4 |
| Clan Boss: | 8 |
| Hydra: | 6 |
| Doom Tower: | 4 |
Dungeons
| | |
| --- | --- |
| Spider: | 4 |
| Fire Knight: | 6 |
| Dragon: | 8 |
| Ice Golem: | 8 |
| | |
| --- | --- |
| Magma Dragon: | 6 |
| Frost Spider: | 7 |
| Nether Spider: | 2 |
| Scarab King: | 6 |
| | |
| --- | --- |
| Eternal Dragon: | 4 |
| Celestial Griffin: | 5 |
| Dreadhorn: | 5 |
| Dark Fae: | 2 |
Corpse Collector
Corpse Collector is a Force affinity epic from the Undead Hordes. Corpse Collector is an underrated epic with a group of strong abilities including a leech, AOE decrease accuracy, and a multi poison A3. These skills combined are great for Clan Boss and for Dragon. Although not top tier, Corpse Collector is strong and worthy of your time.
There are better poisoners, better leech champions but the variety of the kit on Corpse Collector and the possibility of different boss fights she can support make her mid-tier.
Make sure you build with accuracy to land those debuffs!
Insidious Parasite [ATK]
Attacks 1 enemy. Has a 40% chance of placing a Leech debuff for 2 turns.
Level 2: Damage +5%
Level 3: Damage +5%
Level 4: Damage +5%
Level 5: Buff/Debuff Chance +10%
Damage Rating
Multiplier: 3.6*ATKOverall Grading*: Average
Hailfire [ATK] - 4 Turn Cooldown
Attacks all enemies. Has a 75% chance of placing a 100% Heal Reduction debuff and a 50% Decrease ACC debuff on all enemies for 2 turns.
Level 2: Damage +5%
Level 3: Damage +5%
Level 4: Buff/Debuff Chance +5%
Level 5: Buff/Debuff Chance +10%
Level 6: Buff/Debuff Chance +10%
Level 7: Cooldown -1
Damage Rating
Multiplier: 2.5*ATKOverall Grading*: Weak
Noxious Escape [ATK] - 5 Turn Cooldown
Attacks 3 times at random. Each hit has a 75% chance of placing a 5% Poison debuff for 2 turns. Places a Veil buff on this champion for 1 turn.
Level 2: Damage +10%
Level 3: Damage +10%
Level 4: Buff/Debuff Chance +10%
Level 5: Buff/Debuff Chance +15%
Level 6: Cooldown -1
Damage Rating
Multiplier: 1.65*ATKOverall Grading*: Weak
(Aura)
Increases Ally Accuracy in Arena battles by 40
Offense
Defense
Support
This champion is not recommended for use in PvP
ACC, SPD, HP%, C.RATE, DEF%
Recommended PVE Artifact Sets
Lifesteal, Speed, Accuracy, Perception
Recommended PVP Artifact Sets