Crimson Slayer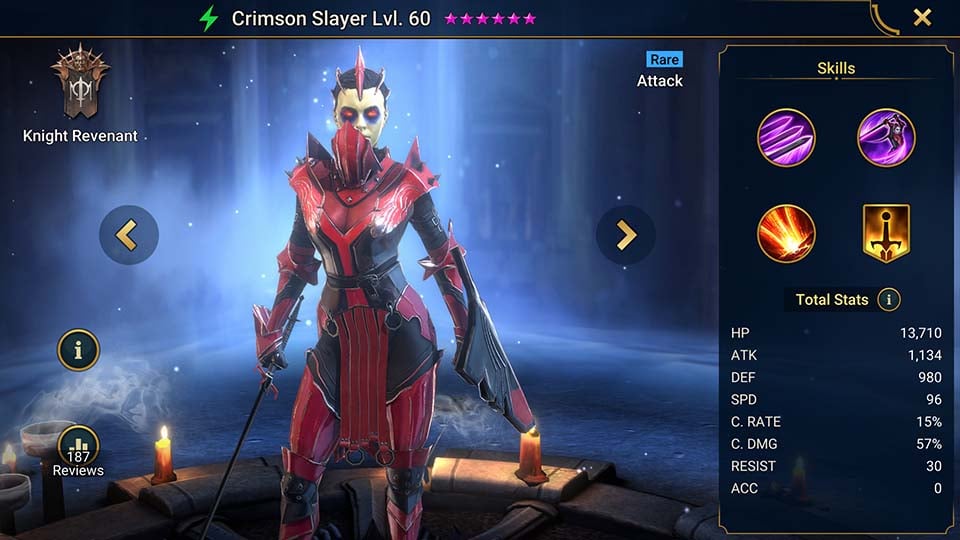 Champion Overall Rating:

3
Key Areas
| | |
| --- | --- |
| Arena Def: | 4 |
| Arena Atk: | 6 |
| Clan Boss: | 4 |
| Faction Wars: | 8 |
Dungeons
| | |
| --- | --- |
| Spider: | 6 |
| Fire Knight: | 8 |
| Dragon: | 4 |
| Ice Golem: | 4 |
Doom Tower
| | |
| --- | --- |
| Magma Dragon: | 2 |
| Frost Spider: | 4 |
| Nether Spider: | 6 |
| Scarab King: | 4 |
Crimson Slayer
Crimson Slayer is a Spirit affinity rare from the Knight Revenant faction. Crimson slayer is quite strong for Faction Wars and Fire Knight with a kit made for both.
She brings a heal reduction debuff and has an A2 that steals turn meter.
You will need to ensure you build Crimson Slayer with accuracy high enough to use her abilities and focus on Warmaster as a main mastery.
Bring Silence [ATK]
Attacks 3 times at random. Each hit has a 30% chance of placing a Sleep debuff for 1 turn.
Level 2: Damage +5%
Level 3: Buff/Debuff Chance +5%
Level 4: Buff/Debuff Chance +5%
Level 5: Damage +10%
Level 6: Damage +10%
Level 7: Buff/Debuff Chance +10%
Damage Multiplier: 1.6 ATK
Flowing Sword [ATK]
Cooldown: 4 turns
Attacks 1 enemy. Has a 70% chance of decreasing the target's Turn Meter by 50%. Fills this champion's Turn Meter equal to the amount the target loses.
Level 2: Damage +5%
Level 3: Buff/Debuff Chance +5%
Level 4: Buff/Debuff Chance +10%
Level 5: Damage +10%
Level 6: Damage +10%
Level 7: Buff/Debuff Chance +15%
Damage Multiplier: 6.4 ATK
Copious Bleed [ATK]
Cooldown: 6 tunrs
Attacks all enemies. Has a 80% chance of placing a 50% Heal Reduction debuff for 1 turn.
Level 2: Damage +5%
Level 3: Damage +5%
Level 4: Damage +10%
Level 5: Buff/Debuff Chance +10%
Level 6: Damage +10%
Level 7: Buff/Debuff Chance +10%
Level 8: Cooldown -1
Damage Multiplier: 3.8 ATK
(Aura)
Increases Ally ATK in Faction Crypts by 17%
ACC, SPD, HP%, C.RATE, C.DMG, ATK%
Recommended PVE Artifact Sets
Lifesteal, Speed, Accuracy, Perception
Recommended PVP Artifact Sets