Dark Elhain
Last Updated: September 22, 2022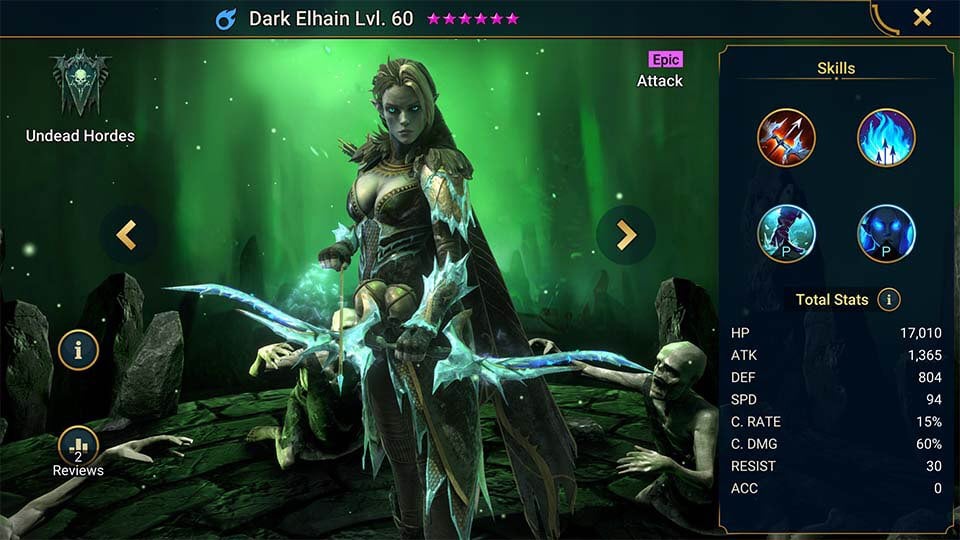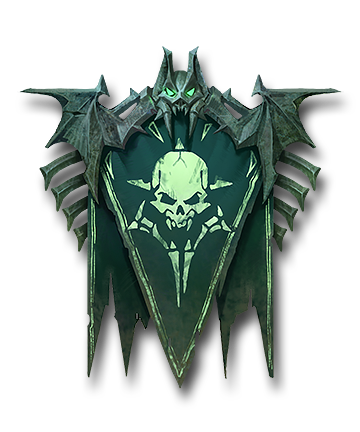 Champion Overall Rating:

3.5
Key Areas
| | |
| --- | --- |
| Arena Def: | 8 |
| Arena Atk: | 9 |
| Clan Boss: | 2 |
| Hydra: | 4 |
| Doom Tower: | 8 |
Dungeons
| | |
| --- | --- |
| Spider: | 7 |
| Fire Knight: | 7 |
| Dragon: | 7 |
| Ice Golem: | 9 |
| Iron Twins: | 2 |
| | |
| --- | --- |
| Magma Dragon: | 7 |
| Frost Spider: | 9 |
| Nether Spider: | 7 |
| Scarab King: | 8 |
| | |
| --- | --- |
| Eternal Dragon: | 7 |
| Celestial Griffin: | 7 |
| Dreadhorn: | 6 |
| Dark Fae: | 10 |
Dark Elhain
Elhain set off of a quest with 3 other heroes, Kael, Athel and Galek. Their goal was to destroy Hellrazor the mighty dragon in its lair. Only 3 heroes returned with Elhain beaten eaten whole! What the others did not know was in her death Elhain grew in power coming back in her Dark form ready to fight the battle with the Undead.
Dark Elhain is a Magic affinity champion from the Undead Hordes faction. She was introduced as a counter to the freeze meta which appeared in December 2019 when a new legendary fusion Tormin the Cold was added to the game. Dark Elhain is very strong against freeze champions as her passive activates an Increase Atk buff then her A2 which is a hard hitting AOE nuke.
This makes Dark Elhain strong in certain Arena match ups and strong in the Ice Golem. She also has a great utility for Doom Tower helping with tough waves of enemies with a strong AOE hit and good counters to freeze waves, then comes into her own against Sorath the frost spider!
Necrotic [ATK]
Attacks 1 enemy. Decreases the target's MAX HP by 30% of the damage inflicted.
Level 2: Damage +5%
Level 3: Damage +5%
Level 4: Damage +5%
Level 5: Damage +5%
Damage Rating
Multiplier: 3.1*ATKOverall Grading*: Average
Death's Majesty [ATK] - 4 Turn Cooldown
Places a 50% Increase ATK buff on this champion for 2 turns, then attacks all enemies. Has a 50% chance of placing a 30% Decrease SPD debuff for 2 turns.
Level 2: Damage +5%
Level 3: Damage +10%
Level 4: Buff/Debuff Chance +10%
Level 5: Buff/Debuff Chance +15%
Level 6: Cooldown -1
Damage Rating
Multiplier: 3.8*ATKOverall Grading*: Strong
Lethal Winter (Passive) - 1 Turn Cooldown
Fills this champion's Turn Meter by 25% and instantly activates the Death's Majesty Skill whenever this champion or an ally receives a Freeze debuff
Veins of Ice (Passive) - 1 Turn Cooldown
Instantly removes any Freeze debuffs on this champion and replaces them with a 30% Increase C.RATE buff, a 30% Increase C.DMG buff, and a 15% Strengthen buff whenever an enemyplaces a Freeze debuff on this champion.
Offense
Defense
Support
Offense
Defense
Support
Offense
Defense
Support
Blessings
We recommend you use these blessings for Dark Elhain.
Team Blessings should be limited to 1 per team. For more information, please read our Team Blessings guide
here
.
Arena Defense


crushing rend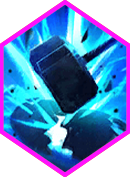 High Awakening
This blessing benefits more from 5 or 6 star awakening compared to other blessings.
Recommended PVE Stats
ACC, SPD, C.RATE, C.DMG, HP%, ATK%
Recommended PVE Artifact Sets
Savage, Cruel, Speed, Accuracy, Perception
Recommended PVP Artifact Sets