Demytha
Last Updated: May 5, 2023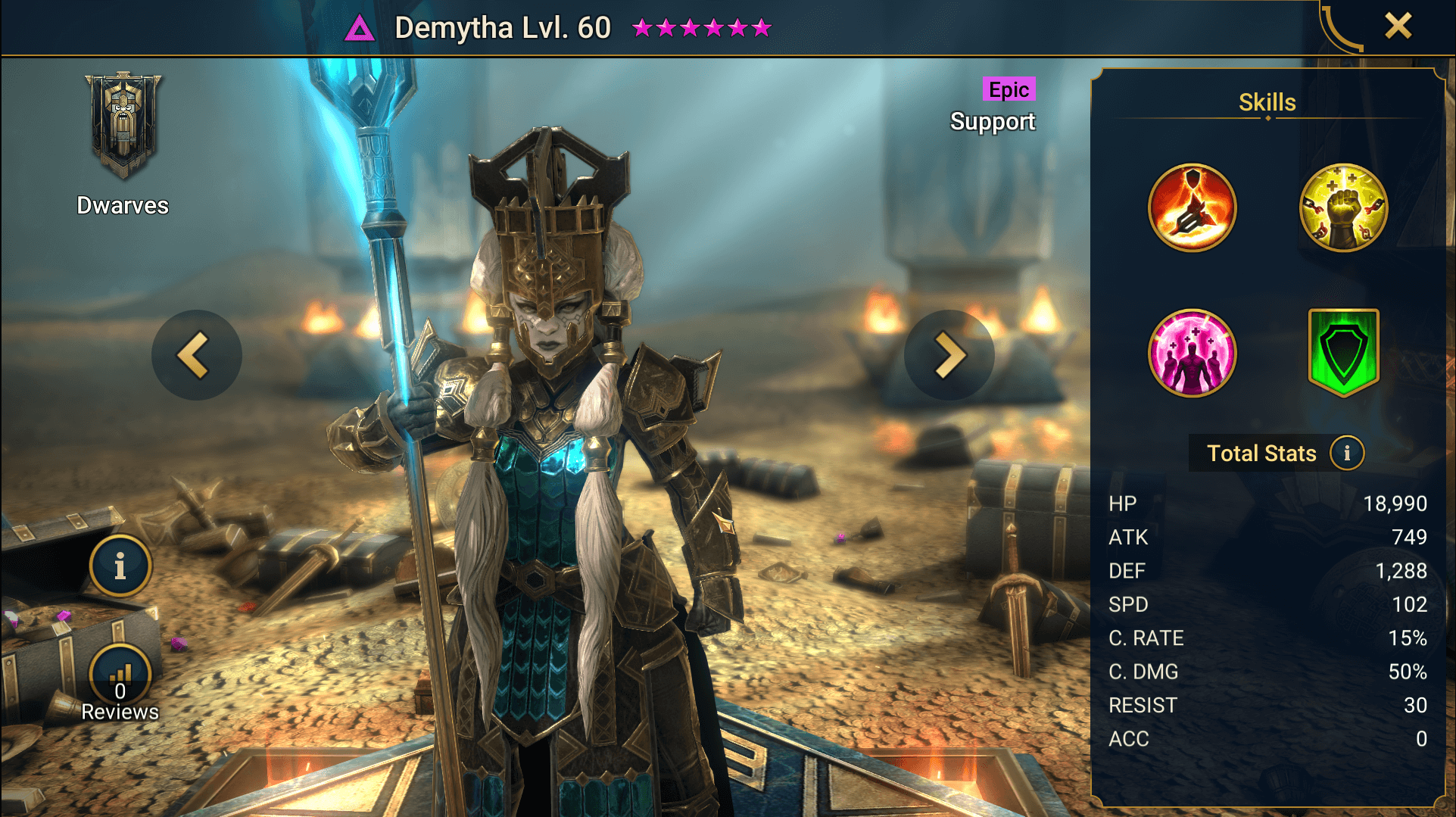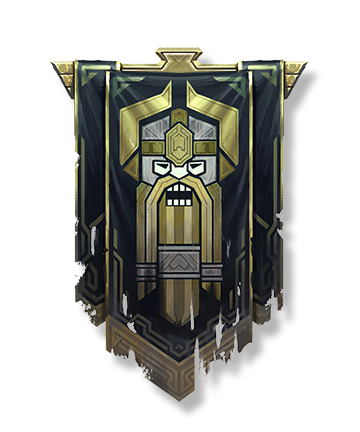 Champion Overall Rating:

4.5
Clan Boss Goddess
Key Areas
| | |
| --- | --- |
| Arena Def: | |
| Arena Atk: | |
| Clan Boss: | |
| Hydra: | |
| Doom Tower: | |
Dungeons
| | |
| --- | --- |
| Spider: | |
| Fire Knight: | |
| Dragon: | |
| Ice Golem: | |
| Iron Twins: | |
| | |
| --- | --- |
| Magma Dragon: | |
| Frost Spider: | |
| Nether Spider: | |
| Scarab King: | |
| | |
| --- | --- |
| Eternal Dragon: | |
| Celestial Griffin: | |
| Dreadhorn: | |
| Dark Fae: | |
Damage:
Protection and Support:

Demytha Overview
Demytha joins the Dwarves as part of Patch 4.70 and is a bit of a gamechanger. Previously there were very few block damage options with only Roshcard the Tower and Warcaster mainly used. Demytha not only has a Block Damage ability on her A3 but she also will extend buffs on her A2 unlocking some unique opportunities in Clan Boss.
Outside of Clan Boss, Demytha will be an excellent carry for any team. She will help sustain people with Continuous Heals on her A3 and a shield on her A1 to help protect low HP Allies. Her A2 will reduce the duration of debuffs on your team whilst also providing one of the most powerful heals in the game.
Demytha is good in Sand Devil but you need to speed tune her like in clan boss.
Demytha is a Legendary champion in disguise and top tier for any player at any stage of progression.
Demytha Skills
Fires of Old
Attacks 1 enemy 2 times. Places a [Shield] buff for 2 turns, equal to 10% of this Champion's MAX HP, on the ally with lowest HP.
Level 2: Damage +5%
Level 3: Shield+5%
Level 4: Damage +5%
Level 5: Shield+5%
Level 6: Damage +5%
Level 7: Shield+5%
Level 8: Damage +5%
Level 9: Shield+5%
Damage Rating
Multiplier: 3.2*ATKOverall Grading*: Strong
Light of the Deep - 4 Turn Cooldown
Increases the duration of ally buffs by 1 turn, then decreases the duration of all ally debuffs by 1 turn.
Also heals all allies by 2.5% of their MAX HP. Heals by a further 2.5% MAX HP for each turn added to or removed from the duration of buffs and debuffs by this skill.
Level 2: Heal +5%
Level 3: Heal +5%
Level 4: Heal +5%
Level 5: Heal +5%
Level 6: Cooldown -1
Channel the Bloodline - 5 Turn Cooldown
Places a [Block Damage] buff on all allies for 1 turn, and a 15% [Continuous Heal] buff on allies for 2 turns.
Level 2: Cooldown -1
Level 3: Cooldown -1
Aura
Ally DEF in all Battles by 20%
Demytha PVE Masteries
Offense
Defense
Support
Offense
Defense
Support
Offense
Defense
Support
Demytha PVP Masteries
Offense
Defense
Support
Demytha Blessings
We recommend you use these blessings for Demytha.
Team Blessings should be limited to 1 per team. For more information, please read our Team Blessings guide
here
.
Aura Lead


commanding presence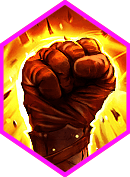 Clan Boss
phantom touch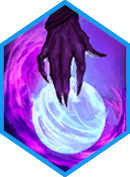 Sand Devil

miracle heal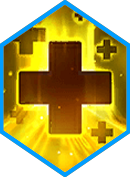 Team Blessing
Consider an alternative blessing if this already exists in your team.
Demytha Gear Recommendations
Recommended PVE Artifact Sets
Regen, Lifesteal, Shield, Speed
Recommended PVP Artifact Sets
Shield, Speed, Guardian, Frenzy