Djamarsa
Last Updated: August 1, 2022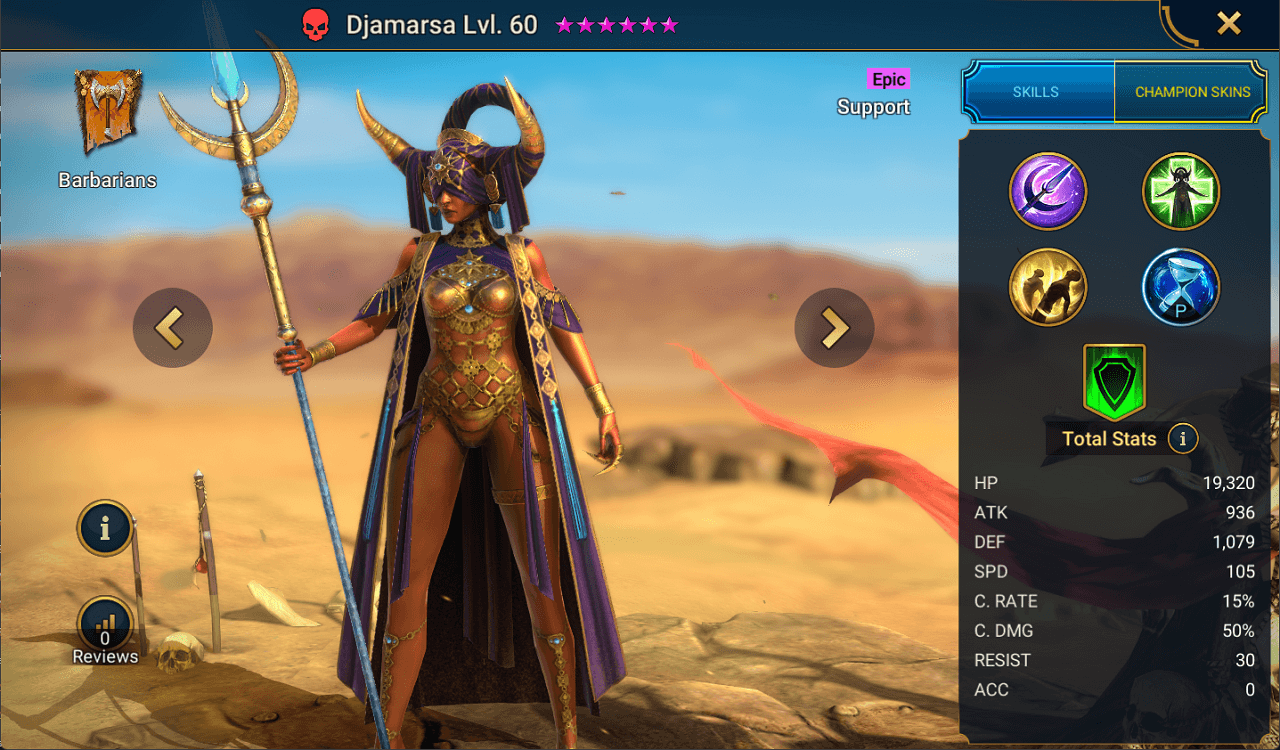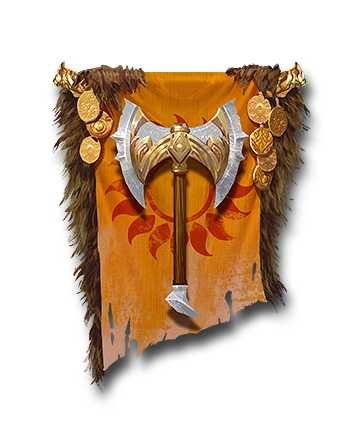 Champion Overall Rating:

3.5
Key Areas
| | |
| --- | --- |
| Arena Def: | 9 |
| Arena Atk: | 7 |
| Clan Boss: | 4 |
| Hydra: | 9 |
| Doom Tower: | 8 |
Dungeons
| | |
| --- | --- |
| Spider: | 10 |
| Fire Knight: | 6 |
| Dragon: | 8 |
| Ice Golem: | 6 |
| Iron Twins: | 6 |
Faction Wars
Damage:
Crowd Control:
Turn Meter Control:
Protection and Support:
Reviver:
| | |
| --- | --- |
| Magma Dragon: | 4 |
| Frost Spider: | 6 |
| Nether Spider: | 2 |
| Scarab King: | 4 |
| | |
| --- | --- |
| Eternal Dragon: | 6 |
| Celestial Griffin: | 6 |
| Dreadhorn: | 2 |
| Dark Fae: | 4 |
Djamarsa
In Patch 5.80, the referral system was upgraded and revamped and launched 2 exclusive champions. The first of these champions is Djamarsa, obtainable by referring 3 accounts that reach level 10. The effort to achieve this champion is well worth what you get.
Djarmasa brings a unique kit that is incredibly powerful considering how early you can get the champion. She has a passive when booked that is effectively a built in Reflex set, having a chance to reduce the cooldown of any ally skill when they use it. In addition, she brings a 5 turn cooldown full team revive and strong single target heal. Her A1 is somewhat forgettable but her passive and A3 makes her a strong early, mid game champion for any team and as you progress she becomes powerful with her partner in crime, Crohnam.
If you manage to complete the remainder of the referral programme, you can pair Djamarsa with Crohnam activating the special interaction with her skills. Together, they probably make a powerful late game Spider Team or you may be utilise her in Arena Defence to cycle abilities back quicker paired with a strong support kit.
This guide will be updated following a full playtest.
Night's Finger
Attacks 1 enemy. Has a 30% chance of placing a [Sleep] debuff for 1 turn.
If Crohnam is on the same team, and the [Sleep] debuff was resisted or blocked, places a 30% [Decrease SPD] debuff instead for 2 turns. This debuff cannot be blocked.
Level 2: Damage +5%
Level 3: Buff/Debuff Chance +5%
Level 4: Damage +5%
Level 5: Buff/Debuff Chance +5%
Level 6: Damage +5%
Level 7: Buff/Debuff Chance +10%
Damage Rating
Multiplier: 4*ATKOverall Grading*: Average
Radiant Moon - 4 Turn Cooldown
Heals a target ally by 30% of their MAX HP and fills their Turn Meter by 30%.
If this skills is used on Crohnam, he will instantly activate his Berserker's Delight Skill.
Level 2: Heal +5%
Level 3: Heal +5%
Level 4: Heal +10%
Level 5: Cooldown -1
Moonlit March - 7 Turn Cooldown
Revives all dead allies with 30% HP and 30% Turn Meter
Level 2: Cooldown -1
Level 3: Cooldown -1
Phasing [P] - 3 Turn Cooldown
Whenever an ally uses an Active Skill, has a 20% chance of decreasing the cooldown of that skill by 1 turn
Level 2: Cooldown -1
Level 3: Cooldown -1
Level 4: Cooldown -1
Aura
Increases Ally DEF in all Battles by 20%
Offense
Defense
Support
Offense
Defense
Support
Offense
Defense
Support
Blessings
We are still working on recommending blessings for Djamarsa. Keep an eye for an updated guide once we have had an opportunity to playtest.
In the meantime, why not check our Blessings Tier List
here
.
Recommended PVE Artifact Sets
Reflex, Relentless, Regen, Speed
Recommended PVP Artifact Sets
Stoneskin, Swift Parry, Guardian