Duhr the Hungerer
Last Updated: April 9, 2022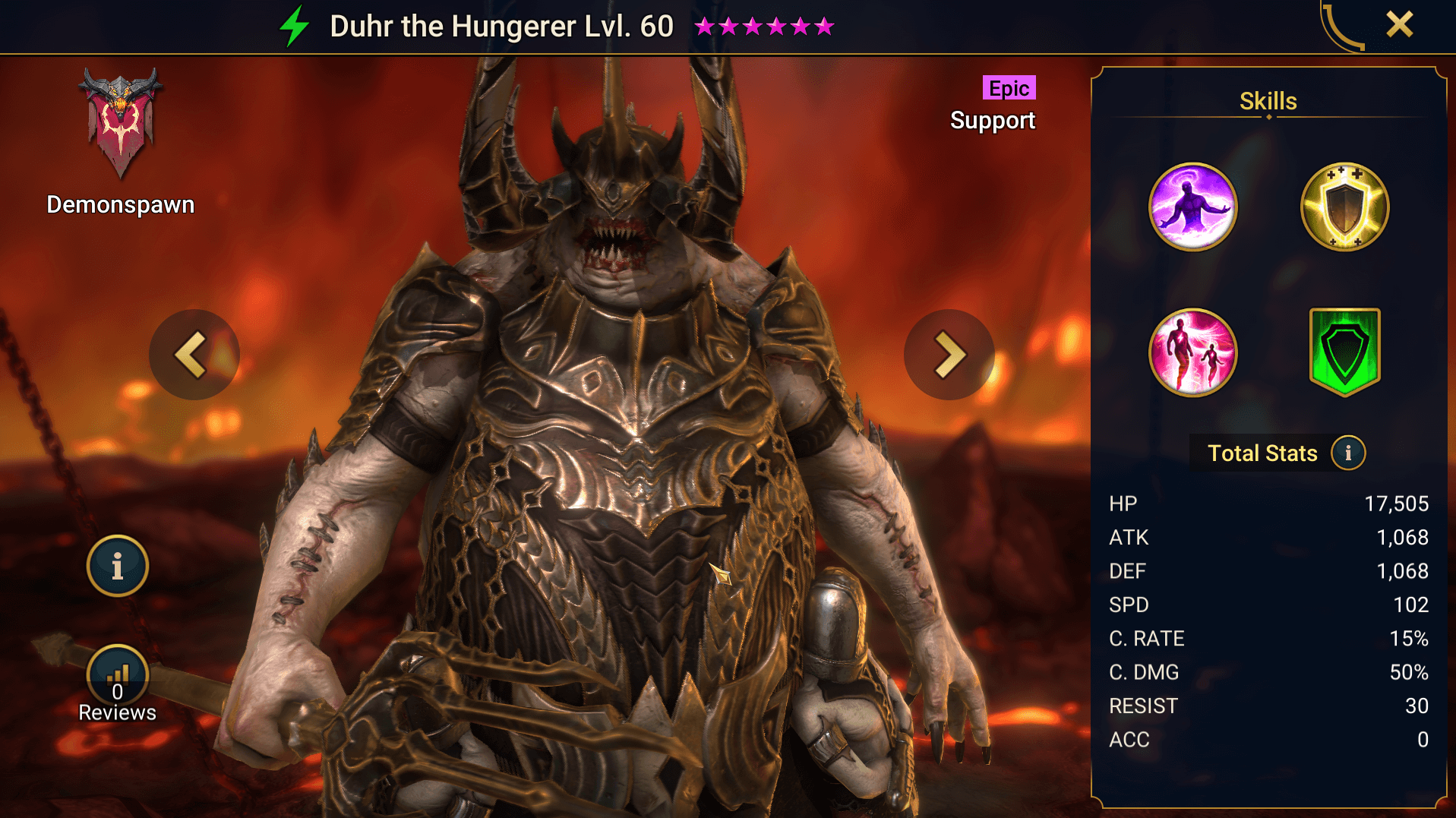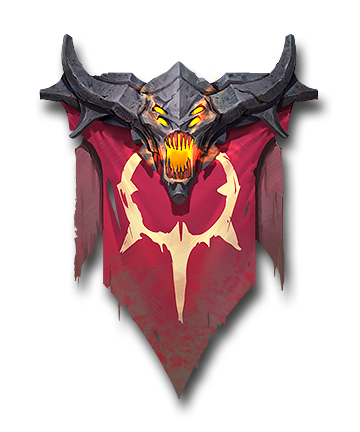 Champion Overall Rating:

3
Key Areas
| | |
| --- | --- |
| Arena Def: | 5 |
| Arena Atk: | 4 |
| Clan Boss: | 4 |
| Hydra: | 5 |
| Doom Tower: | 8 |
Dungeons
| | |
| --- | --- |
| Spider: | 4 |
| Fire Knight: | 4 |
| Dragon: | 6 |
| Ice Golem: | 8 |
| Iron Twins: | 6 |
Faction Wars
Damage:
Protection and Support:
Reviver:
| | |
| --- | --- |
| Magma Dragon: | 4 |
| Frost Spider: | 7 |
| Nether Spider: | 7 |
| Scarab King: | 4 |
| | |
| --- | --- |
| Eternal Dragon: | 4 |
| Celestial Griffin: | 4 |
| Dreadhorn: | 4 |
| Dark Fae: | 4 |
Duhr the Hungerer
This beast is a thing of nightmares. He is a gorged, Messenger of Sauron (for those who sat through all 4 hours of Return of the King Extended!). Duhr joins the Demonspawn of Teleria as part of Patch 4.70 and is one of the four epics required as part of the Sigmund the Highshield October 2021 Fusion Event.
He is the Hoforees of this faction and he will be valuable for those struggling to break through and finish all 21 stages. His a3 brings a revive for 2 allies with a decent Turn meter fill. The faction currently is limited on revive options (you need a Duchess Lilitu or you're out of luck!) so this is a welcome addition. Outside of the A3, he brings a good amount of team support with Continuous Heals and a flat Max HP heal on his A2 and a small chance to stun on A1. These effects are quite weak but you bring him if you need that revive to reach 3 stars.
A decent addition but nothing special outside of Faction Wars.
This guide will be updated following a full play test.
Odious Bulk
Attacks 1 enemy. Has a 30% chance of placing a [Stun] debuff for 1 turn.
Level 2: Damage +5%
Level 3: Damage +5%
Level 4: Buff/Debuff Chance +5%
Level 5: Buff/Debuff Chance +5%
Damage Rating
Multiplier: 4.4*ATKOverall Grading*: Average
Cannibal Litany - 5 Turn Cooldown
Places a 30% [Reflect Damage] buff on all allies for 2 turns, a 15% [Continuous Heal] buff on all allies for 1 turn, then heals all allies by 15% of their MAX HP
Level 2: Cooldown -1
Level 3: Cooldown -1
Hungry for More - 6 Turn Cooldown
Revives 2 random allies with 50% HP, then fills their Turn Meters by 50%
Level 2: Cooldown -1
Level 3: Cooldown -1
Aura
Increases Ally Def in Faction Crypts by 30%
Offense
Defense
Support
This champion is not recommended for use in PvP
Blessings
We are still working on recommending blessings for Duhr the Hungerer. Keep an eye for an updated guide once we have had an opportunity to playtest.
In the meantime, why not check our Blessings Tier List
here
.
Recommended PVE Artifact Sets
Regen, Lifesteal, Guardian, Speed
Recommended PVP Artifact Sets
Frenzy, Lifesteal, Guardian, Speed, Stalwart