Goremask
Last Updated: April 9, 2022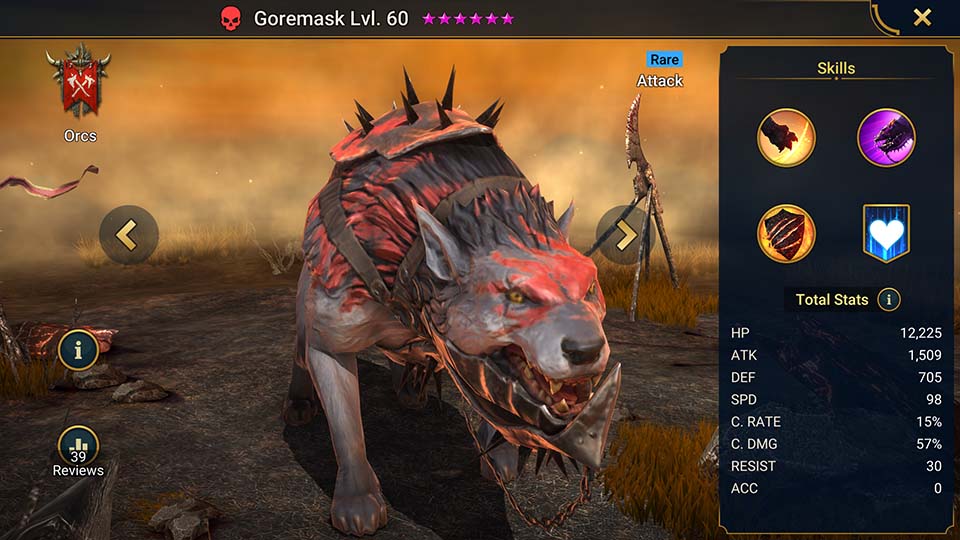 Champion Overall Rating:

1.5
Key Areas
| | |
| --- | --- |
| Arena Def: | 4 |
| Arena Atk: | 4 |
| Clan Boss: | 2 |
| Hydra: | 2 |
| Doom Tower: | 4 |
Dungeons
| | |
| --- | --- |
| Spider: | 2 |
| Fire Knight: | 4 |
| Dragon: | 2 |
| Ice Golem: | 2 |
| | |
| --- | --- |
| Magma Dragon: | 1 |
| Frost Spider: | 1 |
| Nether Spider: | 1 |
| Scarab King: | 1 |
| | |
| --- | --- |
| Eternal Dragon: | 2 |
| Celestial Griffin: | 2 |
| Dreadhorn: | 2 |
| Dark Fae: | 2 |
Goremask
Goremask is a Force affinity rare champion from the Orc faction. That's about all the good things I can say about him, HE IS TRASH!
Goremask can be farmed from the campaign stage 7: Tilshire.
DO NOT FEED Goremask as he forms a part of the permanent legendary fusion Rhazin Scarhide. Goremask fuses into Bloodfeather to gain this fantastic legendary.
Snap [ATK]
Attacks 1 enemy 2 times.
Level 2: Damage +5%
Level 3: Damage +5%
Level 4: Damage +5%
Level 5: Damage +10%
Level 6: Damage +10%
Damage Rating
Multiplier: 1.6*ATKOverall Grading*: Strong
Go for the Throat [ATK] - 4 Turn Cooldown
Attacks 1 enemy. Damage increases by 20% if this attack is critical.
Level 2: Damage +5%
Level 3: Damage +5%
Level 4: Damage +5%
Level 5: Damage +10%
Level 6: Damage +10%
Level 7: Cooldown -1
Damage Rating
Multiplier: 4.4*ATKOverall Grading*: Strong
Tearing Jaws [ATK] - 5 Turn Cooldown
Attacks 1 enemy. Will ignore Shield and Block Damage buffs.
Level 2: Damage +5%
Level 3: Damage +5%
Level 4: Damage +5%
Level 5: Damage +10%
Level 6: Cooldown -1
Level 7: Cooldown -1
Damage Rating
Multiplier: 4.8*ATKOverall Grading*: Strong
(Aura)
Increases Ally HP in the Arena by 25%
Offense
Defense
Support
This champion is not recommended for use in PvP
SPD, C.RATE, C.DMG, HP%, ATK%
Recommended PVE Artifact Sets
Recommended PVP Artifact Sets