Hephraak
Last Updated: July 2, 2022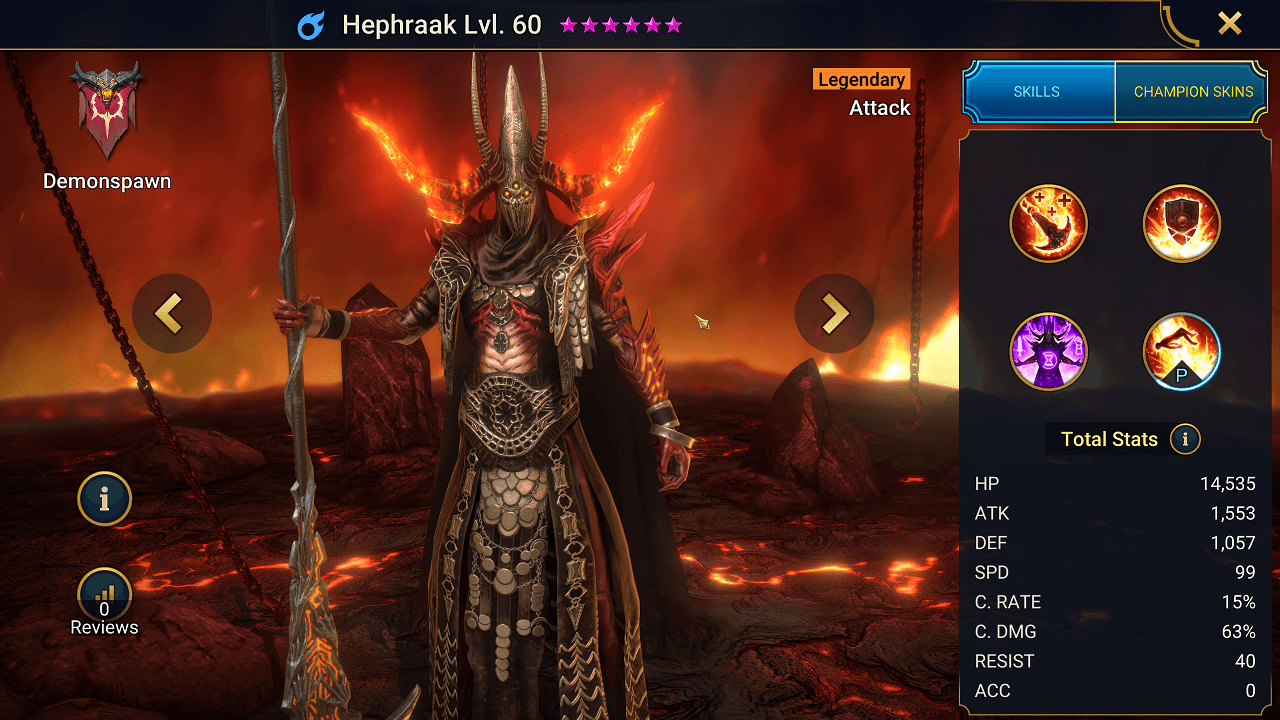 Champion Overall Rating:

4.5
ARENA GOD
Key Areas
| | |
| --- | --- |
| Arena Def: | 10 |
| Arena Atk: | 10 |
| Clan Boss: | 6 |
| Hydra: | 9 |
| Doom Tower: | 10 |
Dungeons
| | |
| --- | --- |
| Spider: | 10 |
| Fire Knight: | 9 |
| Dragon: | 10 |
| Ice Golem: | 9 |
| Iron Twins: | 4 |
| | |
| --- | --- |
| Magma Dragon: | 7 |
| Frost Spider: | 7 |
| Nether Spider: | 7 |
| Scarab King: | 7 |
| | |
| --- | --- |
| Eternal Dragon: | 7 |
| Celestial Griffin: | 7 |
| Dreadhorn: | 7 |
| Dark Fae: | 9 |
Hephraak
Hephraak is a new Champion that is being introduced in Raid Shadow Legends. In true Raid Shadow Legends style, Hephraak has a sweet-looking champion design. Hephraak joins the Demon Spawn faction in July 2022 and is a Magic affinity attack type champion.
Hephraak has INSANE multipliers, literally the hardest hitting champion in Raid as of July 2022. He has the ability to 1 shot entire high level waves of enemies in Hard Tower, high level dungeons and in the arena when in the correct gear with the correct teams. Hephraak also has a crazy passive ability activating the nuke A2 when one of your team dies. This may lead to some cool meme strategies in the future using champions as bait or using him versus a Hegemon team as a significant counter. Hephraak has a self buffing increase Atk & Increase Crit Rate buff allowing for a build of just 70% crit rate and therefore pushing damage numbers even higher.
Really fun champion but not without counters! If he is CC'd when your team mate is killed his passive goes on cooldown. Also the nuke A2 is conditional, he has to get enemies to below 50% HP with the first hit to activate the 2nd hit.
Hephraak's Grin
Attacks 1 enemy. Places an extra hit if this attack is critical.
Level 2: Damage +5%
Level 3: Damage +5%
Level 4: Damage +5%
Level 5: Damage +5%
Damage Rating
Multiplier: 2.2*ATKOverall Grading*: Godlike
Hephraak's Scorn - 4 Turn Cooldown
Attacks all enemies. Places an extra hit on targets with less than 50% HP after the first hit. Each hit will ignore 15% of the targets DEF.
Level 2: Damage +10%
Level 3: Damage +10%
Level 4: Cooldown -1
Damage Rating
Multiplier: 3.6*ATKOverall Grading*: Godlike
Megalomania - 6 Turn Cooldown
Places a 50% [Increase ATK] buff and a 30% [Increase C. RATE] buff on this champion for 3 turns, then grants an extra turn.
Level 2: Cooldown -1
Level 3: Cooldown -1
Place of Pride [P] - 5 Turn Cooldown
Whenever an ally is killed, instantly activates the [Hephraak's Scorn] skill. Will not put the skill on cooldown.
If there are multiple champions on the team with this skill, only one will activate.
Level 2: Cooldown -1
Offense
Defense
Support
Offense
Defense