Hordin
Last Updated: September 23, 2022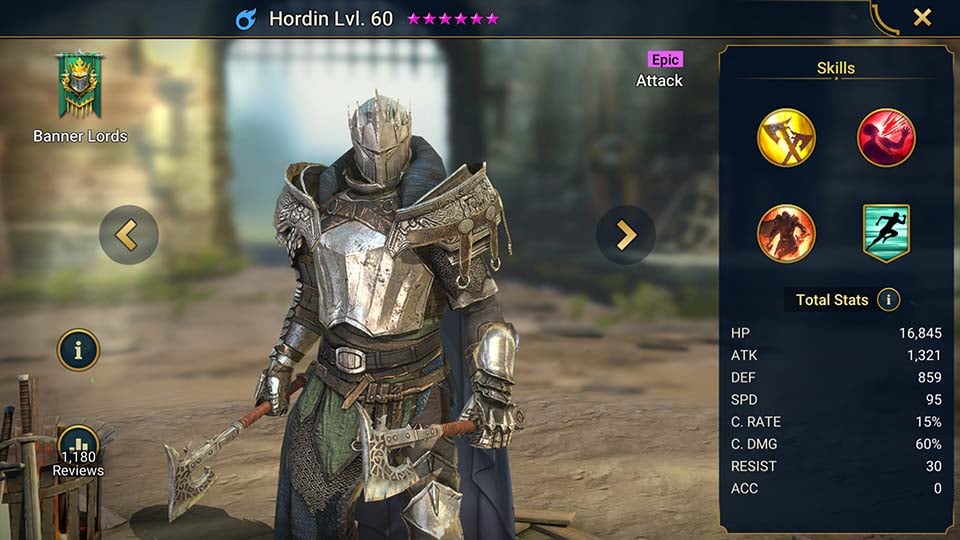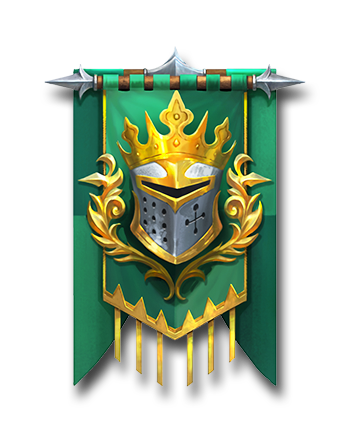 Champion Overall Rating:

2.5
Key Areas
| | |
| --- | --- |
| Arena Def: | 7 |
| Arena Atk: | 7 |
| Clan Boss: | 4 |
| Hydra: | 2 |
| Doom Tower: | 4 |
Dungeons
| | |
| --- | --- |
| Spider: | 4 |
| Fire Knight: | 6 |
| Dragon: | 6 |
| Ice Golem: | 6 |
| Iron Twins: | 1 |
| | |
| --- | --- |
| Magma Dragon: | 2 |
| Frost Spider: | 2 |
| Nether Spider: | 2 |
| Scarab King: | 2 |
| | |
| --- | --- |
| Eternal Dragon: | 4 |
| Celestial Griffin: | 4 |
| Dreadhorn: | 4 |
| Dark Fae: | 6 |
Hordin
Hordin dual wields his Hatchets in his rusted silver armour looking like a true Banner Lord ready to defend his King/Queen. If you picture medieval knights Hordin comes to mind instantly!
This epic is great in the arena for any early-mid game as he has a kit that will beat people up in the lower end of the arena! He does fall off quite hard and there are better champions than him but for what it's worth he does a fine job until you find that replacement! His kit is all about kill opponents and then going again with an extra turn to smack the next foe in his path. You want to build him correctly with a lot of Crit Damage and ATK, this way you'll get the most out of him and he'll single-handedly carry your arena offence teams.
His a3 gives himself buffs so he does extra damage and on top of this, he'll get an extra turn to show off these buffs to your enemies by smacking them in their face. You only need to build 70% Crit Rate because of the Increase Crit Rate buff that he gives himself with the a3.
There is a downside to this champion though, he is only really good in the early-mid game arena, outside of this he is a waste of resources so be mindful that you may only use Hordin for a short while before you find a new toy to play with. Even in the Arena, an AOE nuker would yield better results a lot of the time! Not every time but a lot of the time!
Relentless Strike [ATK]
Attacks 1 enemy 2 times. Grants an Extra Turn if the target is killed.
Level: 2 Damage +5%
Level: 3 Damage +5%
Level: 4 Damage +5%
Level: 5 Damage +10%
Damage Rating
Multiplier: 1.9*ATKOverall Grading*: Strong
Bloodletter [ATK] - 4 Turn Cooldown
Attacks 1 enemy. Has a 60% chance of placing a 50% Decrease ATK debuff for 2 turns. Heals this champion by 10% of the damage inflicted.
Level: 2 Damage +5%
Level: 3 Buff/Debuff Chance +5%
Level: 4 Damage +10%
Level: 5 Buff/Debuff Chance +10%
Damage Rating
Multiplier: 6.5*ATKOverall Grading*: Strong
Burning Hatred - 6 Turn Cooldown
Places a 50% Increase ATK buff, a 30% Increase C.RATE buff, and a 30% Increase SPD buff on this champion for 2 turns. Grants an Extra Turn.
Level: 2 Cooldown -1
(Aura)
Increases ally SPD in Faction Crypts by 20%
Offense
Defense
Support
Offense
Defense
Support
Offense
Defense