Kytis
Last Updated: April 9, 2022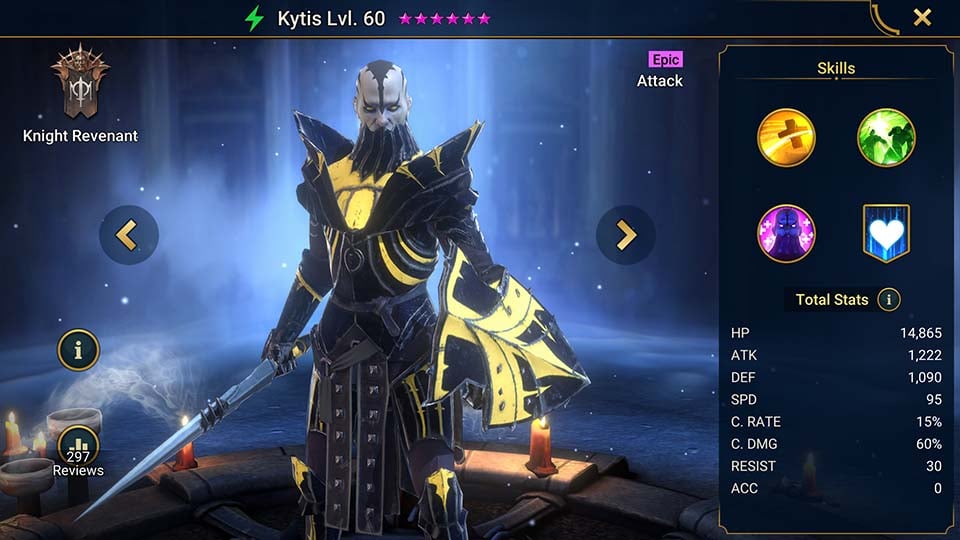 Champion Overall Rating:

2.5
Key Areas
| | |
| --- | --- |
| Arena Def: | 8 |
| Arena Atk: | 8 |
| Clan Boss: | 4 |
| Hydra: | 4 |
| Doom Tower: | 4 |
Dungeons
| | |
| --- | --- |
| Spider: | 6 |
| Fire Knight: | 8 |
| Dragon: | 6 |
| Ice Golem: | 6 |
| Iron Twins: | 1 |
| | |
| --- | --- |
| Magma Dragon: | 2 |
| Frost Spider: | 7 |
| Nether Spider: | 6 |
| Scarab King: | 3 |
| | |
| --- | --- |
| Eternal Dragon: | 4 |
| Celestial Griffin: | 4 |
| Dreadhorn: | 2 |
| Dark Fae: | 4 |
Kytis
Kytis is a Spirit affinity epic from the Knight Revenant faction. Kytis is known as a poor mans Trunda with the ability to destroy a whole wave of enemies in the Arena if set up correctly.
Kytis also has a heal reduction debuff on his A1 and multi-hit abilities on his A2 & A3 making him very useful against Fire Knight.
He can decimate enemy waves so goes down as a useful damage dealer for Faction War.
Overall a mid tier epic with a hard hitting A2.
Soul Reaper [ATK]
Attacks 1 enemy. Has an 85% chance of placing a 100% Heal Reduction debuff for 2 turns.
Level 2: Damage +5%
Level 3: Damage +5%
Level 4: Buff/Debuff Chance +5%
Level 5: Buff/Debuff Chance +10%
Damage Rating
Multiplier: 4.1*ATKOverall Grading*: Strong
Spikes [ATK] - 6 Turn Cooldown
Places a 50% Increase ATK buff on this champion for 2 turns, then attacks 4 times at random. The attacks will be critical if the target has any buffs.
Level 2: Damage +5%
Level 3: Damage +5%
Level 4: Damage +10%
Level 5: Cooldown -1
Level 6: Cooldown -1
Damage Rating
Multiplier: 1.6*ATKOverall Grading*: Weak
Bleeding Wounds [ATK] - 4 Turn Cooldown
Attacks all enemies 2 times. Damage increases according to the amount of HP this champion has lost. This is a secret skill and only becomes available when this champion has lost 50% of their HP.
Level 2: Damage +5%
Level 3: Damage +5%
Level 4: Damage +10%
Level 5: Damage +10%
Damage Rating
Multiplier: (1.9+((1-HP_PERC)*100)/30)*ATKOverall Grading*: Godlike
(Aura)
Increases Ally HP in the Arena by 33%
Offense
Defense
Support
Offense
Defense