Lord Shazar
Last Updated: July 8, 2022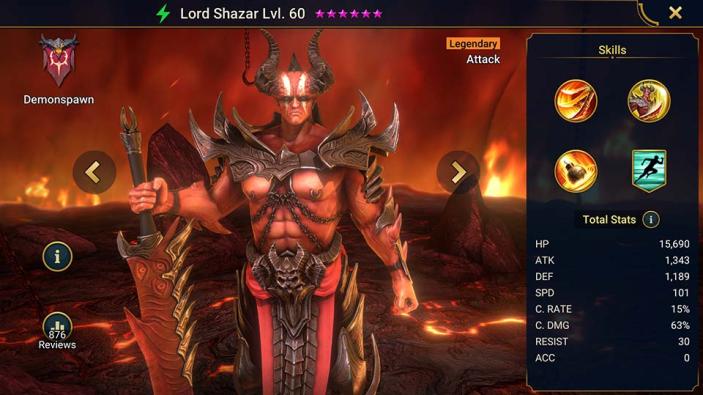 Champion Overall Rating:

3
Key Areas
| | |
| --- | --- |
| Arena Def: | 8 |
| Arena Atk: | 9 |
| Clan Boss: | 8 |
| Hydra: | 5 |
| Doom Tower: | 6 |
Dungeons
| | |
| --- | --- |
| Spider: | 2 |
| Fire Knight: | 8 |
| Dragon: | 6 |
| Ice Golem: | 6 |
| Iron Twins: | 2 |
| | |
| --- | --- |
| Magma Dragon: | 2 |
| Frost Spider: | 2 |
| Nether Spider: | 2 |
| Scarab King: | 2 |
| | |
| --- | --- |
| Eternal Dragon: | 6 |
| Celestial Griffin: | 6 |
| Dreadhorn: | 6 |
| Dark Fae: | 6 |
Lord Shazar
Lord Shazar is a Spirit affinity legendary from the Demonspawn faction. Lord Shazar has the fastest Arena speed lead in the game and his kit is strongest in the Arena. Lord Shazar is able to bomb the entire enemy team provided you have enough accuracy and if you hit with a critical hit the duration of the bombs is only 1 turn which should be enough to kill most enemies. Bombs scale from attack therefore high attack, high crit and high accuracy are important.
Lord Shazar also has a niche spot in unkillable Clan Boss if you are happy to manual with one of the hardest hitting A1's in the game.
Lord Shazar got a bomb damage buff in July 2022 patch 5.70 moving his bomb multipliers up to 4.2, still below the average bomb multipliers of 5 for key arena champions. I do not feel the change was enough!
Damnation
Attacks 1 enemy 3 times. Damage increases by 15% for each debuff on the target.
Level 2: Damage +5%
Level 3: Damage +5%
Level 4: Damage +5%
Level 5: Damage +10%
Damage Rating
Multiplier: 1.3*ATKOverall Grading*: Godlike
Everlasting Fury - 4 Turn Cooldown
Places a 50% [Increase ATK] buff on this champion for 2 turns. This buff cannot be removed. Places a [Block Debuffs] buff on this champion for 2 turns. Grants an Extra Turn.
Level 2: Cooldown -1
Cruel Fate - 6 Turn Cooldown
Attacks all enemies. Has a 75% chance of placing 2 [Bomb] debuffs that detonate after 2 turns. Decreases the detonation countdown by 1 turn if this attack is critical.
Level 2: Damage +10%
Level 3: Buff/Debuff Chance +10%
Level 4: Buff/Debuff Chance +15%
Level 5: Damage +15%
Level 6: Cooldown -1
Damage Rating
Multiplier: 3.2*ATK (4.2*ATK Bombs)Overall Grading*: Average
Aura
Increases Ally SPD in Arena battles by 32%
Offense
Defense
Support
Offense
Defense