Lordly Legionary
Last Updated: September 23, 2022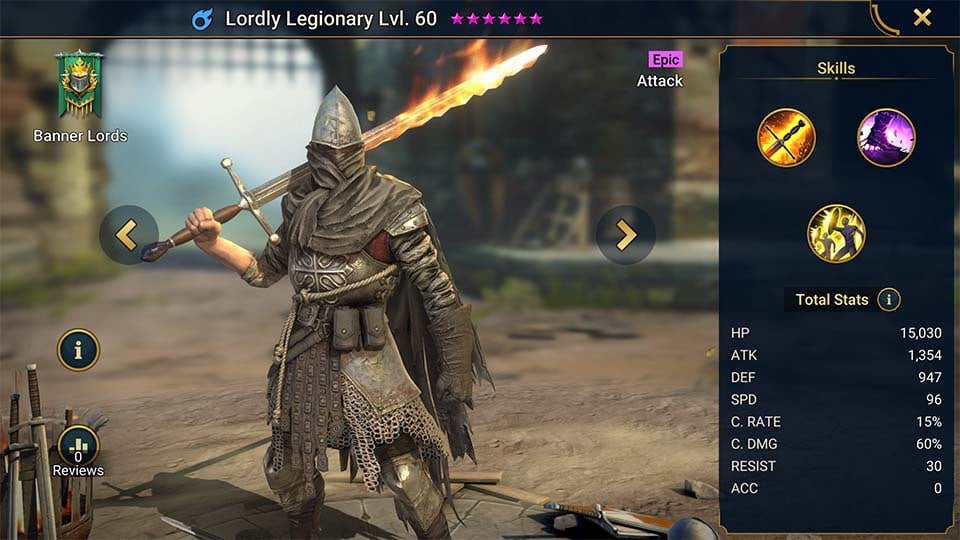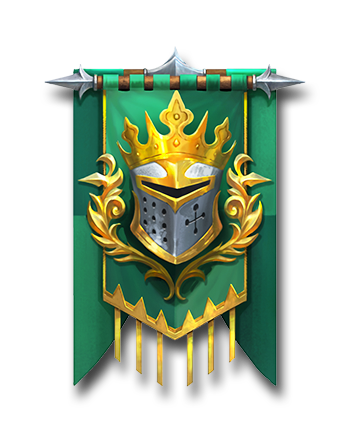 Champion Overall Rating:

2.5
Key Areas
| | |
| --- | --- |
| Arena Def: | 4 |
| Arena Atk: | 4 |
| Clan Boss: | 4 |
| Hydra: | 4 |
| Doom Tower: | 4 |
Dungeons
| | |
| --- | --- |
| Spider: | 4 |
| Fire Knight: | 9 |
| Dragon: | 6 |
| Ice Golem: | 6 |
| Iron Twins: | 5 |
Faction Wars
Damage:
Turn Meter Control:
Protection and Support:
| | |
| --- | --- |
| Magma Dragon: | 3 |
| Frost Spider: | 5 |
| Nether Spider: | 7 |
| Scarab King: | 2 |
| | |
| --- | --- |
| Eternal Dragon: | 6 |
| Celestial Griffin: | 6 |
| Dreadhorn: | 2 |
| Dark Fae: | 4 |
Lordly Legionary
Lordly Legionary is a free champion that all players can obtain by logging into the game for 150 days, we can't complain that he is free however in 150 days your account may not need him. Nonetheless, he is still a good viable champion in the Fire Knight as his kit is literally built around defeating it! This Banner Lord has a Team reflect damage which comes in clutch to beat the Fire Knight however he falls off a bit and is hard to keep him alive once you are past level 20. And unfortunately, on level 20, he is weak affinity which makes him much weaker. But if you have got him and haven't completed the earlier levels of Fire Knight then Lordly Legionary is your man to do so!
Team Lordly legionary up with someone who places Heal Reduction and you'll get a duo that will do well in the mid stages of the game because of the extra hits he'll gain from it so instead of hitting someone 2 times it will be 6. He does well in Faction wars if you need to finish off Banner Lords Faction Wars because he does a fair amount of damage with his sword covered in flames.
Press the Fight [ATK]
Attacks 1 enemy 2 times. Places an extra hit if the target is under a 50% Heal Reduction debuff. Places 2 extra hits if the target is under a 100% Heal Reduction debuff.
Level 2: Damage +5%
Level 3: Damage +5%
Level 4: Damage +5%
Damage Rating
Multiplier: 1.5*ATK (First 2 Hits) 0.75 * ATK (Additional Hits)Overall Grading*: Godlike
Outflank [ATK] - 4 Turn Cooldown
Attacks 1 enemy. Has a 75% chance of placing a 30% Decrease SPD debuff for 2 turns. Decreases the target's Turn Meter by 20% if the Decrease SPD debuff is placed.
Level 2: Damage +5%
Level 3: Damage +5%
Level 4: Damage +10%
Level 5: Buff/Debuff Chance +10%
Level 6: Buff/Debuff Chance +15%
Level 7: Cooldown -1
Damage Rating
Multiplier: 5.8*ATKOverall Grading*: Strong
Legion's Orders - 5 Turn Cooldown
Places a 30% Reflect Damage buff and a 15% Continuous Heal buff on all allies for 2 turns
Level 2: Cooldown -1
Offense
Defense
Support
This champion is not recommended for use in PvP
Blessings
We recommend you use these blessings for Lordly Legionary.
Team Blessings should be limited to 1 per team. For more information, please read our Team Blessings guide
here
.
Fire Knight


cruelty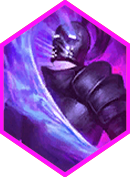 Team Blessing
Consider an alternative blessing if this already exists in your team.
Recommended PVE Stats
ACC, SPD, HP%, C.RATE, DEF%
Recommended PVE Artifact Sets
Lifesteal, Speed, Accuracy, Perception
Recommended PVP Artifact Sets