Lua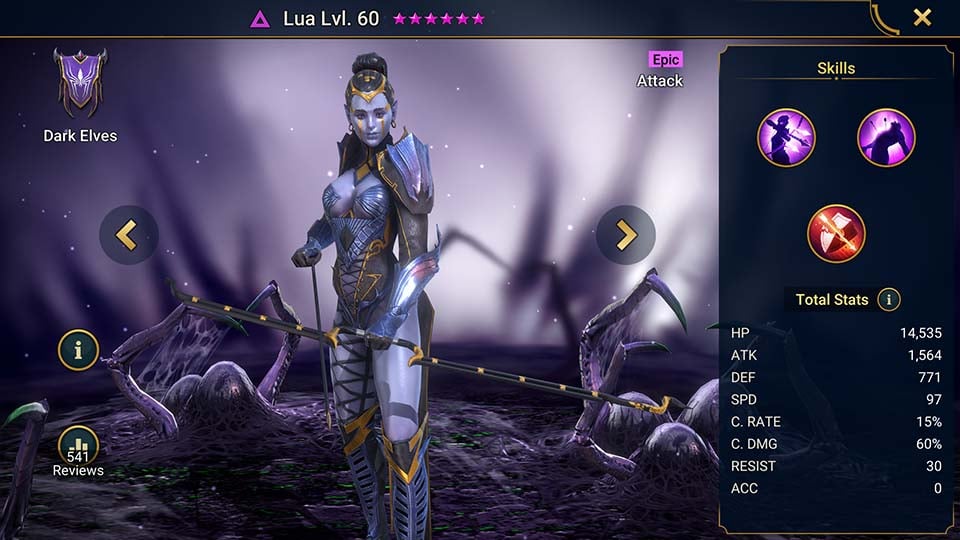 Champion Overall Rating:

3.5
Key Areas
| | |
| --- | --- |
| Arena Def: | 8 |
| Arena Atk: | 8 |
| Clan Boss: | 4 |
| Faction Wars: | 8 |
Dungeons
| | |
| --- | --- |
| Spider: | 8 |
| Fire Knight: | 8 |
| Dragon: | 7 |
| Ice Golem: | 6 |
Doom Tower
| | |
| --- | --- |
| Magma Dragon: | 4 |
| Frost Spider: | 7 |
| Nether Spider: | 4 |
| Scarab King: | 8 |
Lua
Lua is a Void epic from the Dark Elves faction. Lua has huge nuke potential and a fantastic A3 which decreases turn meter of a single target completely. This makes Lua a great wave clearer for Dungeons and Faction Wars and then a specialist to keep the Spider 20 and Fire Knight 20 bosses turn meter down.
Lua is also a big hitter in the Arena with a triple hit A2 able to destroy an Arena team.
Lua is a Top Tier epic and well worth taking to level 60.
Splinter Arrow [ATK]
Attacks 1 enemy. Deals 50% of the inflicted damage to all enemies if this attack is critical.
Level: 2 Damage +5%
Level: 3 Damage +5%
Level: 4 Damage +5%
Level: 5 Damage +5%
Damage Multiplier: 1.35 ATK
Damage Multiplier: 2.7 ATK
Hail of Arrows [ATK]
Cooldown: 4 turns
Attacks all enemies 3 times. Each critical hit heals this champion by 2.5% HP.
Level: 2 Damage +5%
Level: 3 Damage +5%
Level: 4 Damage +5%
Level: 5 Cooldown -1
Damage Multiplier: 1.4 ATK
Lucky Shot [ATK]
Cooldown: 5 turns
Attacks 1 enemy. This attack fully depletes the Turn Meter. Will ignore Shield and Block Damage buffs.
Level: 2 Damage +5%
Level: 3 Damage +5%
Level: 4 Damage +5%
Level: 5 Damage +5%
Level: 6 Cooldown -1
Damage Multiplier: 6 ATK
ACC, SPD, HP%, C.RATE, C.DMG, ATK%
Recommended PVE Artifact Sets
Savage, Cruel, Speed, Accuracy, Perception
Recommended PVP Artifact Sets
Savage, Cruel, Speed, Accuracy, Perception