Martyr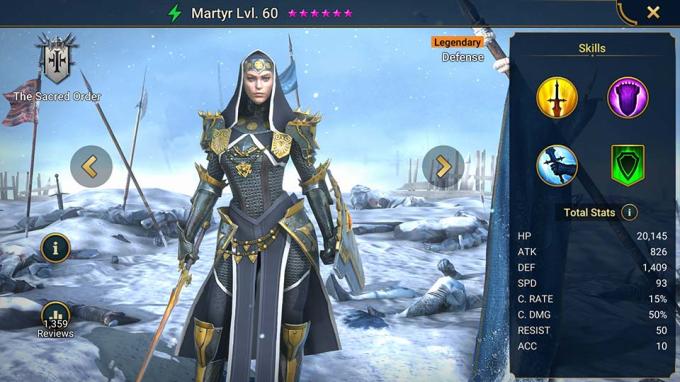 Champion Overall Rating:

4.5
Clan Boss & Faction War GODDESS
Key Areas
| | |
| --- | --- |
| Arena Def: | 8 |
| Arena Atk: | 8 |
| Clan Boss: | 10 |
| Faction Wars: | 10 |
Dungeons
| | |
| --- | --- |
| Spider: | 9 |
| Fire Knight: | 10 |
| Dragon: | 8 |
| Ice Golem: | 8 |
Doom Tower
| | |
| --- | --- |
| Magma Dragon: | 8 |
| Frost Spider: | 8 |
| Nether Spider: | 7 |
| Scarab King: | 8 |
Martyr
Martyr is a Spirit affinity legendary from the Sacred Order faction. Martyr was often considered the no:1 legendary in Raid: Shadow Legends in its first year of release and she continues to be one of the strongest in the game. She has a kit full of fantastic buffs and debuffs however is best known for her A2 skill that increases your whole teams defence and place a counter-attack buff on your entire team for 2 turns. Martyr is one of only 3 champions in Raid able to place a team counter-attack and it is a valuable skill especially in Clan Boss where you have a limited amount of time to output maximum damage before the Clan Boss enrages and destroys your team.
A lot (me included) would suggest Martyr has lost her crown as no:1 champion in the game, she still remains a top15 champion and able to compete in all content. Her strongest areas of the game are Clan Boss and Faction War where she still gets MVP status.
Rush [DEF]
Attacks 1 enemy. Has a 45% chance of placing a 60% Decrease DEF debuff for 2 turns.
Level 2: Damage +5%
Level 3: Damage +10%
Level 4: Buff/Debuff Chance +5%
Level 5: Buff/Debuff Chance +10%
Level 6: Damage +10%
Level 7: Buff/Debuff Chance +15%
Damage Multiplier: 3.4 DEF
Bastion of Faith
Cooldown: 4 turns
Places a 60% Increase DEF buff and a Counterattack buff on all allies for 2 turns.
Level 2: Cooldown -1
Suppression [DEF]
Cooldown: 6 turns
Attacks all enemies. Places a 50% Decrease ATK debuff for 2 turns. Places a Provoke debuff for 1 turn.
Level 2: Damage +10%
Level 3: Damage +10%
Level 4: Cooldown -1
Level 5: Cooldown -1
Damage Multiplier: 4 DEF
(Aura)
Increases Ally DEF in all battles by 33%.
ACC, SPD, DEF%, C.RATE, C.DMG
Recommended PVE Artifact Sets
Lifesteal, Speed, Accuracy, Perception, DEF
ACC, SPD, DEF%, C.RATE, C.DMG
Recommended PVP Artifact Sets
Savage, DEF, Speed, Accuracy, Perception