Ma'Shalled
Last Updated: April 9, 2022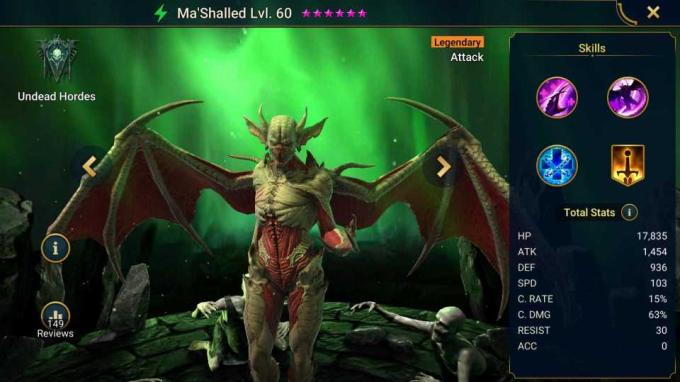 Champion Overall Rating:

4.5
ARENA & Sorath GOD
Key Areas
| | |
| --- | --- |
| Arena Def: | 8 |
| Arena Atk: | 9 |
| Clan Boss: | 9 |
| Hydra: | 10 |
| Doom Tower: | 8 |
Dungeons
| | |
| --- | --- |
| Spider: | 8 |
| Fire Knight: | 10 |
| Dragon: | 9 |
| Ice Golem: | 9 |
| Iron Twins: | 6 |
Faction Wars
Damage:
Crowd Control:
Turn Meter Control:
Protection and Support:
| | |
| --- | --- |
| Magma Dragon: | 2 |
| Frost Spider: | 10 |
| Nether Spider: | 8 |
| Scarab King: | 7 |
| | |
| --- | --- |
| Eternal Dragon: | 10 |
| Celestial Griffin: | 7 |
| Dreadhorn: | 2 |
| Dark Fae: | 8 |
Ma'Shalled
Often considered the original vampire that sired a thousand children, Ma'Shalled is considered a god amongst the undead, avoided by most in fear of his wrath that comes fast and deadly.
Ma'Shalled is a Spirit affinity Legendary champion in the Undead Hordes faction. Widely known as a vault lord until he got a HUGE buff in April 2020. Now he has become a top15 legendary and a GOD of arena offence with high damage potential and great enemy control through True Fear. Ma'Shalled will speed your team up whilst applying crippling debuffs to the enemy team.
Ma'Shalled in a great champion in all content if paired with the right champions. His leech ability enables you to use him in a Clan Boss team without the rest of your team needing to run Life Steal gear. He is also used in the famous white whale team allowing your team to go on a 2:1 speed versus clan boss ensuring maximum number of hits.
In any dungeon provided you have enough accuracy to apply your debuffs he can control enemy waves for your team.
With the arrival of Hydra Clan Boss Ma'Shalled spiked in value again as one of the best damage dealers against these deadly Hydra heads. His A1 will hit all enemies with a leech debuffs but it counts as single target hits and therefore bypasses a lot of the hydra passive abilities to reduce incoming AOE damage.
Bloodsucker [ATK]
Attacks 1 enemy. Heals this champion by 30% of the damage inflicted. Will then attack enemies under [Leech] debuffs.
Level 2: Damage +5%
Level 3: Damage +5%
Level 4: Damage +10%
Level 5: Damage +10%
Level 6: Damage +10%
Damage Rating
Multiplier: 3.9*ATKOverall Grading*: Godlike
Tornado - 4 Turn Cooldown
Places a 30% [Increase SPD] buff and a 30% [Increase C.DMG] buff on all allies for 2 turns. Places a [True Fear] and a [Leech] debuff on all enemies for 2 turns. Grants an Extra Turn.
Level 2: Cooldown -1
Open Wounds [ATK] - 4 Turn Cooldown
Attacks 1 enemy. Has an 80% chance of stealing all buffs from the target before attacking. Places a 100% [Heal Reduction] debuff for 2 turns. Also places two 15% [Continuous Heal] buffs on this champions for 3 turns. Damage increases by 50% against targets that have no buffs.
Level 2: Buff/Debuff Chance +10%
Level 3: Buff/Debuff Chance +10%
Level 4: Cooldown -1
Damage Rating
Multiplier: 6.6*ATKOverall Grading*: Godlike
(Aura)
Increases Ally ATK in Dungeons by 34%.
Offense
Defense
Support
Offense
Defense