Nethril
Last Updated: September 22, 2022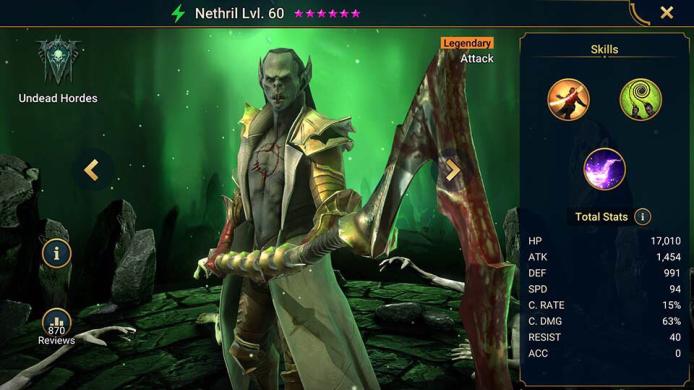 Champion Overall Rating:

4
Clan Boss, Spider & Faction War GOD
Key Areas
| | |
| --- | --- |
| Arena Def: | 8 |
| Arena Atk: | 9 |
| Clan Boss: | 10 |
| Hydra: | 6 |
| Doom Tower: | 10 |
Dungeons
| | |
| --- | --- |
| Spider: | 10 |
| Fire Knight: | 10 |
| Dragon: | 8 |
| Ice Golem: | 8 |
| Iron Twins: | 7 |
Faction Wars
Damage:
Crowd Control:
Turn Meter Control:
| | |
| --- | --- |
| Magma Dragon: | 2 |
| Frost Spider: | 10 |
| Nether Spider: | 8 |
| Scarab King: | 9 |
| | |
| --- | --- |
| Eternal Dragon: | 8 |
| Celestial Griffin: | 8 |
| Dreadhorn: | 2 |
| Dark Fae: | 8 |
Nethril
Considered the first vampire sired by Ma'Shalled, Nethril was born to a world of longing and hunger. Driven by his need for blood he destroyed whole regions. His inbuilt ability to slow and stun his prey made for easy pickings. The Sacred Order were called to destroy this threat but still struggle to this day.
Nethril is a Spirit affinity legendary from the Undead Hordes faction. Nethril has an amazing kit enabling real control of enemy waves and bosses through his AOE turn meter reduction, decrease speed, and Stuns! Nethril is one of the best control champions in the game that means he can be strong in all Dungeons. He becomes an MVP in Spider 17-20 but especially Spider 19 where a lot of people struggle with the affinity! To get the most out of Nethril you need high speed, high accuracy, and strong HP levels. Nethril is someone that enables others in your team to do their damage.
Nethril was buffed for Clan Boss in January 2021 with an AI now focused to purely use his A1 and land poisons. This has made his God Tier for poison now in Clan Boss. For Clan Boss, his A1 is easily his strongest skill, especially when paired with a Tier 6 Giant Slayer mastery.
Nethril is a fantastic and versatile legendary worthy of 6 stars!
Blood Harvest
Attacks 1 enemy 3 times. Has a 30% chance of placing a 5% Poison debuff for 2 turns.
Level 2: Damage +10%
Level 3: Buff/Debuff Chance +10%
Level 4: Buff/Debuff Chance +10%
Damage Rating
Multiplier: 1*ATKOverall Grading*: Average
Ghastly Horrors [ATK] - 5 Turn Cooldown
Attacks all enemies. Has a 50% chance of placing a Stun debuff on all enemies for 1 turn. Places a 30% Decrease SPD debuff for 2 turns if the target is not under a Stun debuff.
Level 2: Buff/Debuff Chance +5%
Level 3: Buff/Debuff Chance +10%
Level 4: Buff/Debuff Chance +10%
Level 5: Cooldown -1
Damage Rating
Multiplier: 4.8*ATKOverall Grading*: Godlike
Bat Swarm - 5 Turn Cooldown
Attacks all enemies. Decreases the Turn Meter by 75%.
Level 2: Damage +10%
Level 3: Damage +10%
Level 4: Cooldown -1
Damage Rating
Multiplier: 4*ATKOverall Grading*: Godlike
Offense
Defense
Support
Offense
Defense