Oella
Last Updated: May 15, 2023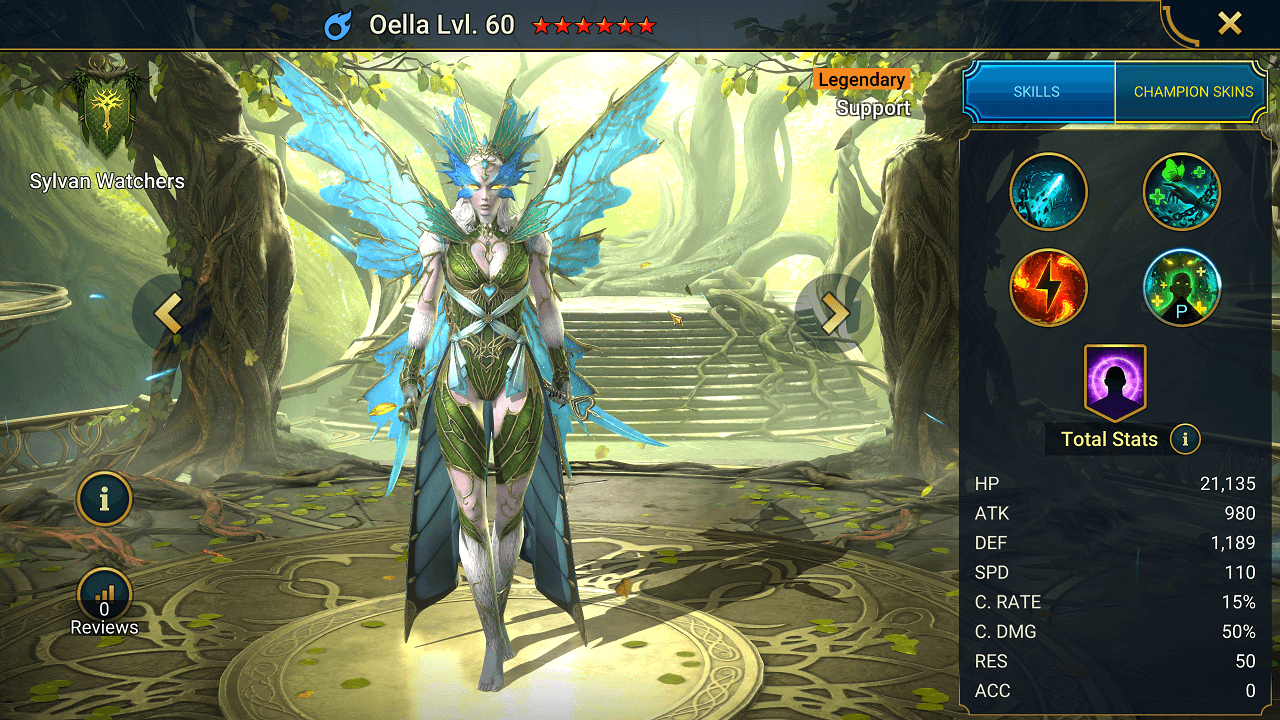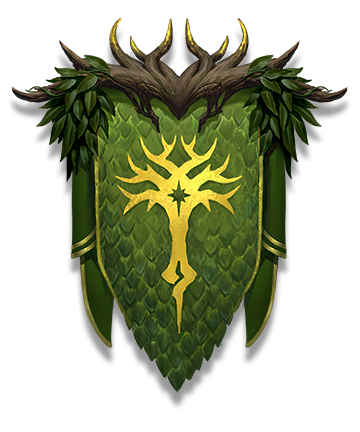 Key Areas
| | |
| --- | --- |
| Clan Boss: | |
| Hydra: | |
| Doom Tower: | |
| Iron Twins: | |
| Sand Devil: | |
| Shogun Grove: | |
Dungeons
| | |
| --- | --- |
| Spider: | |
| Fire Knight: | |
| Dragon: | |
| Ice Golem: | |
| | |
| --- | --- |
| Magma Dragon: | |
| Frost Spider: | |
| Nether Spider: | |
| Scarab King: | |
| | |
| --- | --- |
| Eternal Dragon: | |
| Celestial Griffin: | |
| Dreadhorn: | |
| Dark Fae: | |
Damage:
Turn Meter Control:
Protection and Support:
Arena Roles


Understanding Arena Roles
×
Champions normally form specific roles within an arena team. Our ratings define the roles that the champion fits and rates them on their ability to perform the roles. Below you can see a breakdown of all of our roles.

Cleanser
Champions with the Cleanser role will use their skills to remove debuffs and keep them from being re-applied.

Crowd Control
Champions with the Crowd Control role will use their skills to place soft (i.e. Provoke or Taunt) and hard (i.e Freeze or Stun) debuffs to disable enemy champions.

Damage
Champions with the Damage role will have skills that deal significant damage and are designed to defeat enemy champions.

Damage Absorption
Champions with the Damage Absorption role will have skills or effects that reduce the incoming damage your team takes. This can be through passive damage reduction or by applying skills such as Strengthen or Shields.

Healer
Champions with the Healer role will have skills that restore your champion's Health including Continuous Heals.

Debuffer
Champions with the Debuffer role will have skills that place debuffs that don't fall into Crowd Control or Skill Manipulator roles i.e. Decrease Defence. These champions may also have skills that remove Buffs.

Revive
Champions with the Revive role will have skills that bring your ally champions back from the dead including Revive on Death buffs.

Skill Manipulator
Champions with the Skill Manipulator role will have skills that increase enemy skill cooldowns or reduce your ally skill cooldowns.

Speed Manipulator
Champions with the Speed Manipulator role will have skills that affect the turn meter of your allies or enemies. This includes speed buffs and debuffs aswell as direct turn meter effects.
Live Arena
Select an Arena Tier to retrieve stats
Mythical Champions have multiple forms with different roles. We are currently re-working our ratings to support this dynamic.
Oella Overview
Fluttering through the forests of the Mistwood, Oella and her maligned love Ultan seek to restore their home to its former glory and joins as part of the February 2023 Valentine's February Fusion event.
If you are looking for support and healing in the latest high end content in Raid then look no further than Oella. She has the ideal kit to combat the challenges of the Iron Twins, The Sand Devil and Hydra Clan Boss. Her A1 brings a 100% chance (when booked) to land Decrease Speed debuff to a target which is especially important for dealing with these fast bosses you face in the end game. If she brings Ultan along with her this becomes irresistible meaning you can remove accuracy from her builds as she doesn't place any other debuffs (at current we do not know what Ultan's kit will be). Her other abilities do not attack making her ideal in the Sand Devil where you want to limit these. The A2 places a 30% Heal (although it is based on the target and not her HP which is less ideal) and increases the duration of buffs by 1 turn joining the select few champions that can do this on a 3 turn Cooldown (required for 2:1 in some clan boss speed tunes). Her A3 then fills turn meter by 30% and places Increase Resistance buff. The only downside to this buff is that you need to take a turn to enable it, therefore for Arena you'll likely need Immunity either from Stoneskin or Untouchable sets to ensure you get a turn.
She brings a unique passive that is quite powerful with Ultan. If an Ally takes a significant hit, they will receive a continuous heal for 2 turns and it'll instantly activate (with Ultan) or for 1 turn. Ultan is essential to make this passive viable otherwise a 1 turn Continuous heal is quite low in terms of healing.
With a strong resistance Aura, Oella is perfectly placed to create a strong Resistance PvE team to combat the rising challenges in Teleria.
Flutter Fluster
Attacks 1 enemy. Has a 80% chance of placing [Decrease SPD] debuff for 2 turns. This debuff cannot be resisted if Ultan of the Shell is on the same team.
Level 2: Damage +10%
Level 3: Buff/Debuff Chance +10%
Level 4: Buff/Debuff Chance +10%
Damage Rating
Multiplier: 4.5*ATKOverall Grading*: Average
Hand of Spring - 4 Turn Cooldown
Heals all allies by 30% of their MAX HP. Increases the duration of all ally buffs by 1 turn.
Level 2: Heal +5%
Level 3: Heal +10%
Level 4: Heal +10%
Level 5: Cooldown -1
Morphosis - 6 Turn Cooldown
Fills the Turn Meters of all allies by 30%. Also places a 50% [Increase RES] buff on all allies for 2 turns.
Level 2: Cooldown -1
Level 3: Cooldown -1
Level 4: Cooldown -1
Untrammeled [P]
Whenever an ally loses 15% or more of their MAX HP from a single hit, places a 15% [Continuous Heal] buff on that ally for 1 turn. Places a 15% [Continuous Heal] buff for 2 turns on that ally and then instantly activates it if Ultan of the Shell is on the same team. Can occur only once to an ally per turn.
Aura
Increases Ally RES in Dungeons by 75.
Oella PVE Masteries
Offense
Defense
Support
Offense
Defense
Support
Oella PVP Masteries
Offense
Defense
Support