Rae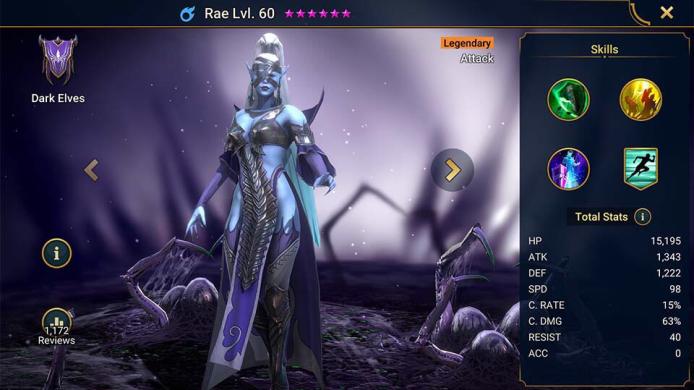 Champion Overall Rating:

4
Arena Offence GODDESS
Key Areas
| | |
| --- | --- |
| Arena Def: | 10 |
| Arena Atk: | 10 |
| Clan Boss: | 4 |
| Faction Wars: | 10 |
Dungeons
| | |
| --- | --- |
| Spider: | 8 |
| Fire Knight: | 8 |
| Dragon: | 9 |
| Ice Golem: | 9 |
Doom Tower
| | |
| --- | --- |
| Magma Dragon: | 6 |
| Frost Spider: | 8 |
| Nether Spider: | 2 |
| Scarab King: | 3 |
Rae
Rae is a Magic affinity legendary from the Dark Elves faction. Dark Elves are blessed with amazing champions and Rae is no exception. She has hard hitting AOE damage along with amazing utility such as AOE freeze, AOE clean Buff, AOE drop defence and a straight out NUKE!
Rae is one of the strongest hitting champions in Raid: Shadow Legends helping carry your teams through Dungeons with a speed Aura or being your control or damage dealer in an Arena team.
Rae is one of the best Dark Elves for Faction Wars bringing that combination of power and control.
Make sure you build her fast, with enough accuracy to land her abilities and then scale her crit rate and crit damage high to see some fun numbers!
Corrode [ATK]
Attacks all enemies. Has a 30% chance of placing a 60% Decrease DEF debuff for 2 turns.
Level 2: Damage +5%
Level 3: Damage +5%
Level 4: Damage +10%
Level 5: Buff/Debuff Chance +10%
Level 6: Buff/Debuff Chance +10%
Damage Multiplier: 2.5 ATK
Arcane Wave [ATK]
Cooldown: 4 turns
Attacks all enemies. Inflicts 50% more damage against targets under debuffs.
Level 2: Damage +5%
Level 3: Damage +10%
Level 4: Damage +15%
Damage Multiplier: 2.15 ATK
Damage Multiplier: 4.3 ATK
Banish ATK
Cooldown: 7 turns
Attacks all enemies. Removes all buffs. Has a 50% chance of placing a Freeze debuff for 1 turn.
Level 2: Damage +10%
Level 3: Buff/Debuff Chance +10%
Level 4: Buff/Debuff Chance +10%
Level 5: Cooldown -1
Damage Multiplier: 5.3 ATK
(Aura)
Increases Ally SPD in Dungeons by 33%
ACC, SPD, HP%, C.RATE, C.DAM
Recommended PVE Artifact Sets
Lifesteal, Speed, Accuracy, Perception, C.Rate
Recommended PVP Artifact Sets
Savage, Cruel, Speed, Accuracy, Perception, Crit Damage