Seeker
Last Updated: April 9, 2022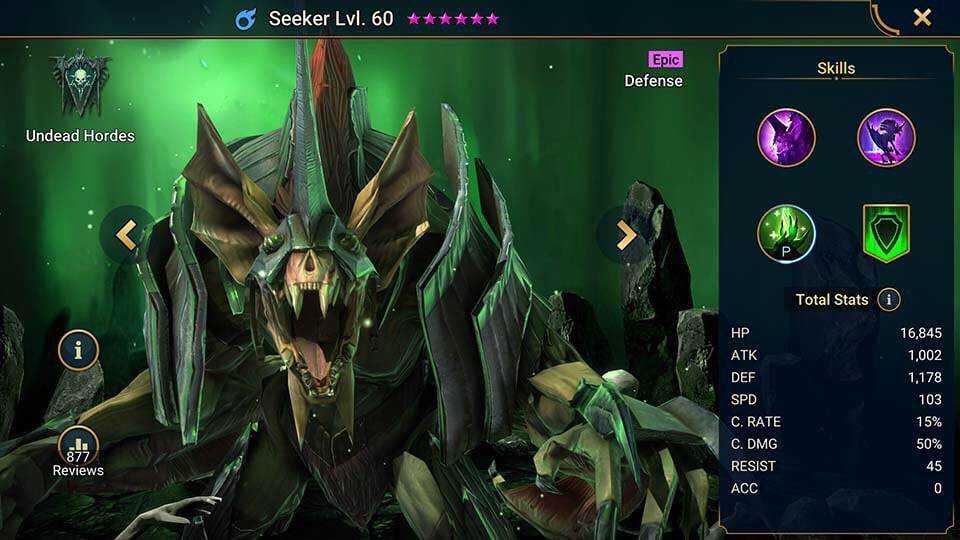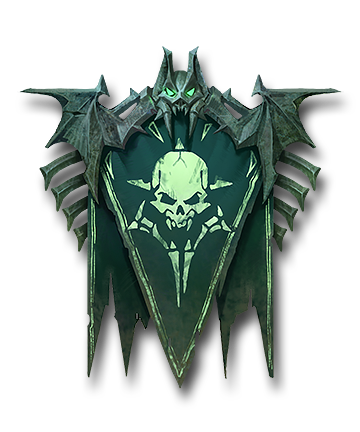 Champion Overall Rating:

4
Kuldath God
Key Areas
| | |
| --- | --- |
| Arena Def: | 10 |
| Arena Atk: | 9 |
| Clan Boss: | 10 |
| Hydra: | 6 |
| Doom Tower: | 8 |
Dungeons
| | |
| --- | --- |
| Spider: | 8 |
| Fire Knight: | 8 |
| Dragon: | 8 |
| Ice Golem: | 8 |
| Iron Twins: | 4 |
Faction Wars
Damage:
Crowd Control:
Turn Meter Control:
Protection and Support:
| | |
| --- | --- |
| Magma Dragon: | 10 |
| Frost Spider: | 7 |
| Nether Spider: | 6 |
| Scarab King: | 3 |
| | |
| --- | --- |
| Eternal Dragon: | 6 |
| Celestial Griffin: | 6 |
| Dreadhorn: | 4 |
| Dark Fae: | 6 |
Seeker
The mad scientists of Teleria dabbled in the art of the meld. Looking to take the strongest creatures from the swamplands and melding them with the unworthy men of Teleria. The first experiment resulted in a vicious beast they named Doomscreech, a meld of man and giant bat. That was considered their crowning achievement until Seeker was born. He surpassed all previous trials with amazing power and speed.
Seeker is a Magic affinity epic from the Undead Hordes faction. Seeker is one of the strongest turn meter boosters in the game because his ability also grants him an extra turn and gives your team increase attack, it plays as though his turn meter boost actually on a 2 turn cooldown! He is top tier in certain Clan Boss teams such as a Batman Eater comp, the highest damage output team for Unkillable compositions with epics and rares – See here!
Seeker is also fantastic in the arena as your speed boost champion with the added protection of a passive ability boosting your team's defense if you do not go first and take a big hit. This same passive makes his amazing in a go 2nd Arena team however you need to make sure Seeker is either in leader or 2nd position in your team to allow others to benefit from his Increase Defence buff on his passive.
Seeker is a brilliant epic champion in Raid: Shadow Legends.
Devour
Attacks 1 enemy 2 times. Has a 25% chance of placing a Provoke debuff for 1 turn.
Level 2: Damage +5%
Level 3: Buff/Debuff Chance +5%
Level 4: Damage +5%
Level 5: Buff/Debuff Chance +10%
Level 6: Damage +10%
Level 7: Buff/Debuff Chance +10%
Level 8: Damage +10%
Damage Rating
Multiplier: 2.2*ATKOverall Grading*: Strong
Tailwind - 5 Turn Cooldown
Fills the Turn Meter of all allies by 30%. Places a 50% Increase ATK buff on all allies for 2 turns. Grants an Extra Turn.
Level 2: Cooldown -1
Level 3: Cooldown -1
Dark Blood [P] - 5 Turn Cooldown
Heals this champion by 20% HP and places a 60% Increase DEF buff on all allies for 2 turns when hit with a critical hit.
(Aura)
Increases Ally DEF in Arena battles by 30%
Offense
Defense
Support
Offense
Defense
Support
Offense
Defense
Support
Offense
Defense
Support
Blessings
We recommend you use these blessings for Seeker.
Team Blessings should be limited to 1 per team. For more information, please read our Team Blessings guide
here
.
Clan Boss


cruelty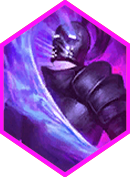 Arena Defense

heavencast

Team Blessing
Consider an alternative blessing if this already exists in your team.
Recommended PVE Artifact Sets
Lifesteal, Speed, Accuracy, Immortal, Cruel
Recommended PVP Artifact Sets
Speed, Accuracy, Perception