Septimus
Last Updated: September 22, 2022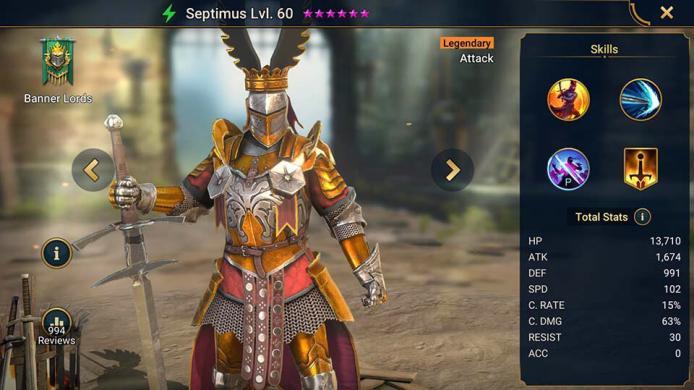 Champion Overall Rating:

4
Spider & Agreth GOD
Key Areas
| | |
| --- | --- |
| Arena Def: | 8 |
| Arena Atk: | 8 |
| Clan Boss: | 10 |
| Hydra: | 8 |
| Doom Tower: | 8 |
Dungeons
| | |
| --- | --- |
| Spider: | 9 |
| Fire Knight: | 8 |
| Dragon: | 8 |
| Ice Golem: | 9 |
| Iron Twins: | 8 |
| | |
| --- | --- |
| Magma Dragon: | 8 |
| Frost Spider: | 9 |
| Nether Spider: | 8 |
| Scarab King: | 8 |
| | |
| --- | --- |
| Eternal Dragon: | 8 |
| Celestial Griffin: | 8 |
| Dreadhorn: | 8 |
| Dark Fae: | 8 |
Septimus
Septimus is the Golden boy in the Banner Lords faction with the gold-plated armour, you know it is Septimus when he walks through the door. Septimus has an a2 which is based on the enemy's MAX HP therefore he will smack bosses.
Septimus has the Biggest NUKE in the game until you hit stage 21 content then he gets capped but he still Smacks like a runaway train!
Septimus holds world record runs in Spider, Ice Golem and now Doom Tower and continues to be one of the most fun legendaries in the game.
He is such a good champion in most content because he just hits so damn hard! He only has two abilities and he's legendary, this shows how hard he can smack because you would be disappointed if you saw you pulled a legendary champion and he only has two abilities but not Septimus!
He shines the most in Spider and Clan boss because he will just blow the Bosses up with his a2!
Septimus masteries change a lot depending on your use of him! If Clan Boss you want Warmaster and accuracy so offence and support. Outside of Clan Boss my selected is for high burst damage hits but you may prefer Flawless execution over Helmsmasher for consistent damage.
Behead [ATK]
Attacks 1 enemy. Grants an Extra Turn and resets the cooldown on this champion's Holy Sword Skill if the target is killed.
Level 2: Damage +5%
Level 3: Damage +5%
Level 4: Damage +5%
Level 5: Damage +10%
Damage Rating
Multiplier: 3.6*ATKOverall Grading*: Godlike
Holy Sword [ATK][Enemy MAX HP] - 4 Turn Cooldown
Attacks 1 enemy. Will ignore Shield and Block Damage buffs. Damage increases according to enemy MAX HP.
Level 2: Damage +5%
Level 3: Damage +5%
Level 4: Damage +5%
Level 5: Damage +10%
Damage Rating
Multiplier: 2.5*ATK+0.1*TRG_HPOverall Grading*: Godlike
Giant Killer (Passive)
Each attack has a 30% chance of increasing the duration of all debuffs on the target by 1 turn. Damage inflicted by each attack increases by 30% if the enemy's current HP is over 50%.
Damage Rating
Multiplier: DMG_MUL*0.3Overall Grading*: Weak
(Aura)
Increases ally ATK in all battles by 23%
Offense
Defense
Support
Offense
Defense