Theresc
Last Updated: September 27, 2022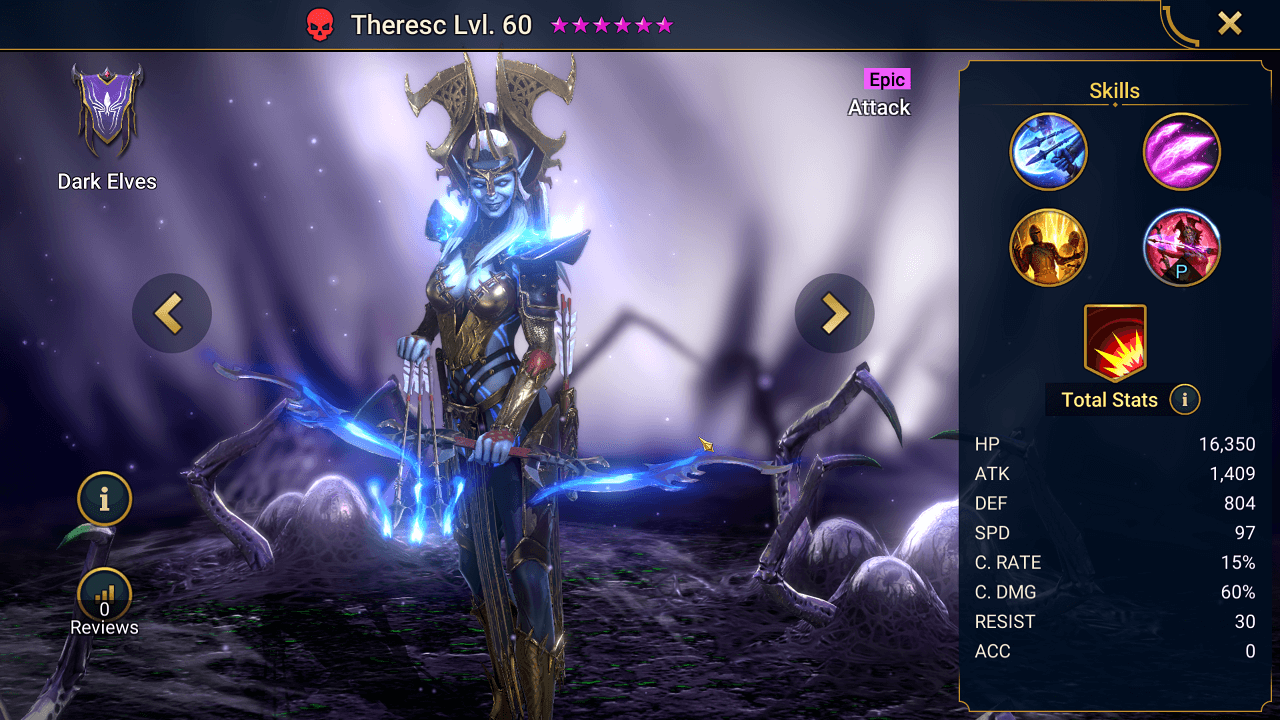 Champion Overall Rating:

2.5
Key Areas
| | |
| --- | --- |
| Arena Def: | 7 |
| Arena Atk: | 7 |
| Clan Boss: | 3 |
| Hydra: | 6 |
| Doom Tower: | 8 |
Dungeons
| | |
| --- | --- |
| Spider: | 6 |
| Fire Knight: | 6 |
| Dragon: | 6 |
| Ice Golem: | 6 |
| Iron Twins: | 4 |
| | |
| --- | --- |
| Magma Dragon: | 3 |
| Frost Spider: | 8 |
| Nether Spider: | 2 |
| Scarab King: | 2 |
| | |
| --- | --- |
| Eternal Dragon: | 4 |
| Celestial Griffin: | 4 |
| Dreadhorn: | 2 |
| Dark Fae: | 4 |
Theresc
Theresc is an Epic champion from the Dark Elves Faction introduced to Raid in February 2022 during the Karato Foxhunter fusion.
Theresc was the first champion added to Raid with the decrease resistance debuff. This ability will be overshadowed in the future as her A3 only has a booked chance to land this debuff of 75%. Her passive could be interesting as it pushes more damage to anyone who has a resistance lower than their accuracy and her abilities have decent scaling.
With a bow Aleksandr would envy this champion may well sit near him in the vault.
Dual Debility
Attacks 1 enemy 2 times. Each hit has a 25% chance of increasing the duration of a random debuff by 1 turn.
Level 2: Damage +5%
Level 3: Buff/Debuff Chance +5%
Level 4: Damage +5%
Level 5: Buff/Debuff Chance +5%
Level 6: Buff/Debuff Chance +15%
Damage Rating
Multiplier: 1.6*ATKOverall Grading*: Strong
Dress Down - 3 Turn Cooldown
Attacks 1 enemy 3 times. Each hit has a 40% chance of removing 1 buff from the target.
Level 2: Damage +10%
Level 3: Buff/Debuff Chance +10%
Level 4: Damage +10%
Level 5: Buff/Debuff Chance +10%
Damage Rating
Multiplier: 1.8*ATKOverall Grading*: Strong
Hate's Flowers - 5 Turn Cooldown
Attacks all enemies. Has a 50% chance of placing a 50% [Decrease RES] debuff for 2 turns.
Level 2: Damage +5%
Level 3: Buff/Debuff Chance +5%
Level 4: Damage +10%
Level 5: Buff/Debuff Chance +10%
Level 6: Buff/Debuff Chance +10%
Level 7: Cooldown -1
Damage Rating
Multiplier: 3.9*ATKOverall Grading*: Strong
Ruthless [P]
Inflicts 10% more damage against targets who RES is lower than this Champion's ACC
Aura
Increases Ally C.RATE in all Battles by 12%
Offense
Defense
Support
Offense
Defense