Torturehelm
Last Updated: April 9, 2022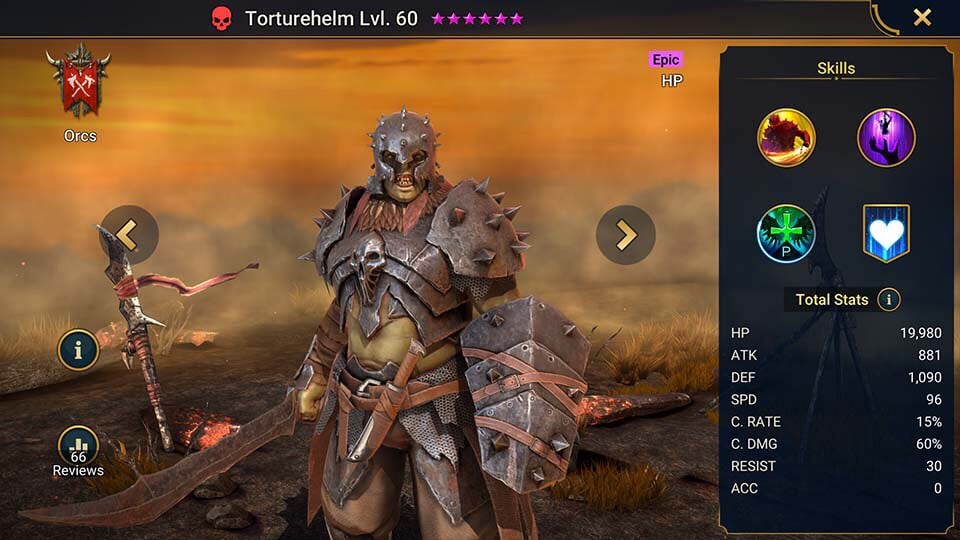 Champion Overall Rating:

3
Key Areas
| | |
| --- | --- |
| Arena Def: | 7 |
| Arena Atk: | 7 |
| Clan Boss: | 4 |
| Hydra: | 4 |
| Doom Tower: | 6 |
Dungeons
| | |
| --- | --- |
| Spider: | 2 |
| Fire Knight: | 4 |
| Dragon: | 9 |
| Ice Golem: | 6 |
| Iron Twins: | 4 |
| | |
| --- | --- |
| Magma Dragon: | 2 |
| Frost Spider: | 2 |
| Nether Spider: | 2 |
| Scarab King: | 4 |
| | |
| --- | --- |
| Eternal Dragon: | 2 |
| Celestial Griffin: | 2 |
| Dreadhorn: | 7 |
| Dark Fae: | 4 |
Torturehelm
Torturehelm (or Mr Smiles as known by friends) is a Force affinity epic champion from the Orc faction. He has a very unique kit that improves as more people in your team die. There have been some Clan Boss Unkillable teams built using The Tower and Torturehelm where Torturehelm is the stun target and dies, Torturehelm revives on his passive ability and this cycles for 50 turns.
This same tactic does enable Torturehelm to solo dragon 20, please see my video on this before wasting resources as the build is fairly specific!
These has also been Arena teams built around the same passive where the whole team dies and Torturehelm unleashes a lot of damage. These teams are very niche and Torturehelm has no place in general content unless teams are built around him.
Torturehelm is also an epic that forms part of the permanent legendary fusion Rhazin Scarhide considered as a top tier legendary.
Torturehelm can be fused by combining 4 rares, Skullsworn, Halberdier, Spikehead and Theurgist.
Pillage [ATK] [DEF]
Attacks 1 enemy. Has a 30% chance of stealing 1 random buff from the target. Damage isproportional to ATK and DEF.
Level 2: Damage +5%
Level 3: Damage +5%
Level 4: Buff/Debuff Chance +10%
Level 5: Buff/Debuff Chance +10%
Damage Rating
Multiplier: 1.9*ATK+3*DEFOverall Grading*: Weak
Bloodlust [HP] - 4 Turn Cooldown
Attacks 1 enemy. Damage isproportional to this champion's MAX HP and increases according to the number of dead allies.
Level 2: Damage +5%
Level 3: Damage +5%
Level 4: Damage +5%
Level 5: Cooldown -1
Damage Rating
Multiplier: 0.3*HP*(1+deadAlliesCount)Overall Grading*: Godlike
Unkillable (Passive) - 3 Turn Cooldown
Revives this champion with 50% HP when killed.
(Aura)
Increases Ally HP in Dungeons by 33%
Offense
Defense
Support
Offense
Defense