Tuhak the Wanderer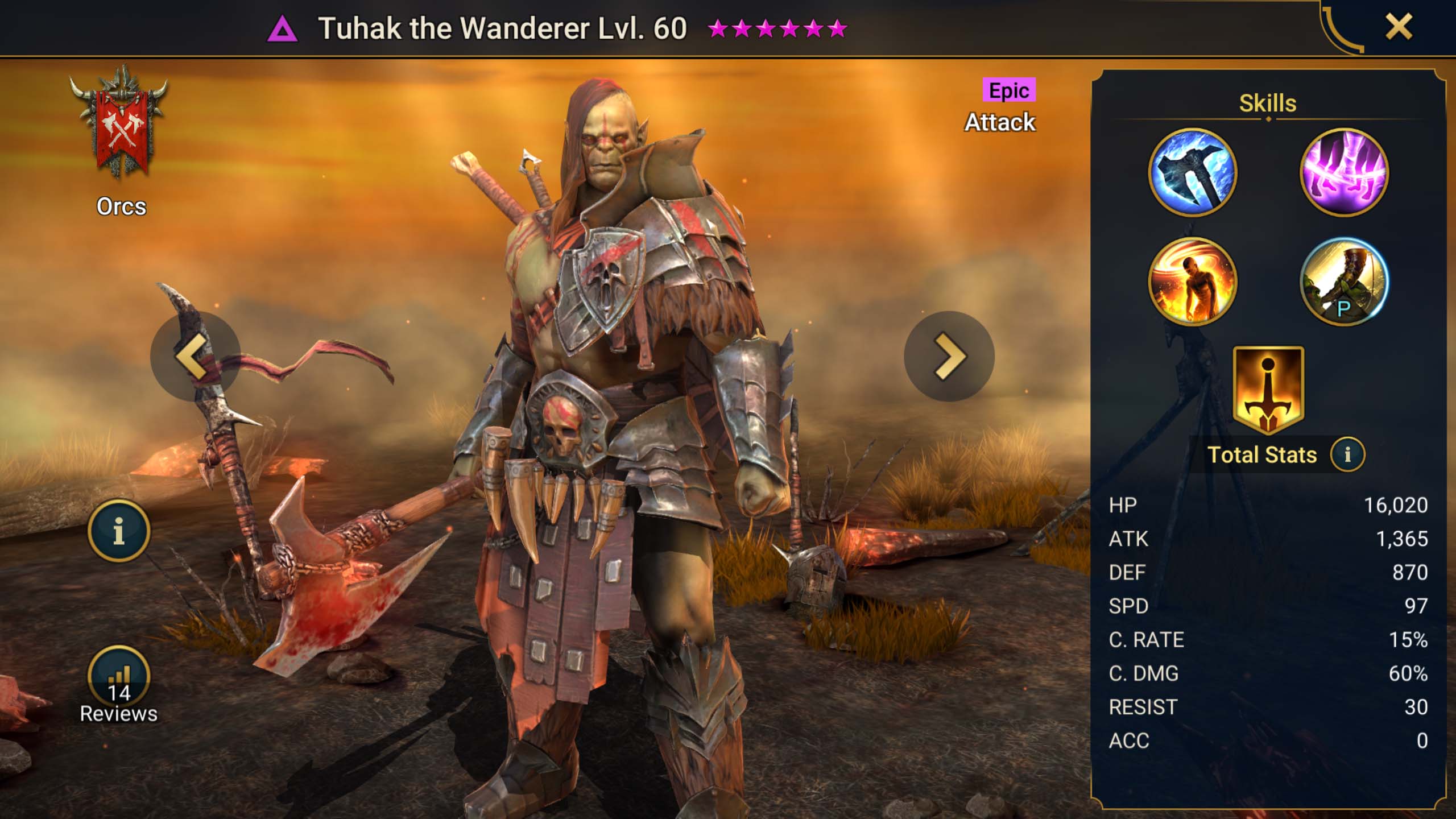 Champion Overall Rating:

4
Key Areas
| | |
| --- | --- |
| Arena Def: | 8 |
| Arena Atk: | 10 |
| Clan Boss: | 4 |
| Faction Wars: | 10 |
Dungeons
| | |
| --- | --- |
| Spider: | 9 |
| Fire Knight: | 8 |
| Dragon: | 8 |
| Ice Golem: | 8 |
Doom Tower
| | |
| --- | --- |
| Magma Dragon: | 5 |
| Frost Spider: | 7 |
| Nether Spider: | 8 |
| Scarab King: | 7 |
Tuhak the Wanderer
Tuhak is a Void affinity epic from the Orc faction. Tuhak was introduced during the Fusion event for Vergumkaar and in my opinion was better than the legenadry fusion champion!
Tuhak hits hard! As well as that, he has great utility with abilities applying decrease speed to all enemies and single target turn meter steal he can thrive against Fire Knight, Spider and Faction War bosses.
Tuhak is one of my favourite epics in Raid: Shadow Legends!
Unfair Fight [ATK]
Attacks 1 enemy 2 times. Each hit has a 30% chance of increasing the cooldown of one of the target's skills by 1 turn at random. Increases the cooldowns of all of the target's skills by 1 turn instead if this champion has less than 50% HP when attacking on each hit.
Level 2: Damage +5%
Level 3: Damage +5%
Level 4: Damage +5%
Level 5: Buff/Debuff Chance +5%
Level 6: Buff/Debuff Chance +5%
Damage Multiplier: 1.9 ATK
Whirl of Battle [ATK]
Cooldown: 4 turns
Attacks all enemies. Has a 75% chance of placing a 30% Decrease SPD debuff for 2 turns. Also places a 30% Increase SPD buff on this champion for 2 turns. Heals this champion by 15% of the damage inflicted if they have less than 50% HP when attacking.
Level 2: Damage +10%
Level 3: Damage +10%
Level 4: Buff/Debuff Chance +10%
Level 5: Buff/Debuff Chance +15%
Level 6: Cooldown -1
Damage Multiplier: 3.75 ATK
Clever Brutality [ATK]
Cooldown: 5 turns
Attacks 1 enemy. Steals 50% of the target's current Turn Meter. Has a 75% chance of placing a Stun debuff for 2 turns. Steals 100% of the target's Turn Meter if this champion has less than 50% HP when attacking.
Level 2: Damage +10%
Level 3: Damage +10%
Level 4: Buff/Debuff Chance +10%
Level 5: Buff/Debuff Chance +15%
Level 6: Cooldown -1
Damage Multiplier: 6.3 ATK
Iron heart (Passive)
Decreases the damage taken by this champion by 20% when their HP drops below 60%
(Aura)
Increases Ally ATK in all battles by 22%
ACC, SPD, C.RATE, C.DMG, HP%, ATK%
Recommended PVE Artifact Sets
Savage, Cruel, Speed, Accuracy, Perception, Crit Damage
ACC, SPD, C.RATE, C.DMG, HP%, ATK%
Recommended PVP Artifact Sets
Savage, Cruel, Speed, Accuracy, Perception, Crit Damage