Urticata
Last Updated: April 9, 2022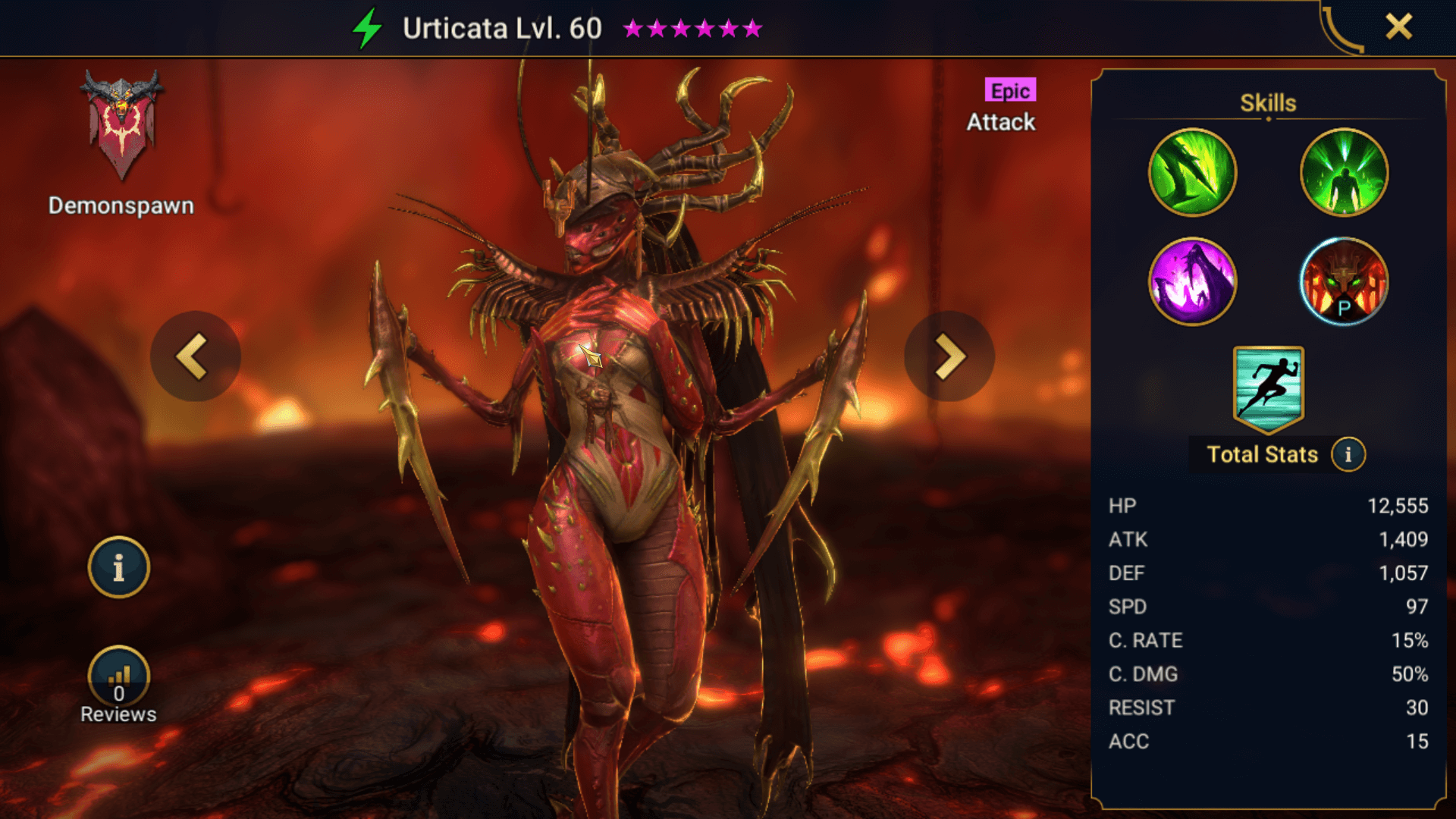 Champion Overall Rating:

3
Key Areas
| | |
| --- | --- |
| Arena Def: | 3 |
| Arena Atk: | 3 |
| Clan Boss: | 8 |
| Hydra: | 4 |
| Doom Tower: | 8 |
Dungeons
| | |
| --- | --- |
| Spider: | 7 |
| Fire Knight: | 9 |
| Dragon: | 10 |
| Ice Golem: | 8 |
| Iron Twins: | 6 |
| | |
| --- | --- |
| Magma Dragon: | 8 |
| Frost Spider: | 5 |
| Nether Spider: | 1 |
| Scarab King: | 1 |
| | |
| --- | --- |
| Eternal Dragon: | 2 |
| Celestial Griffin: | 7 |
| Dreadhorn: | 1 |
| Dark Fae: | 1 |
Urticata
Urticata spawns in Teleria bringing nightmares to the children of Teleria. This weird bug like monster brings a unique passive that can be very powerful.
Urticata could be classed as a poisoner that has no direct ability to place poisons. She will extend poisons on her A1 and will place Poison Sensitivity on her A2. She hits a lot of times with a combined 9 attacks over 3 abilities. What makes Urticata unique is that her Passive will allow anyone on your team a chance to place a 5% Poison if they land a critical hit, granted this chance to place is quite low.
She does love a book however so prepared to loan her your library card and the expense account for when she inevitably doesn't return half the library.
Mephitic Spines
Attacks 1 enemy 2 times. Each hit has a 30% chance of increasing the duration of 2 [Poison] debuffs by 1 turn.
Level 2: Damage +5%
Level 3: Buff/Debuff Chance +5%
Level 4: Damage +5%
Level 5: Buff/Debuff Chance +5%
Level 6: Damage +5%
Level 7: Buff/Debuff Chance +5%
Level 8: Damage +5%
Level 9: Buff/Debuff Chance +5%
Damage Rating
Multiplier: 1.6*ATKOverall Grading*: Average
Poison Agonist - 3 Turn Cooldown
Attacks 1 enemy 3 times. Each hit has a 30% chance of placing a 25% [Poison Sensitivity] debuff for 2 turns.
Level 2: Buff/Debuff Chance +5%
Level 3: Buff/Debuff Chance +5%
Level 4: Buff/Debuff Chance +10%
Damage Rating
Multiplier: 1.8*ATKOverall Grading*: Average
Wretched Nexus - 4 Turn Cooldown
Attacks 4 times at random. Each hit has a 50% chance of placing a [Hex] debuff for 2 turns.
Level 2: Cooldown -1
Damage Rating
Multiplier: 1.7*ATKOverall Grading*: Weak
Blood Borne [P]
Whenever either this champion or an ally lands a critical hit on an enemy under a [Hex] debuff, has a 10% chance of placing a 5% [Poison] debuff on the enemy for 1 turn.
Level 2: Buff/Debuff Chance +5%
Level 3: Buff/Debuff Chance +5%
Level 4: Buff/Debuff Chance +5%
Aura
Increases Ally SPD in all Battles by 15%
Offense
Defense
Support
Offense
Defense