White Dryad Nia
Last Updated: October 25, 2022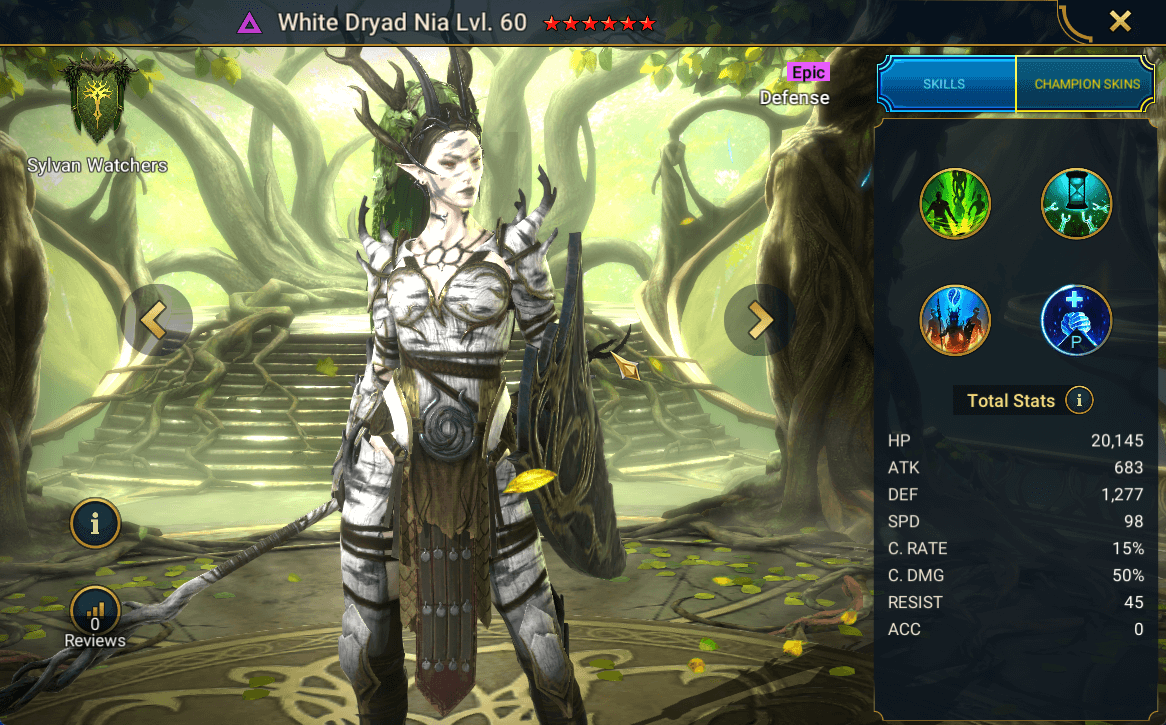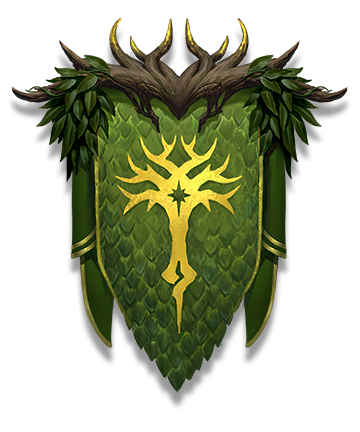 Champion Overall Rating:

4
Clan Boss Queen
Key Areas
| | |
| --- | --- |
| Arena Def: | 9 |
| Arena Atk: | 8 |
| Clan Boss: | 10 |
| Hydra: | 9 |
| Doom Tower: | 8 |
Dungeons
| | |
| --- | --- |
| Spider: | 8 |
| Fire Knight: | 4 |
| Dragon: | 6 |
| Ice Golem: | 6 |
| Iron Twins: | 8 |
Faction Wars
Turn Meter Control:
Protection and Support:
| | |
| --- | --- |
| Magma Dragon: | 2 |
| Frost Spider: | 8 |
| Nether Spider: | 2 |
| Scarab King: | 6 |
| | |
| --- | --- |
| Eternal Dragon: | 6 |
| Celestial Griffin: | 6 |
| Dreadhorn: | 1 |
| Dark Fae: | 2 |
White Dryad Nia
The Dryads are revered amongst the watchers of Nyresa and none more so that Nia who leads her Sylvan Watcher allies into battle.
Nia is a perfect Clan Boss protector bringing Ally Protection for all the team on a 3 turn cooldown alongside a weak version of strengthen. What makes Nia quite unique is her A2. She will target a single ally (normally determined by highest team order), removing all debuffs, healing and then reducing the cooldowns of the skills on the ally by 2 turns. You can imagine this as a single target Renegade reset. You could use this to cleanse a stun, reset cooldowns, or keep an ally alive making your options for speed tunes incredibly diverse. Her A1 brings an AoE Decrease Speed which is incredibly powerful for Hydra. Paired with her A2 you could place your enemy max HP in lead and really ramp up your damage. What's more the A2 is on a very low cooldown compared to other skill cooldown resets.
There could be some very interesting combos created with champions like Yumeko where both champions constantly reduce the others Cooldowns of these skills!
An outstanding Clan Boss (both Demon Lord and Hydra) champion with some utility in the Iron Twins or on Arena Defence.
Strangling Plants
Attacks all enemies. Has a 30% chance of placing a 30% [Decrease SPD] debuff for 2 turns.
Level 2: Damage +5%
Level 3: Buff/Debuff Chance +5%
Level 4: Damage +5%
Level 5: Buff/Debuff Chance +5%
Level 6: Buff/Debuff Chance +10%
Damage Rating
Multiplier: 2.5*DEFOverall Grading*: Average
Riotous Revival - 4 Turn Cooldown
Removes all debuffs from a target ally, then heals them by 40% of their MAX HP. If the target of this skill is not this Champion, decreases the cooldown of all of the target's skills by 2 turns.
Level 2: Heal +5%
Level 3: Heal +5%
Level 4: Heal +5%
Level 5: Heal +5%
Level 6: Cooldown -1
Bark Flesh - 6 Turn Cooldown
Places a 50% [Ally Protection] buff on all allies except this Champion for 2 turns. Also places a 15% [Strengthen] buff on all allies for 2 turns.
Level 2: Cooldown -1
Level 3: Cooldown -1
Level 4: Cooldown -1
Broad Roots
Whenever this Champion is healed, heals each ally except this Champion by 20% of that heal.
Offense
Defense
Support
Offense
Defense
Support
Offense
Defense