Diablo Immortal Launch – Preload Instructions and Release Times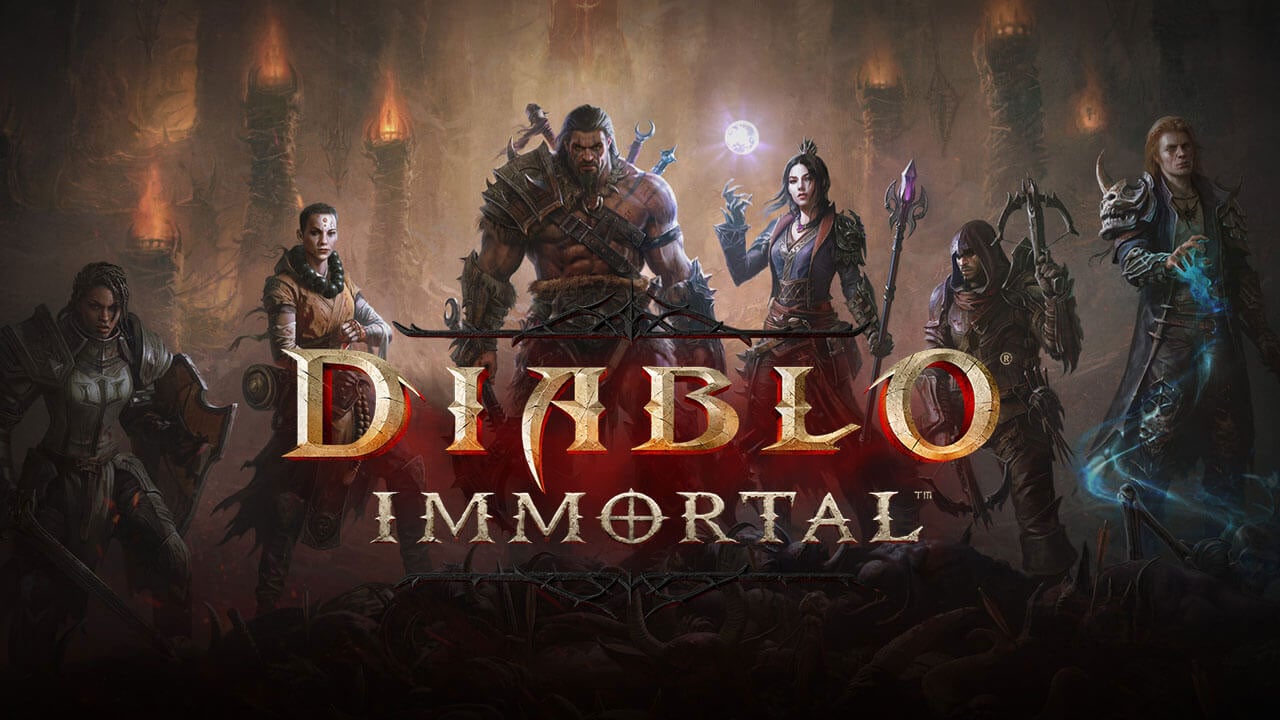 With the upcoming Launch of Diablo Immortal, we'd like to keep you in the loop of how to get involved with playing with us, and our community…
We'll be getting involved with the guys over at Aftershock Media Group (AMG) to join their community to play through this game and dive into the world of Diablo Immortal.

What is Diablo Immortal?
Diablo Immortal is a Free-to-play MMORPG that was initially announced as a mobile-only game, as part of Blizzard's Diablo series, however, this caused quite an upset within the community and eventually, Blizzard decided to open the game up to a bigger audience with its own PC Client allowing Cross-platform play by syncing with your BattleNet account.
The game is a fast-paced, arcade-like game with many similarities to its predecessors Diablo 2 and 3, with the art style of Diablo 3.
Within Diablo, players will be battling against ancient evils and discovering the untold story between Diablo 2 and Diablo 3 in this all-new game!
The story is set between the two previous games, with The Archangel Tyrael presumed dead, and mankind is left to deal with the aftermath of his actions. Fragments of the shattered Worldstone, still embued with great power, are training the land. Diablo's minions hope to harness that power to allow the Lord of Terror to return.
This game will feature controller support, to find a full list of supported controllers please head over to Blizzard's post, where you will also find the system requirements for the game.
On June 2, Hell is everywhere.

📱 iOS & Android
💻 PC Open Beta

Pre-register: https://t.co/hKUMmROvQI pic.twitter.com/BoC4tDL7Kq

— Diablo Immortal (@DiabloImmortal) April 25, 2022

Available Classes:
On Launch, 6 of our all-time favourite Classes will be returning to the game, with lots of different builds and playstyles to enjoy the content from many different perspectives.
Barbarian – "A savage wanderer. Survivors of the disaster that struck Mount Arreat, Barbarians use brutal attacks to crush any opposition."
Crusader – "A wrathful zealot. Armed with their faith, Crusaders vanquish evil wherever they go, dominating the battlefield through sheet purpose."
Demon Hunter – "A vengeful stalker. Relentless vigilantes that assault from afar, Demon Hunters strike undeterred until their prey is at their mercy."
Monk – "A master of martial arts. Lightning-fast strikes that pummel enemies with a dizzying array of blows and mobility are the Monk's speciality."
Necromancer – "A manipulator of life and death. The priests of Rathma use their powers over life and death to preserve balance in Sanctuary."
Wizard – "A living conduit of arcane power. Wizards manipulate arcane forces to strike from a distance, disintegrating their enemies to oblivion."

When is the game released?
Well, as mentioned above – Blizzard will be launching Diablo Immortal worldwide on the 2nd of June, so not long at all – but pre-download is already available on PC and you are able to pre-order the game for free on iOS App Store and Android's Playstore.
To pre-register for the game, follow this link.
The game will officially go live at 10am PDT, however, mobile downloads will begin on the morning of June 1st (PDT). This is part due to the nature of how mobile games roll out and to help ensure a smooth full launch for the mobile version of Immortal. To check the time of which the game will be released for yourself, please refer to the map below:
Wasn't going to do this but @SkratchPlays and @ColdBrewGaming convinced me. RIP free time next week I guess? pic.twitter.com/IPmHur9n7L

— Phixion (@Phixion9) May 27, 2022

How to join our community?
The community we're a part of has a ton of content creators providing incredible content for the game, some of which you will recognize from the Raid Community, and also from Awaken: Chaos Era for those of you who have played it.
We'll be joining the likes of Skratch, Coldbrew, Chosen, Darth Microtransaction, Veiled Shot, and many more as we dive into this new game.
Hello, Future Immortals of Westmarch. We are Aftershock UNITED. A Highly Competitive Organization Recruiting Players for our EU/NA Clans.
We Are A Very Large Community Made Up Of High Profile Content-Creators and Hard Core ARPG players. With A Focus Dedicated In Competing At The Highest Level.
We are recruiting for global launch in Eu/NA-West & Est regions For Launch On 2nd June 2022. We Have An Active Community Filled With Like-Minded Gamers,
Sponsored By Aftershock Media Group. Zero Toxicity With 100% Goal For Success
Region: EU/NA
Clan members: Hard-Core Competitors/P2W and F2P Alike.
Clan Type: Daily Play; Competitive; Top leaderboard and World First Racing.
Language: English
Clan objective: World/Region First, Long Immortal Reign From 1st Cycle, Leaderboard Top Spots
We Look Forward To Grinding With You, Join The Discord Using The Link Below To Start The Greatest Step In Your Diablo Immortal Experience
To Apply to join the Guilds, please follow this link and join this discord upon filling out the application form, where you will be sorted into a suitable Clan for your experience.

The guys over at AMG have put a ton of effort into making the launch of this game as smooth as possible for those of us who are joining them on this journey, and we'd like to thank them for that, welcoming a huge amount of people into the community with open arms, and producing a mass amount of content to help everybody sail through the game with a little more know-how than they otherwise would.
AftershockUnited will be releasing a website in the coming days, which will be updated and linked here for all of your Diablo: Immortal needs.
We hope to see you there!