Lightsworn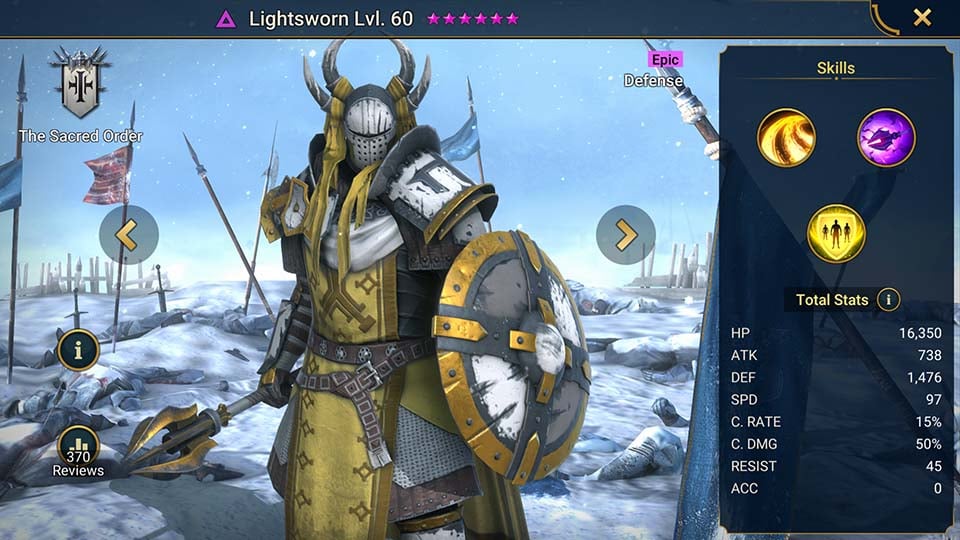 Champion Overall Rating:

3
Key Areas
| | |
| --- | --- |
| Arena Def: | 5 |
| Arena Atk: | 5 |
| Clan Boss: | 7 |
| Faction Wars: | 8 |
Dungeons
| | |
| --- | --- |
| Spider: | 7 |
| Fire Knight: | 9 |
| Dragon: | 6 |
| Ice Golem: | 8 |
Doom Tower
| | |
| --- | --- |
| Magma Dragon: | 6 |
| Frost Spider: | 8 |
| Nether Spider: | 7 |
| Scarab King: | 8 |
Lightsworn
Lightsworn is a Void epic from the Sacred Order faction. He has a great mixture of debuffs to slow and decrease the damage of your enemies and buffs to protect your team.
Lightsworn has a 3 hit A1 making Giant Slayer a strong tier 6 mastery for him to gain additional damage from his A1 hits. His kit allows you to keep a team alive with an Increase Defence buff and a Revive on Death skill on his A3. Its great to use his A2 decrease speed and attack on Fire Knight and Spider to give your main damage dealers more time to finish the job.
Overall Lightsworn is a great champion and can be used in Clan Boss, Faction Wars and Dungeons right through to end game.
Teardown [DEF]
Attacks 1 enemy 3 times. Decreases the target's Turn Meter by 10%
Level 2: Damage +5%
Level 3: Damage +5%
Level 4: Damage +10%
Level 5: Damage +10%
Damage Multiplier: 1 DEF
Brutality [DEF]
Cooldown: 4 turns
Attacks 1 enemy. Places a 50% Decrease ATK debuff and a 30% Decrease SPD debuff for 2 turns.
Level 2: Damage +5%
Level 3: Damage +5%
Level 4: Damage +10%
Level 5: Cooldown -1
Damage Multiplier: 5 DEF
Indomitable
Cooldown: 5 turns
Places a 60% Increase DEF buff and a Revive On Death buff on all allies for 2 turns.
Level 2: Cooldown -1
Recommended PVE Artifact Sets
Lifesteal, Speed, Accuracy, Perception, Defence
Recommended PVP Artifact Sets