Blessings Guide: Choosing Blessings for a Team

Choosing the right blessing for your team is equally as important as choosing the right blessing for your champion. In many cases it is not a "one size fits all" solution with significant gains to be had with prioritising blessings on the right champions. This guide will cover how you select the right blessings to maximise the value of your team, not just your champion.
Before we begin let us highlight some important details relating to blessings.

Team Blessings

If you have checked our Blessings Tier List you will have already learned about Blessing Exclusivities but let us include this context here again as it is important. There are a number of blessings that either are completely disabled or lose significant value when used together so you want to ensure you only choose one of these blessings on your team. We have called these Team Blessings and are:
Cruelty

= The effect can be stacked up by a single champion therefore further champions only hasten the effect rather than enhance leading to the blessings adding very little value on multiple champions.

Brimstone

= At 6 star awakened this effect will be able to place 100% of the time on a 4 turn cooldown. As the Smite debuff is 2 turns your champion will likely be able to replace this debuff as soon as the Smite runs down. At lower awakening the chance is not as guarenteed so a second one could be brought but ultimately it is not needed and should be great on just 1 champion.

Intimidating / Commanding Presence

= Only 1 aura increasing effect will work in your team and if you choose the Intimidating version it will also overwrite the Commanding presence. For Non-Arena content, you will want to prioritise the epic aura as the enemy aura is less important (with the exception of Fire Knight Stage 25 where the Defense Auras significantly increase the difficulty) where Arena content should exclusively aim to use the Legendary Blessing.
In addition, Temporal Chains currently does some unusual effects that can lead to enemies GAINING turn meter instead of losing. Until this issue is resolved, you should not bring more than a single Temporal Chains Blessing in your teams.

Prioritising Rarities

In most cases, you will have a combination of Rare, Epic and Legendary champions (but not always!) in your teams. Champions can pick a blessing of a lower rarity than themselves but they cannot go higher. Generally the legendary blessings are the most powerful in the game so you would want to ensure you can prioritise these to your legendary champions however at times there may be an epic blessing that is stronger. Check out our champion guides which provide specific recommendations for any champion.

Team Build: Clan Boss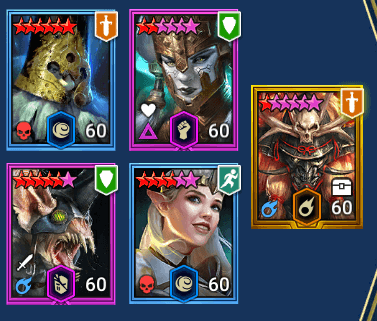 Clan boss will be the most sensitive area to ensure you pick the right blessings. Not only will there be less flexibility for your champions with more prevalence for Epic and Rare champions to be in your team. We recommend that you have the following blessings:
Brimstone (Essential)

  Prioritise on a Legendary champion but only have this on one champion

Cruelty (Essential)

Prioritise on an Epic champion and preferably not your DPS champion and someone who hits many times (to stack this up quickly) – 1 Champion only

Commanding Presence (Optional)

If you utilise an aura, prioritise on your epic champion as the Legendary Aura is not needed.

Phantom Touch (Best Choice)

The go to blessing for your Attack Based Damage dealers. Defence based consider Crushing Rend (only at 6 awakening)

Team Build: Hydra Clan Boss

Hydra Clan Boss brings late game challenges that allow for more niche blessing choices depending on the champions you use. We recommend that you have the following blessings:
Brimstone (Essential)

  Prioritise on a Legendary champion but only have this on one champion

Cruelty (Essential)

Prioritise on a champion who has an AoE ability preferably A1 to ensure you stack up the blessing

Commanding Presence (Optional)

If you utilise an aura, prioritise on your epic champion as the Legendary Aura is not needed.

Miracle Heal (Optional)

Great on a consistent healer such as Doompriest however this only works on heal (not continuous heals or leech) and you will only be able to mitigate the same destruction taking place (15% restored when 15% is destroyed)

Crushing Rend (Enemy Max HP)

The go to blessing for your enemy max hp based damage dealers but you do need a 6 star awakening to enable the every attack mechanic.

Soul Reap (Optional)

Execute the heads with Soul Reap without needing to be built for damage – a go after Brimstone is chosen on legendary

Phantom Touch (Rare Damage)

Best damage dealing blessing if no other options available from above

Team Build: Dungeons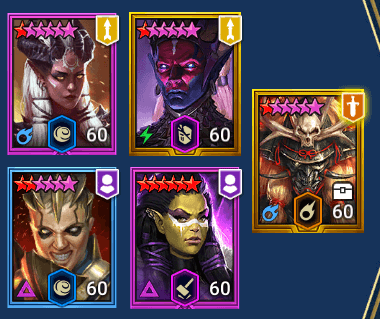 Dungeons require you to fight a combination of waves and bosses. This creates more diverse blessing requirements. We recommend that you have the following blessings:
Brimstone (Essential)

  Prioritise on a Legendary champion but only have this on one champion as it'll hurt bosses signficantly.

Cruelty (Optional)

Generally you wont get many turns to stack the cruelty but it is not a bad choice

Commanding Presence (Optional)

If you utilise an aura, prioritise on your epic champion as the Legendary Aura is not needed.

Crushing Rend (Essential)

If you use a Seer or any enemy max hp then Crushing Rend will be very powerful considering the enemy waves have enemies with high levels

Soul Reap (Optional)

Executes bosses saving you valuable amounts of time.

Phantom Touch (Rare Damage)

Best damage dealing blessing if no other options available from above
Team Build: Arena Go First Team

Going first in the Arena normally means speed teams and therefore the following blessings are normally the best:
Inspiring Presence (Essential)

If you utilise an aura, prioritise on your Legendary champion (Epic alternative if higher awakening)

Temporal Chains (Optional)

Often teams will use Nekret or shield sets. Using Temporal Chains gives you an automatic advantage in terms of the speed race.

Soul Reap (Essential)

You need to kill the enemy and going first means Soul Reap will be the highest value damaging blessing

Crushing Rend (Optional)

If using an epic damage dealer, this will be the next best damage blessing although will be low impact until higher awakening
Chainbreaker (Optional) Most likely the best blessing for your debuffer (If at four star awakening)

Team Build: Arena Go Second Team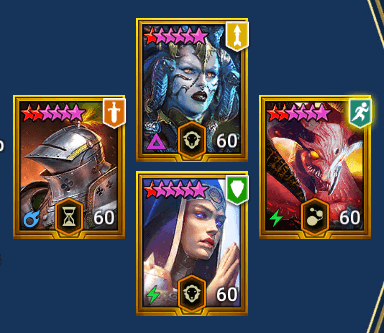 Going second in Arena means your enemies will take their turns first. You'll want blessings that can disrupt the skill rotations or the damage your receive. We recommend that you have the following blessings:
Polymorph (Essential)

There is no limit on the number of polymorph you can have on your team to stop the enemy debuffing your champs, stealing or removing your buffs. It is more a stall strategy and can cause issues if your opponent revives after the sheep and destroys your team.

Temporal Chains (Optional)

Disrupting the enemy's turn meter is valuable in go second scenarios. Temporal Chains is perfect in doing this.

Lightning Cage (Essential)

Your damage dealers would benefit from Lightning Cage as it can protect your buffs even at 1 star awakening. This will be preferred to than Soul Reap.

Survival Instinct (Optional)

If you're going to be receiving debuffs, get yourself some extra turn meter with Survival Instinct! It has no cooldown and can help you rotate back to your abilities

Faultless Defence (Optional)

If you are facing many multi-hitters, Faultless Defense can dramatically reduce your incoming damage