Daywalker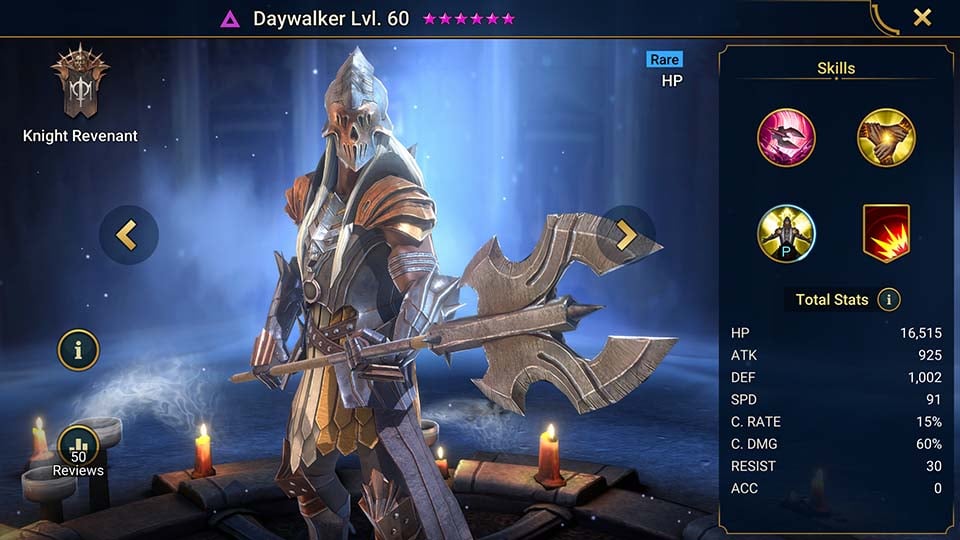 Champion Overall Rating:

2.5
Key Areas
| | |
| --- | --- |
| Arena Def: | 6 |
| Arena Atk: | 8 |
| Clan Boss: | 4 |
| Faction Wars: | 6 |
Dungeons
| | |
| --- | --- |
| Spider: | 4 |
| Fire Knight: | 4 |
| Dragon: | 4 |
| Ice Golem: | 4 |
Doom Tower
| | |
| --- | --- |
| Magma Dragon: | 2 |
| Frost Spider: | 2 |
| Nether Spider: | 4 |
| Scarab King: | 2 |
Daywalker
Daywalker is a Void affinity, rare champion from the Knight Revenant faction. Not useful in every area but may be worth looking at for Arena. Research this champion before you invest.
Grave's Grasp [ATK]
Attacks 1 enemy. Places an extra hit if the target has more HP than this champion.
Level: 2 Damage +5%
Level: 3 Damage +5%
Level: 4 Damage +5%
Level: 5 Damage +5%
Damage Multiplier: 3 ATK
Unnatural Vigor
Cooldowm: 4 turns
Places a 25% Ally Protection buff on all allies for 2 turns. Places a Block Debuffs buff on this champion for 2 turns. Removes all debuffs from this champion.
Level: 2 Cooldown -1
Death Denied [ATK]
Cooldown: 5 turns
Revives this champion with 30% HP and attacks all enemies after being killed.
Damage Multiplier: 6.2 ATK
(Aura)
Increases Ally C.RATE in the Arena by 21%
SPD, C.RATE, C.DMG, HP%, ATK%
Recommended PVE Artifact Sets
Lifesteal, Speed, Savage, Cruel
Recommended PVP Artifact Sets