Executioner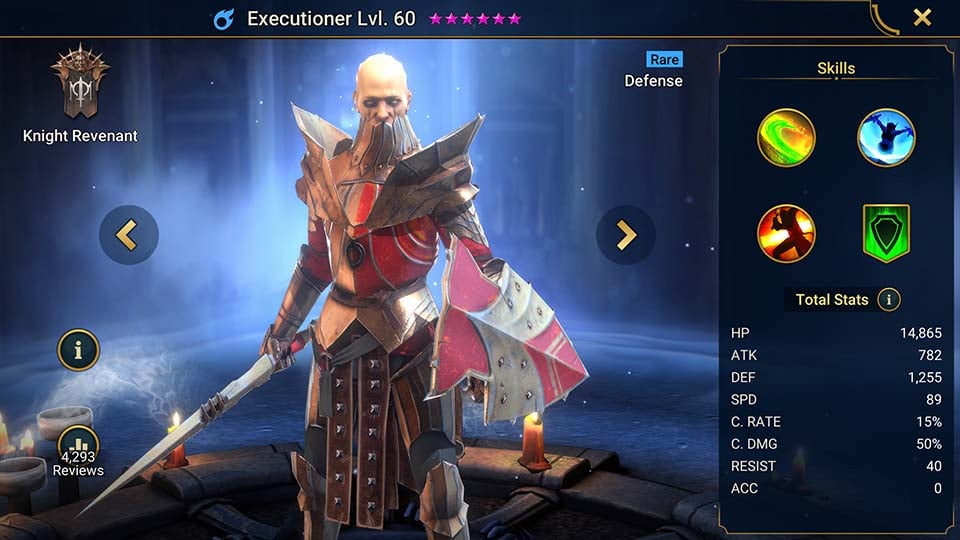 Champion Overall Rating:

3
Key Areas
| | |
| --- | --- |
| Arena Def: | 6 |
| Arena Atk: | 6 |
| Clan Boss: | 4 |
| Faction Wars: | 6 |
Dungeons
| | |
| --- | --- |
| Spider: | 6 |
| Fire Knight: | 6 |
| Dragon: | 7 |
| Ice Golem: | 6 |
Doom Tower
| | |
| --- | --- |
| Magma Dragon: | 2 |
| Frost Spider: | 2 |
| Nether Spider: | 2 |
| Scarab King: | 4 |
Executioner
Executioner is a Magic affinity rare from the Knight Revenant faction. Executioner has abilities that scale from atk and def therefore people find him difficult to build. He has decrease turn meter and stun that both require accuracy to activate and he has an increased defence and self counter attack, a great ability for early game arena.
When Raid was released Executioner was the champion to build! He was strong and was a fantastic campaign farmer. Executioner did take a small nerf and is nowhere near the man he was. Now a mid-tier rare capable of supporting teams and annoying to fight in early game arena.
His best use is Faction Wars due to his decrease speed and turn meter control.
Shield Bash [ATK]
Attacks 1 enemy. Has a 15% chance of placing a Stun debuff for 1 turn.
Level 2: Damage +10%
Level 3: Buff/Debuff Chance +5%
Level 4: Damage +10%
Level 5: Buff/Debuff Chance +5%
Level 6: Buff/Debuff Chance +5%
Damage Multiplier: 5 ATK
Tumult [ATK, DEF]
Cooldown: 4 turns
Attacks all enemies. Decreases the Turn Meter by 20%. Has a 50% chance of placing a 15% Decrease SPD debuff for 2 turns.
Level 2: Damage +5%
Level 3: Buff/Debuff Chance +10%
Level 4: Damage +10%
Level 5: Buff/Debuff Chance +15%
Level 6: Cooldown -1
Damage Multiplier: 2 ATK + 2.4 DEF
Schiltron
Cooldown: 7 turns
Places a 60% Increase DEF buff and a Counterattack buff on this champion for 3 turns.
Level 2: Cooldown -1
Level 3: Cooldown -1
(Aura)
Increases Ally DEF in all battles by 17%
ACC, SPD, DEF%, C.RATE, C.DMG
Recommended PVE Artifact Sets
Lifesteal, Speed, Accuracy, Defence
ACC, SPD, DEF%, C.RATE, C.DMG
Recommended PVP Artifact Sets