Exemplar
Last Updated: April 9, 2022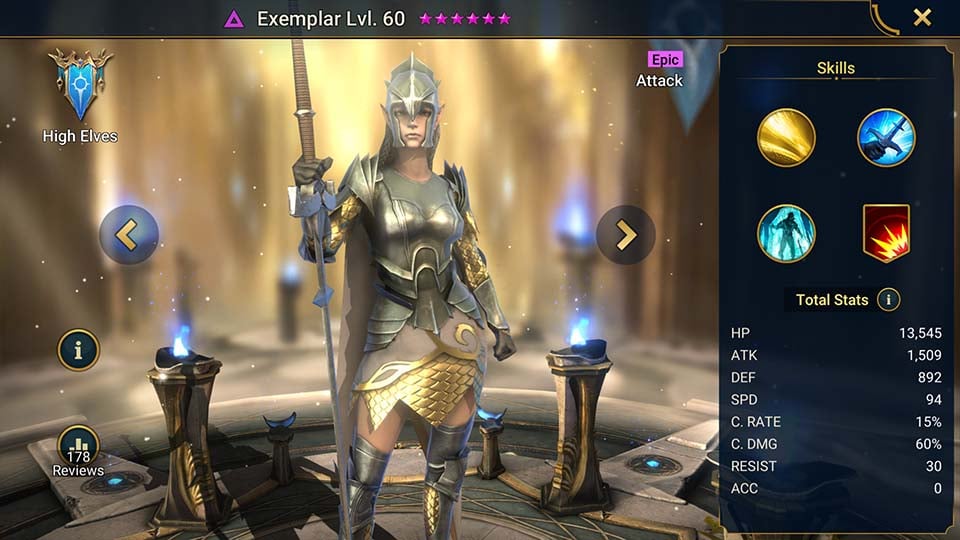 Champion Overall Rating:

2.5
Key Areas
| | |
| --- | --- |
| Arena Def: | 5 |
| Arena Atk: | 5 |
| Clan Boss: | 7 |
| Hydra: | 4 |
| Doom Tower: | 4 |
Dungeons
| | |
| --- | --- |
| Spider: | 2 |
| Fire Knight: | 8 |
| Dragon: | 6 |
| Ice Golem: | 6 |
| Iron Twins: | 4 |
| | |
| --- | --- |
| Magma Dragon: | 4 |
| Frost Spider: | 4 |
| Nether Spider: | 4 |
| Scarab King: | 2 |
| | |
| --- | --- |
| Eternal Dragon: | 10 |
| Celestial Griffin: | 4 |
| Dreadhorn: | 2 |
| Dark Fae: | 7 |
Exemplar
Exemplar was recently buffed as part of Patch 4.20 Void Rebalance. The changes introduced new mechanics for her A1 which now provide some use in niche scenarios. Whilst generally still not very useful in general dungeon/gameplay, you might find Exemplar useful when dealing with Iragoth, The Eternal Dragon in Doom Tower. Her ability to completly lock out abilities on her a1 whilst bringing a guaranteed weaken make her a viable option to beat the encounter.
Her a2 being on a 2 turn cooldown makes her somewhat viable for Fire knight in addition to the above and can bring Weaken to the clan boss if you can fit her into your Team.
All in all her buff did open up some options but Exemplar is still generally not useful for most situations.
High Stance [ATK]
Attacks 1 enemy 2 times. Places an extra hit if this attack is critical.
Puts one of the target's skills on full cooldown if the first hit is critical and the target is under a [Weaken] debuff.
Increases the cooldown of one of the target's skills by 2 turns if the first is critical and the target is not under a [Weaken] debuff.
Level 2: Damage +5%
Level 3: Damage +5%
Level 4: Damage +5%
Level 5: Damage +5%
Damage Rating
Multiplier: 1.7*ATKOverall Grading*: Godlike
Pincer Attack [ATK] - 4 Turn Cooldown
Attacks 3 times at random. Each hit has a 75% chance of placing a 25% Weaken debuff for 2 turns.
Level 2: Buff/Debuff Chance +5%
Level 3: Buff/Debuff Chance +10%
Level 4: Buff/Debuff Chance +10%
Level 5: Cooldown -1
Level 6: Cooldown -1
Damage Rating
Multiplier: 2.1*ATKOverall Grading*: Weak
Capture [ATK] - 4 Turn Cooldown
Attacks 1 enemy. Has a 75% chance of placing a Freeze debuff for 1 turn and a Block Active Skills debuff for 2 turns.
Level 2: Buff/Debuff Chance +5%
Level 3: Buff/Debuff Chance +10%
Level 4: Buff/Debuff Chance +10%
Level 5: Cooldown -1
Damage Rating
Multiplier: 6.4*ATKOverall Grading*: Strong
(Aura)
Increases Ally C.RATE in the Arena by 27%
Offense
Defense
Support
Offense
Defense