Gnarlhorn
Last Updated: April 9, 2022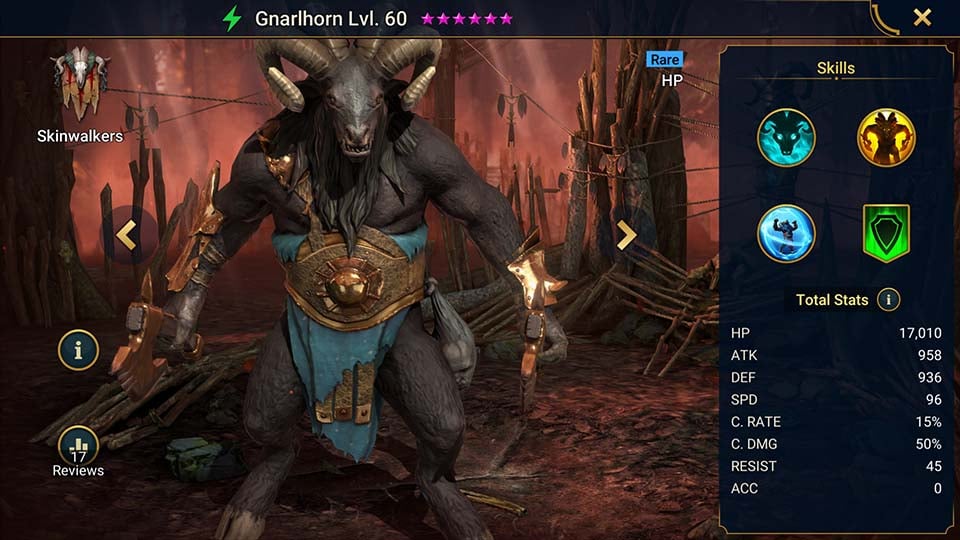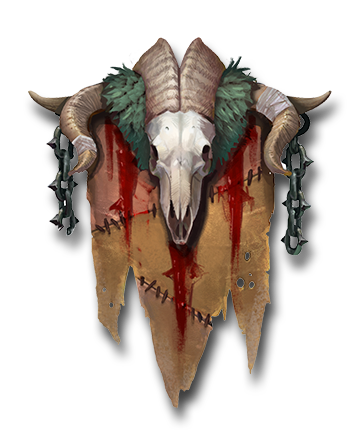 Champion Overall Rating:

3
Kuldath God
Key Areas
| | |
| --- | --- |
| Arena Def: | 6 |
| Arena Atk: | 6 |
| Clan Boss: | 2 |
| Hydra: | 4 |
| Doom Tower: | 8 |
Dungeons
| | |
| --- | --- |
| Spider: | 8 |
| Fire Knight: | 8 |
| Dragon: | 10 |
| Ice Golem: | 8 |
| Iron Twins: | 2 |
Faction Wars
Damage:
Crowd Control:
Protection and Support:
| | |
| --- | --- |
| Magma Dragon: | 10 |
| Frost Spider: | 7 |
| Nether Spider: | 7 |
| Scarab King: | 2 |
| | |
| --- | --- |
| Eternal Dragon: | 6 |
| Celestial Griffin: | 4 |
| Dreadhorn: | 1 |
| Dark Fae: | 2 |
Gnarlhorn
Gnarlhorn is a rare Spirit champion from the Skinwalkers faction. He has one of the best control abilities in the game with the ability to provoke an entire enemy team. The ability reads 'places a provoke', this means it is not susceptible to a weak 'hit' and therefore, provided you have enough accuracy, will always provoke every opponent. This makes Gnarlhorn a fantastic protector to your damage dealers and is made even more effective by his A3 ability to make himself Unkillable. Gnarlhorn can be a great control champion for Dragon, Spider and Ice Golem right through to stage 20. He also has a place in teams in the early game arena and will be in end game faction war teams.
Gnarlhorn is also really strong in Doom Tower against Kuldath the Magma Dragon able to perma provoke him to stop his main abilities activating.
He also does well in secret rooms so if you are struggling and have him in your roster build him up as he is worth the time of day.
Lastly, Gnarlhorn is also part of the Rhazin Scarhide legendary fusion forming a part of the epic Erinyes.
Ram [ATK]
Attacks 1 enemy. Damage increases according to how much HP this champion has lost. This attack cannot be a strong, critical or weak hit.
Level 2: Damage +5%
Level 3: Damage +5%
Level 4: Damage +5%
Level 5: Damage +10%
Damage Rating
Multiplier: ATK*(2.5+3*(1-HP_PERC))Overall Grading*: Weak
War Drum - 4 Turn Cooldown
Places a Provoke debuff on all enemies for 1 turn. Places a 30% Increase DEF buff on this champion for 2 turns.
Level 2: Cooldown -1
Determined - 5 Turn Cooldown
Places an Unkillable buff on this champion for 2 turns.
Level 2: Cooldown -1
Level 3: Cooldown -1
(Aura)
Increases Ally DEF in Dungeons by 27%
Offense
Defense
Support
Offense
Defense
Support
Blessings
We are still working on recommending blessings for Gnarlhorn. Keep an eye for an updated guide once we have had an opportunity to playtest.
In the meantime, why not check our Blessings Tier List
here
.