Gwynneth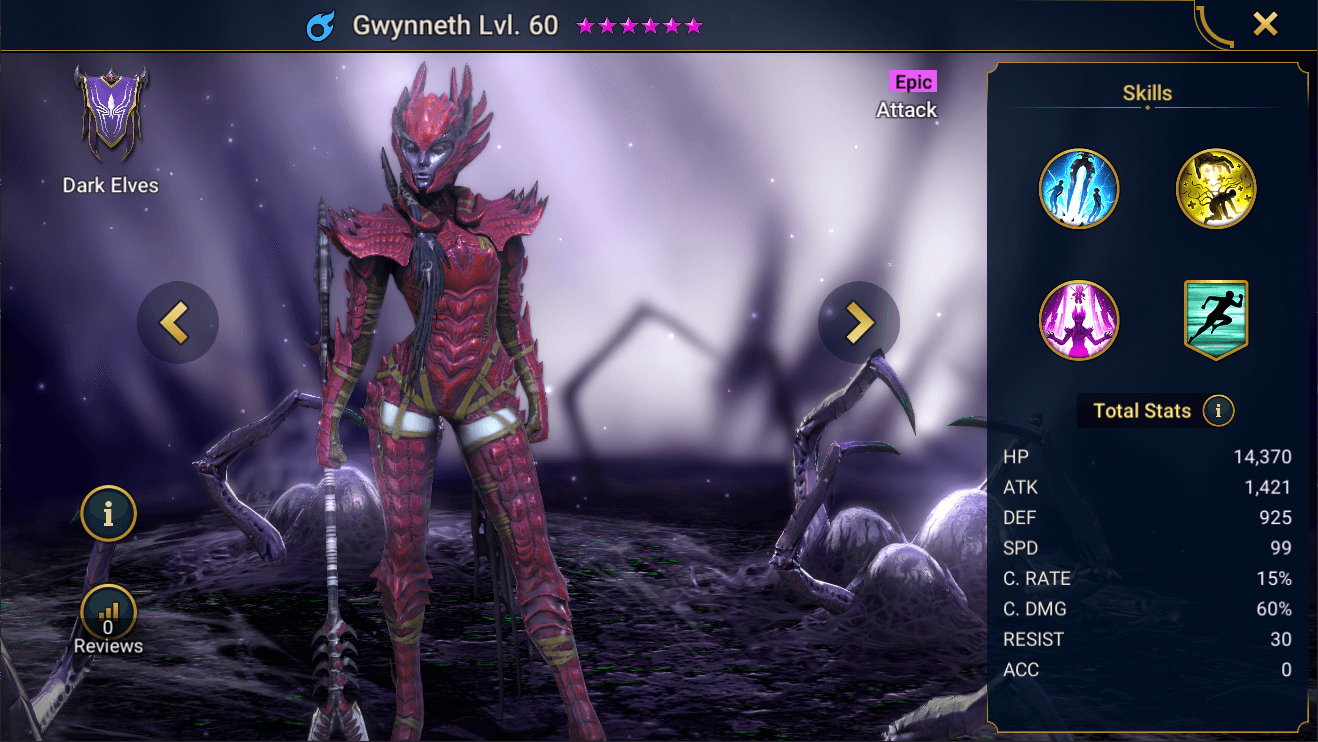 Champion Overall Rating:

3.5
Key Areas
| | |
| --- | --- |
| Arena Def: | 7 |
| Arena Atk: | 7 |
| Clan Boss: | 8 |
| Doom Tower Waves: | 8 |
Dungeons
| | |
| --- | --- |
| Spider: | 8 |
| Fire Knight: | 3 |
| Dragon: | 7 |
| Ice Golem: | 7 |
| | |
| --- | --- |
| Magma Dragon: | 2 |
| Frost Spider: | 7 |
| Nether Spider: | 9 |
| Scarab King: | 2 |
| | |
| --- | --- |
| Eternal Dragon: | 5 |
| Celestial Griffin: | 8 |
| Dreadhorn: | 0 |
| Dark Fae: | 0 |
Gwynneth
Gwynneth joins the Dark Elves as part of the second set of fragment champions earned from the Doom Tower Secret Rooms. Doom Tower Fragment champions cannot be summoned.
On paper, Gwynneth has an interesting kit with some unique abilities. Any champion with an AoE a1 ability instantly makes them viable through Stun artifact set. In addition, not triggering counterattacks makes her valuable into Valkyrie waves or in Doom Tower especially against Agreth.
Her A2 has a potentially strong heal if the damage can produce a big enough number and if Gwynneth is already full HP – but this would be quite situational to activate. Her A3 could potentially do significant damage to heavily debuff targets.
Her viability will likely live and die by her ability to hit hard, with her heal requiring damage.
Infiltrator
Attacks all enemies. This attack will not trigger counterattacks.
Level 2: Damage +5%
Level 3: Damage +5%
Level 4: Damage +10%
Level 5: Damage +10%
Damage Rating
Multiplier: 2*ATKOverall Grading*: Average
Apathy - 3 Turn Cooldown
Attacks 1 enemy. Before attacking, has an 80% chance of placing a 25% [Weaken] debuff on the target for 2 turns. Heals this Champion by 30% of the damage inflicted, then heals all allies with any surplus heal.
Level 2: Damage +5%
Level 3: Buff/Debuff Chance +5%
Level 4: Damage +5%
Level 5: Buff/Debuff Chance +5%
Level 6: Damage +10%
Level 7: Buff/Debuff Chance +10%
Damage Rating
Multiplier: 6*ATKOverall Grading*: Strong
Flow of Malaise - 5 Turn Cooldown
Transfers all debuffs from this Champion to 1 target enemy, then attacks that enemy. Ignores 10% of the target's DEF for each debuff they are under.
Level 2: Damage +5%
Level 3: Damage +5%
Level 4: Damage +10%
Level 5: Damage +10%
Level 6: Cooldown -1
Level 7: Cooldown -1
Damage Rating
Multiplier: 4.8*ATKOverall Grading*: Godlike
Offense
Defense
Support
Offense
Defense
Support
Offense
Defense
Support
Recommended PVE Artifact Sets
Recommended PVP Artifact Sets