Lady Eresh
Last Updated: May 26, 2022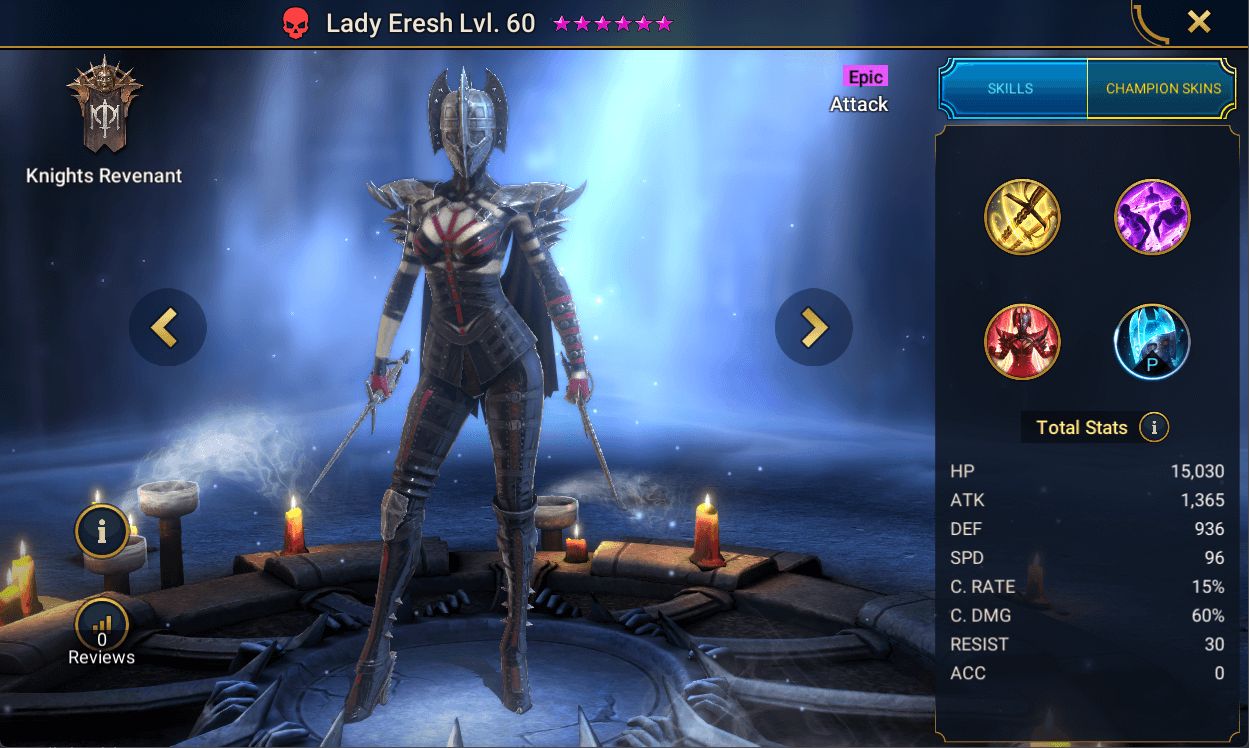 Champion Overall Rating:

2.5
Key Areas
| | |
| --- | --- |
| Arena Def: | 5 |
| Arena Atk: | 7 |
| Clan Boss: | 6 |
| Hydra: | 2 |
| Doom Tower: | 5 |
Dungeons
| | |
| --- | --- |
| Spider: | 5 |
| Fire Knight: | 5 |
| Dragon: | 4 |
| Ice Golem: | 4 |
| Iron Twins: | 4 |
| | |
| --- | --- |
| Magma Dragon: | 2 |
| Frost Spider: | 2 |
| Nether Spider: | 4 |
| Scarab King: | 4 |
| | |
| --- | --- |
| Eternal Dragon: | 4 |
| Celestial Griffin: | 4 |
| Dreadhorn: | 2 |
| Dark Fae: | 6 |
Lady Eresh
Lady Eresh joins the Knight Revenant faction as an all out damage dealer. She is part of the free champion reward chain you begin after you complete you 270 days reward track and can be earned after you earn Guurda Bogbrew (although you will likely pull her before you receive her for free).
Her only role is deal damage and unfortunately her multipliers are not top tier so she joins a number of epics in the "what could have been" category. She buffs herself with an Increase Attack and Critical Damage buff then granting an Extra Turn. She then unleashes an AOE attack which can grant an extra turn. If enemies live and she does not get an extra turn she will instead gain turn meter based on remaining enemies. Its unlikely you can rely on her extra turn to finish off any targets at such a low chance.
If you pull her early, she will serve you well as a mid game or Low to Mid Gold Tier arena nuker but she will not able to hit hard enough for top tier arena.
Misericorde
Attacks 1 enemy 2 times. Each hit has a 25% chance of placing a 25% [Weaken] debuff for 2 turns.
Level 2: Damage +5%
Level 3: Damage +5%
Level 4: Damage +5%
Level 5: Damage +5%
Damage Rating
Multiplier: 1.8*ATKOverall Grading*: Strong
Blur of Knives - 4 Turn Cooldown
Attacks all enemies. Has a 20% of granting an Extra Turns. If an Extra Turn is not granted, fills this Champion's Turn Meter by 10% for each living enemy instead.
Level 2: Damage +5%
Level 3: Damage +10%
Level 4: Damage +10%
Damage Rating
Multiplier: 3.8*ATKOverall Grading*: Strong
Deathrite Evocation - 5 Turn Cooldown
Places a 50% [Increase ATK] buff and a 30% [Increase C.DMG] buff on this Champion for 3 turns, then grants an Extra Turn.
Level 2: Cooldown -1
Slip Between [P] - 5 Turn Cooldown
Places a [Perfect Veil] bbuff on this Champion for 2 turns whenever their HP drops below 50%
Level 2: Cooldown -1
Offense
Defense
Support
Offense
Defense