Opardin Clanfather
Last Updated: April 9, 2022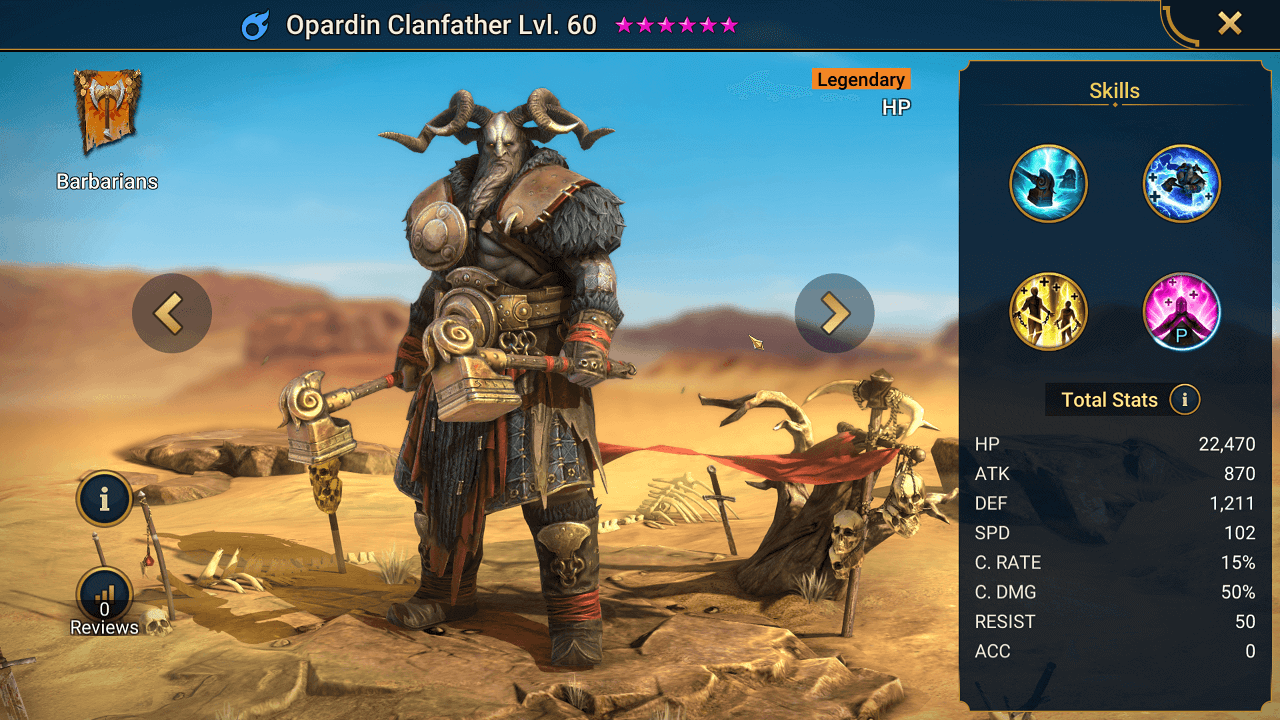 Champion Overall Rating:

3
Key Areas
| | |
| --- | --- |
| Arena Def: | 7 |
| Arena Atk: | 2 |
| Clan Boss: | 8 |
| Hydra: | 8 |
| Doom Tower: | 6 |
Dungeons
| | |
| --- | --- |
| Spider: | 6 |
| Fire Knight: | 6 |
| Dragon: | 6 |
| Ice Golem: | 7 |
| Iron Twins: | 8 |
Faction Wars
Damage:
Turn Meter Control:
Protection and Support:
| | |
| --- | --- |
| Magma Dragon: | 6 |
| Frost Spider: | 7 |
| Nether Spider: | 2 |
| Scarab King: | 2 |
| | |
| --- | --- |
| Eternal Dragon: | 6 |
| Celestial Griffin: | 6 |
| Dreadhorn: | 3 |
| Dark Fae: | 5 |
Opardin Clanfather
From the burning sands of the Deadlands, Opardin Clanfather rallies the Barbarians to fight for honour of the Telerian Alliance. He joins as part of the 2022 Fragment Fusion Event.
His kit is designed as an outright healer and support champion for the Faction. He brings an low damage AoE attack that heals based on his HP. His A3 is a strong cleanse removing all Block Buffs and Heal Reduction debuffs along with a third random debuff. His kit revolves heavily around Continuous Heal buffs. His a2 will heal 5% greater, and he has a unique passive where any heal from a Continuous Heal will increase that Ally's Turn Meter by 5%. He does also place 2 on his A3.
Generally this guy on paper looks extremely weak outside of niche situations. Everyone in the game will eventually receive Scyl of the Drakes who can heal enough whilst also bring Stun on A2 and a revive so is unlikely to be unseated by Opardin. One very powerful niche scenario is an Arena Defence Stall team paired with a champion who can place many continuous heals such as Wythir the Crowned or Tuhanarak and for OG players Bad-el Kazar.
An early game moving into mid game may find a low of healing support from Opardin across the board but with the cleanse ability as well on the A3 particularly useful in Clan Boss enabling you to build a team without the need for Lifesteal gear.
Paired Hammers
Attacks 1 enemy 2 times. Each hit has a 50% chance of decreasing the target's Turn Meter by 5% and a 50% chance of filling this Champion's Turn Meter by 5%.
Level 2: Damage +10%
Level 3: Damage +10%
Level 4: Buff/Debuff Chance +5%
Level 5: Buff/Debuff Chance +10%
Damage Rating
Multiplier: 0.14*HPOverall Grading*: Average
Rally the Tribe - 4 Turn Cooldown
Attacks all enemies. Heals all allies by 10% of this Champion's MAX HP. Heals all allies under [Continuous Heal] buffs by 15% instead.
Level 2: Damage +5%
Level 3: Damage +5%
Level 4: Heal +10%
Level 5: Cooldown -1
Damage Rating
Multiplier: 0.27*HPOverall Grading*: Weak
Clan Mentor - 4 Turn Cooldown
Removes all [Block Buffs] and [Heal Reduction] debuffs from all allies, then places two 15% [Continuous Heal] buffs on all allies for 2 turns. Also has a 75% chance of removing 1 random debuff from all allies.
Level 2: Buff/Debuff Chance +10%
Level 3: Buff/Debuff Chance +15%
Level 4: Cooldown -1
Paternal [P]
Each time a [Continuous Heal] buff heals an ally, fills that ally's Turn Meter by 5%. If there are multiple Champions in the team with this Skill, only one will activate
Offense
Defense
Support
Offense
Defense