Snorting Thug
Last Updated: April 9, 2022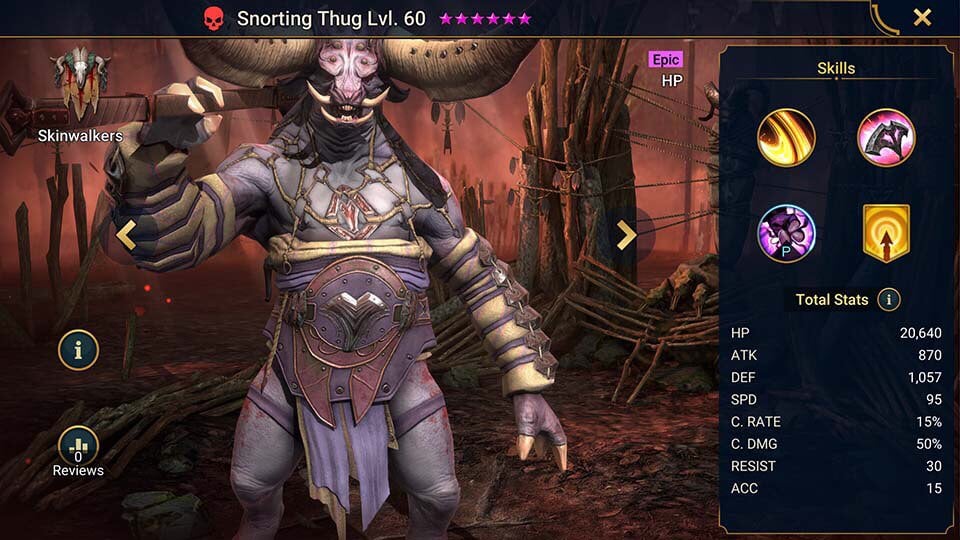 Champion Overall Rating:

2.5
Key Areas
| | |
| --- | --- |
| Arena Def: | 6 |
| Arena Atk: | 6 |
| Clan Boss: | 4 |
| Hydra: | 2 |
| Doom Tower: | 4 |
Dungeons
| | |
| --- | --- |
| Spider: | 2 |
| Fire Knight: | 6 |
| Dragon: | 8 |
| Ice Golem: | 6 |
| | |
| --- | --- |
| Magma Dragon: | 4 |
| Frost Spider: | 5 |
| Nether Spider: | 5 |
| Scarab King: | 1 |
| | |
| --- | --- |
| Eternal Dragon: | 5 |
| Celestial Griffin: | 5 |
| Dreadhorn: | 2 |
| Dark Fae: | 4 |
Snorting Thug
Snorting Thug is a Force affinity champion from the Skinwalker faction. Snorting Thug was buffed in September 2020 making him much stronger and capable of helping players beat Faction War waves where enemies have a lot of buffs. Snorting Thug steals buffs or if no buffs are in play hits harder!
Snorting Thug is still at best a mid-tier epic but at least has some viability now.
As an HP based champion, you want a high crit rate, HP%, and accuracy to get the best out of him. Immortal gear, Speed, accuracy, and perception sets are all strong.
Wanton Mugging [HP]
Attacks 1 enemy 2 times. Each hit has a 20% chance of stealing one random buff.
Level 2: Damage +5%
Level 3: Buff/Debuff Chance +5%
Level 4: Damage +5%
Level 5: Buff/Debuff Chance +5%
Level 6: Damage +10%
Level 7: Buff/Debuff Chance +10%
Damage Rating
Multiplier: 0.08*HPOverall Grading*: Weak
Ruckus [HP] - 4 Turn Cooldown
Attacks 1 enemy. Ignores the target's DEF if they have no active buffs. Steals 2 random buffs from the target.
Level 2: Damage +5%
Level 3: Damage +5%
Level 4: Damage +10%
Damage Rating
Multiplier: 0.15*HPOverall Grading*: Average
Dire Defense (Passive)
Has a 30% chance of stealing 1 random buff from the attacker when hit. Occurs once per hit. Counterattacks the attacker if they have no active buffs.
Level 2: Buff/Debuff Chance +10%
Level 3: Buff/Debuff Chance +10%
(Aura)
Increases Ally ACC in all battles by 40
Offense
Defense
Support
This champion is not recommended for use in PvP
Recommended PVE Artifact Sets
Lifesteal, Speed, Immortal, Perception, Accuracy
Recommended PVP Artifact Sets
Speed, Immortal, Savage, DEF, Perception