Lich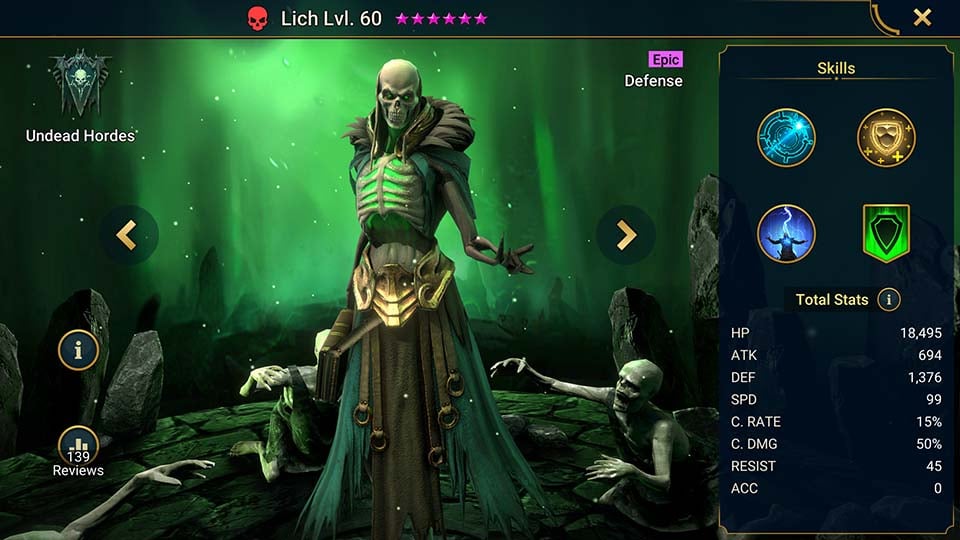 Champion Overall Rating:

3
Key Areas
| | |
| --- | --- |
| Arena Def: | 5 |
| Arena Atk: | 5 |
| Clan Boss: | 2 |
| Faction Wars: | 9 |
Dungeons
| | |
| --- | --- |
| Spider: | 7 |
| Fire Knight: | 6 |
| Dragon: | 6 |
| Ice Golem: | 8 |
Doom Tower
| | |
| --- | --- |
| Magma Dragon: | 1 |
| Frost Spider: | 5 |
| Nether Spider: | 6 |
| Scarab King: | 7 |
Lich
Lich is a Force affinity epic from the Undead Hordes Faction. Lich is defence based meaning it is much easier to make him very tanky and keep him alive. He has a turn meter reduction and decrease speed on his A3 which can give him strong utility in Fire Knight and Spider if the A3 is timed well and booked. Otherwise he doesn't offer much for the team, instead his buffs are purely used to keep him alive, this means he doesn't see much playtime.
Lich is also part of the Rhazin Scarhide legendary fusion, do not feed Lich!
Lich can be fused from 4 rares including: Magus, Marked, Rocktooth and Penitent.
Curse of Blindness [DEF]
Attacks 1 enemy. Has a 30% chance of placing a 50% Decrease ACC debuff for 2 turns.
Level 2: Buff/Debuff Chance +5%
Level 3: Damage +10%
Level 4: Buff/Debuff Chance +5%
Level 5: Buff/Debuff Chance +10%
Damage Multiplier: 3.6 DEF
Cocoon
Cooldown: 4 turns
Places a 60% Increase DEF buff on this champion for 2 turns. Heals this champion by 20% of their MAX HP.
Level 2: Cooldown -1
Damage Multiplier: 5.3 DEF
Enervation [DEF]
Cooldown: 5 turns
Attacks 1 enemy. Decreases the target's Turn Meter by 100%. Places a 30% Decrease SPD debuff for 2 turns.
Level 2: Damage +5%
Level 3: Damage +5%
Level 4: Damage +10%
Level 5: Cooldown -1
Level 6: Cooldown -1
(Aura)
Increases Ally DEF in Faction Crypts by 27%
Recommended PVE Artifact Sets
Recommended PVP Artifact Sets