Sicia Flametongue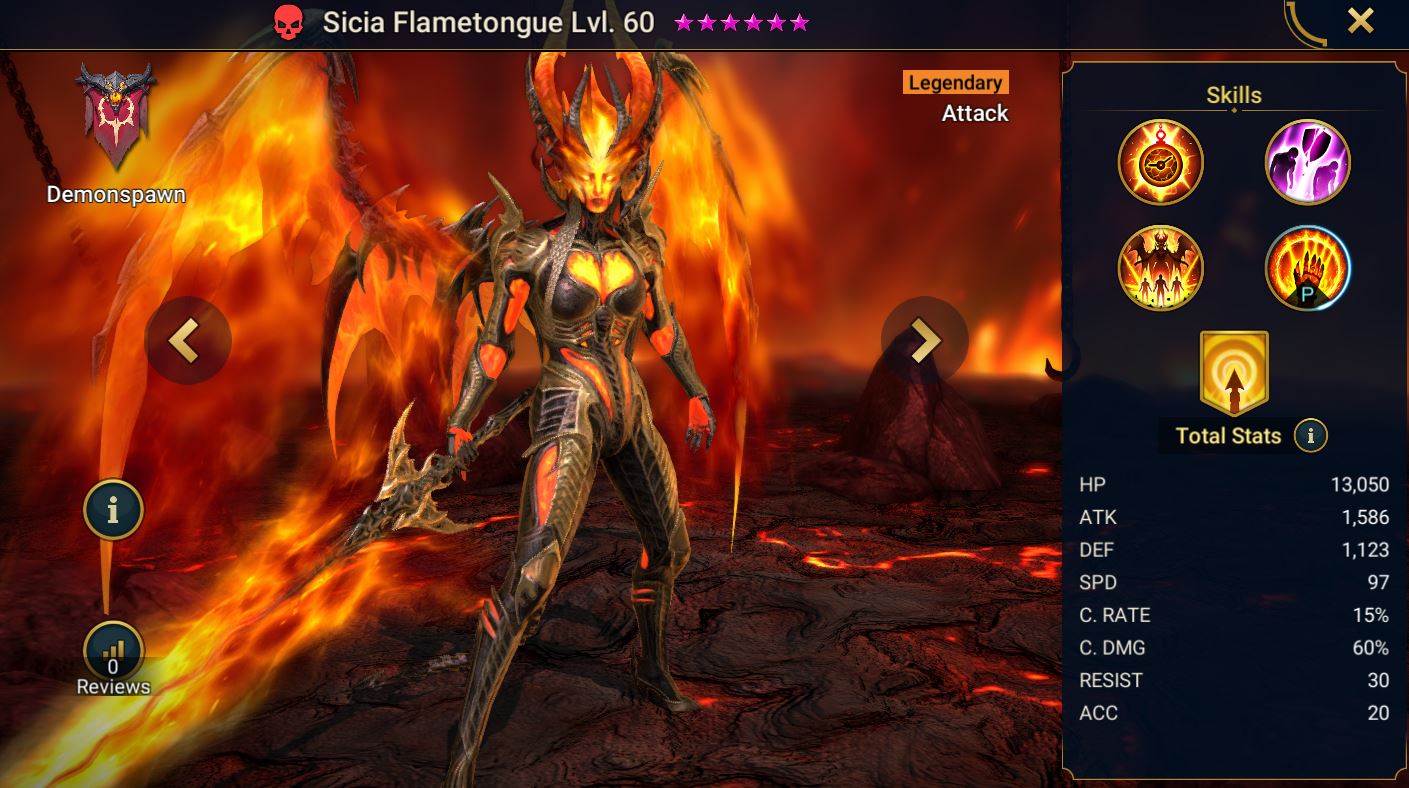 Champion Overall Rating:

4.5
Key Areas
| | |
| --- | --- |
| Arena Def: | 8 |
| Arena Atk: | 10 |
| Clan Boss: | 8 |
| Faction Wars: | 10 |
Dungeons
| | |
| --- | --- |
| Spider: | 10 |
| Fire Knight: | 10 |
| Dragon: | 8 |
| Ice Golem: | 9 |
Doom Tower
| | |
| --- | --- |
| Magma Dragon: | 4 |
| Frost Spider: | 10 |
| Nether Spider: | 4 |
| Scarab King: | 3 |
Sicia Flametongue
Sicia Flametongue is a Force affinity legendary from the Demonspawn Faction. Sicia was introduced into Raid during the Valentines day patch 3.30 alongside the fusion champion Astralon.
Sicia has a unique ability to deal HP burn damage instantly similar to champions who can cause poison to deal instant damage. This ability would be amazing for Spider however Sicia is negative affinity for Spider 20. That said she then gets another turn on her A3 and can force each enemy to take a burn tick from all enemies making her damage output great for affinity friendly encounters. Sicia also brings a valuable ACC in all battles aura so will also be able to help in Doom Tower and Faction Wars.
Lots of damage and burning enemies!
Towering Inferno
Attacks 1 enemy 3 times. Each hit has a 15% chance of increasing the duration of (HP Burn) debuffs on the target by 1 turn.
Level 2: Damage +5%
Level 3: Buff/Debuff chance +5%
Level 4: Damage +10%
Level 5: Buff/Debuff Chance +10%
Damage Multiplier: 1.05 ATK
Flame Eruption
Cooldown: 4
Attacks all enemies. Has a 80% chance of placing a 25% (Weaken) debuff for 2 turns. Also has a 80% chance of placing a 60% (Decrease DEF) debuff for 2 turns if there are a least 2 enemies under (HP Burn) debuffs. Then instantly activates any (HP Burn) debuffs on each target and decreases the duration of those (HP Burn) debuffs by 1 turn.
Level 2: Damage +5%
Level 3: Buff/Debuff chance +10%
Level 4: Damage +10%
Level 5: Buff/Debuff chance +10%
Level 6: Cooldown -1
Damage Multiplier: 3.7 ATK
Firestorm Rite
Cooldown: 5
Places a (HP Burn) debuff on this champion for 3 turns, then attacks all enemies. Has a 75% chance of placing a (HP Burn) debuff on all enemies for 3 turns. Grants an Extra Turn if a (HP Burn) debuff is placed on all enemies.
Level 2: Damage +5%
Level 3: Buff/Debuff Chance +10%
Level 4: Damage +15%
Level 5: Buff/Debuff chance +15%
Level 6: Cooldown -1
Damage Multiplier: 3.5 ATK
Metaphysics (Passive)
Increases this champion's SPD by 3 and damage inflicted by 3% for each ally and enemy under a (HP Burn) debuff. If Cardiel is on the team, all allies will heal by 3% of their MAX HP from (HP Burn) debuffs instead of receiving damage and losing HP.
Level 2: Buff/Debuff Chance +5%
Level 3: Buff/Debuff chance +5%
Level 4: Buff/Debuff chance +5%
Aura
Increases Ally ACC in all Battles by 60
ACC, SPD, C.RATE, C.DAM, ATK%, HP%
Recommended PVE Artifact Sets
Savage, Cruel, Perception, Speed, Accuracy
ACC, SPD, C.RATE, C.DAM, ATK%
Recommended PVP Artifact Sets
Savage, Cruel, Perception, Speed, Accuracy