Warlord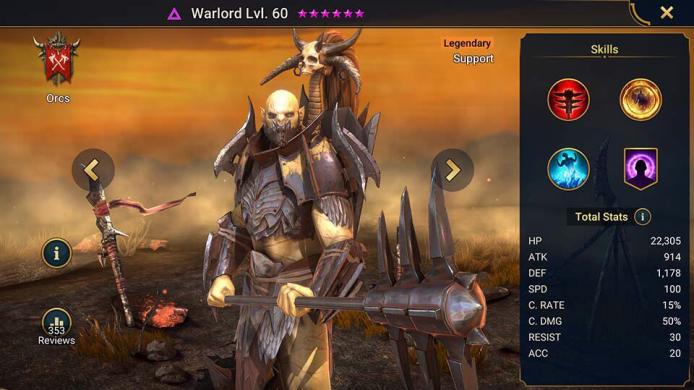 Champion Overall Rating:

5
Arena & Faction War GOD
Key Areas
| | |
| --- | --- |
| Arena Def: | 10 |
| Arena Atk: | 10 |
| Clan Boss: | 10 |
| Faction Wars: | 10 |
Dungeons
| | |
| --- | --- |
| Spider: | 9 |
| Fire Knight: | 8 |
| Dragon: | 9 |
| Ice Golem: | 10 |
Doom Tower
| | |
| --- | --- |
| Magma Dragon: | 8 |
| Frost Spider: | 6 |
| Nether Spider: | 7 |
| Scarab King: | 10 |
Warlord
Warlord is a Void affinity Orc legendary champion. Warlord has a unique ability in Raid: Shadow Legends able to completely lock out all enemies skills on maximum cooldown with his A3 whilst simultaneously having a 70% chance of reducing everyone's turn meter! This skill is his signature skill and can single handily win Arena battles. This skill paired with his shield, Block Debuffs buff and heal on his A2 also make him viable as a protector in any Dungeon or Faction Wars where he has GOD status.
Warlord was my first Void legendary and I used him in Clan Boss right through to end game making use of his ability on his A1 to extend the duration of all debuffs on the Clan Boss. If you were to use him on Clan Boss he is far more effective if you manual the fight.
Overall an exceptional Legendary!
Bludgeon [ATK]
Attacks 1 enemy. Has a 25% chance of increasing the duration of all debuffs on the target by 1 turn.
Level 2: Damage +5%
Level 3: Damage +5%
Level 4: Buff/Debuff chance +5%
Level 5: Buff/Debuff chance +10%
Damage Multiplier: 5 ATK
Protection of Gods
Cooldown: 4 turns
Places a Block Debuffs buff on all allies for 1 turn. then places a Shield buff on all allies for equal to 30% of this Champion's MAX HP for 2 turns. Heals all allies by 25% of their MAX HP.
Level 2: Cooldown -1
Orcish Rituals [ATK]
Cooldown: 5 turns
Attacks all enemies. Has a 70% chance to put each target's Skills on cooldown. Has a 30% chance to fully deplete each target's Turn Meter.
Level 2: Buff/Debuff Chance +5%
Level 3: Buff/Debuff Chance +5%
Level 4: Buff/Debuff Chance +10%
Level 5: Buff/Debuff Chance +10%
Level 6: Cooldown -1
Damage Multiplier: 5.5 ATK
(Aura)
Increases Ally RESIST in all battles by 80
ACC, SPD, HP% C.RATE, C.DMG, DEF%
Recommended PVE Artifact Sets
Lifesteal, Immortal, Speed, Accuracy, Perception
Recommended PVP Artifact Sets
Speed, Accuracy, Perception, Immortal, Resist