Skartorsis
Last Updated: April 9, 2022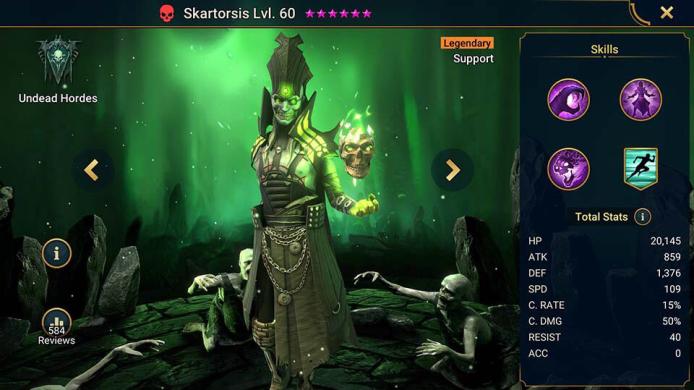 Champion Overall Rating:

3
Progression Carry
Key Areas
| | |
| --- | --- |
| Arena Def: | 8 |
| Arena Atk: | 6 |
| Clan Boss: | 4 |
| Hydra: | 6 |
| Doom Tower: | 7 |
Dungeons
| | |
| --- | --- |
| Spider: | 8 |
| Fire Knight: | 6 |
| Dragon: | 8 |
| Ice Golem: | 8 |
| Iron Twins: | 5 |
Faction Wars
Damage:
Crowd Control:
Turn Meter Control:
Protection and Support:
| | |
| --- | --- |
| Magma Dragon: | 6 |
| Frost Spider: | 6 |
| Nether Spider: | 7 |
| Scarab King: | 7 |
| | |
| --- | --- |
| Eternal Dragon: | 4 |
| Celestial Griffin: | 4 |
| Dreadhorn: | 4 |
| Dark Fae: | 7 |
Skartorsis
A dark necromancer eluded death making a pact with the Crypt-King himself to carry on with his vile practises in secret in the darkness of Teleria.
Skartosis is the definitive Progression Legendary, a champion that may not have much use in the late to end game but in early to mid could absolutely carry your Team. When stats are quite hard to come by a 50% Increase attack with and Increase C.Rate buff can help your champions deal more damage to waves. In addition he brings a 33% speed aura for dungeons, the highest speed aura you can achieve. He has an AoE A1 ability allowing you to run him Stun artifact set for some crowd control.
In Patch 5.30 Skartorsis received some quality of life buffs to his A3, Rebirth. At 7 turns unbooked, this skill was just never available enough to be super helpful. This patch reduced the cooldown to 6 unbooked allowing you to have a full team cleanse (and normally a full heal as a result of the cleanse) every 4 turns. He now also cleanses before healing meaning any nasty Heal Reduction debuffs will no longer stop the healing.
Late game he can be used as an annoying Arena Defence champion utilising Counter Attack artifact and accessory sets to steal buffs on his A1.
Hand of Doom
Attacks all enemies. Has a 30% chance of stealing 1 random buff from each enemy.
Level 2: Damage +5%
Level 3: Buff/Debuff Chance +5%
Level 4: Buff/Debuff Chance +5%
Level 5: Damage +10%
Level 6: Buff/Debuff Chance +10%
Damage Rating
Multiplier: 4*ATKOverall Grading*: Average
Command - 4 Turn Cooldown
Places a 50% [Increase ATK] buff and a 30% [Increase C.RATE] buff on all allies for 2 turns.
Level 2: Cooldown -1
Rebirth - 6 Turn Cooldown
Removes all debuffs from all allies, then heals them and fills their Turn Meters. The amount by which each ally is healed increases according to the number of debuffs removed from them. The amount by which each ally's Turn Meter is filled increases according to the number of debuffs removed from them.
Level 2: Heal +5%
Level 3: Heal +5%
Level 4: Heal +5%
Level 5: Cooldown -1
Level 6: Cooldown -1
Aura
Increases Ally SPD in Dungeons by 33%
Offense
Defense
Support
Offense
Defense