Visix the Unbowed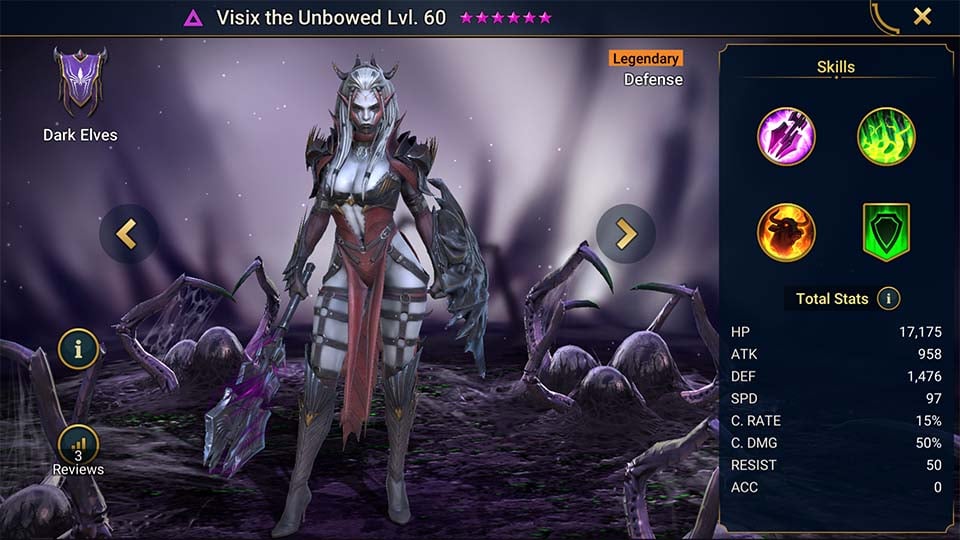 Champion Overall Rating:

4
Key Areas
| | |
| --- | --- |
| Arena Def: | 7 |
| Arena Atk: | 7 |
| Clan Boss: | 5 |
| Faction Wars: | 10 |
Dungeons
| | |
| --- | --- |
| Spider: | 8 |
| Fire Knight: | 8 |
| Dragon: | 8 |
| Ice Golem: | 9 |
Doom Tower
| | |
| --- | --- |
| Magma Dragon: | 2 |
| Frost Spider: | 6 |
| Nether Spider: | 8 |
| Scarab King: | 10 |
Visix the Unbowed
Visix the Unbowed is a Void affinity legendary from the Dark Elves faction. Visix is the login reward at day 270 and as a Void legendary there are high hopes. Visix was buffed in May 2021 and is now a strong carry champion to help you progress through wave-based content such as dungeon waves, Faction Wars and Doom Tower Waves.
She has an AOE provoke, and strong team utility with ally protection built into her A2. Paired with Scyl of the Drakes they totally dominate waves of enemies and the two together are a true force!
Visix finally has a chance to move out of the vault since her buff!
Flanged Mace [DEF]
Attacks 1 enemy 2 times. Each hit has an 80% chance of decreasing the target's Turn Meter by 15%. Fills this champion's Turn Meter equal to the amount the target loses.
Level 2: Damage +5%
Level 3: Damage +5%
Level 4: Buff/Debuff Chance +10%
Level 5: Buff/Debuff Chance +10%
Damage Multiplier: 1.6 DEF
Sinister Allies [DEF]
Cooldown: 4 turns
Attacks all enemies. Has a 75% chance of placing a 30% Decrease SPD debuff for 2 turns. Places a 50% Ally protection buff on all allies for 2 turns.
Level 2: Damage +10%
Level 3: Buff/Debuff Chance +5%
Level 4: Buff/Debuff Chance +10%
Level 5: Buff/Debuff Chance +10%
Level 6: Cooldown -1
Damage Multiplier: 3.5 DEF
Single Combat
Cooldown: 4 turns
Attacks all enemies and places a provoke debuff on them for 1 turn. Also places a shield buff on Visix equal to a 20% MAX HP.
Level 2: Cooldown -1
Damage Multiplier: 4.1 DEF
(Aura)
Increases Ally DEF in Faction Crypts by 37%
ACC, SPD, DEF%, C.RATE, C.DMG
Recommended PVE Artifact Sets
Lifesteal, Speed, Accuracy, Perception, Regeneration
ACC, SPD, DEF%, C.RATE, C.DMG
Recommended PVP Artifact Sets
Savage, Speed, Perception