Visix the Unbowed
Last Updated: July 27, 2022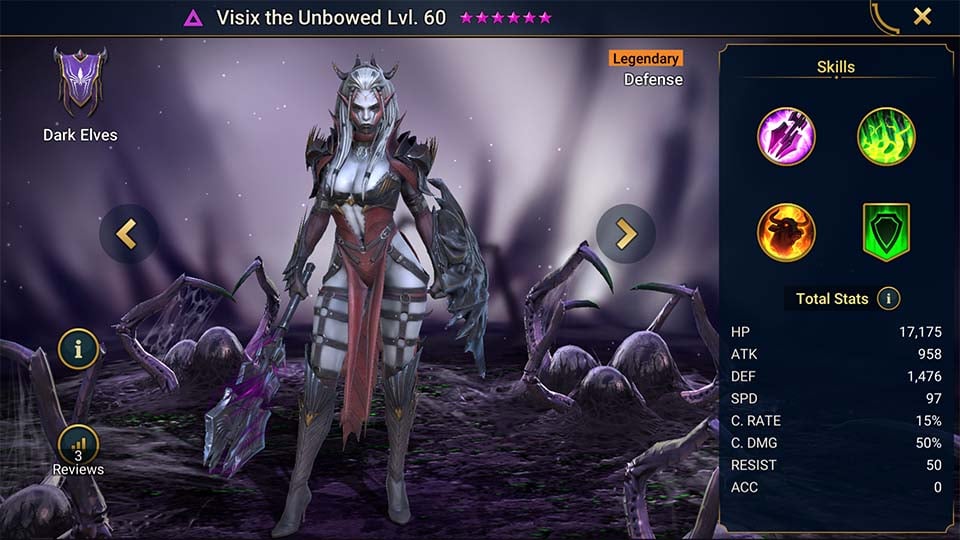 Champion Overall Rating:

4
Key Areas
| | |
| --- | --- |
| Arena Def: | 7 |
| Arena Atk: | 7 |
| Clan Boss: | 9 |
| Hydra: | 6 |
| Doom Tower: | 10 |
Dungeons
| | |
| --- | --- |
| Spider: | 8 |
| Fire Knight: | 8 |
| Dragon: | 8 |
| Ice Golem: | 9 |
| Iron Twins: | 6 |
Faction Wars
Damage:
Crowd Control:
Turn Meter Control:
Protection and Support:
| | |
| --- | --- |
| Magma Dragon: | 9 |
| Frost Spider: | 6 |
| Nether Spider: | 2 |
| Scarab King: | 10 |
| | |
| --- | --- |
| Eternal Dragon: | 7 |
| Celestial Griffin: | 6 |
| Dreadhorn: | 1 |
| Dark Fae: | 9 |
Visix the Unbowed
Visix the Unbowed was long considered a terrible void legendary champion, especially as it was the champion you received as a Login Reward. However Visix was buffed and now her kit actually makes a considerably strong carry for many areas of the game.
She is a speed and turn meter control freak dominating enemies with an AoE Decrease Speed on a 3 turn Cooldown when booked, perfect for high end content such as Hydra or for climbing the Doom Tower. She also brings one of the strongest Turn Meter control skills in the game in the A1. Only Armiger and Alure can compete with her when it comes to A1 Turn Meter reduction abilities. If you need to control enemies or slow them down, Visix is the perfect answer.
Not only does she control the enemy turn meters, she can also AoE Provoke making her especially useful in Hydra since the recent change to the Head of Decay (now provokable) and also against Kuldath, the Magma Dragon or in any content where you really don't want enemies using their skills. She also Provides your team with a 2 turn Ally Protection on a 3 turn cooldown which is especially powerful in keeping your team alive in Clan Boss if you have been unlucky and not yet acquired the more exotic Unkillable and Block Damage champions.
Visix use to be a meme but she is now quite the Queen of carry supports and one of the best Login Reward champions you get on your quest to conquer Teleria.
Flanged Mace
Attacks 1 enemy 2 times. Each hit has an 80% chance of decreasing the target's Turn Meter by 15%. Fills this champion's Turn Meter equal to the amount the target loses.
Level 2: Damage +5%
Level 3: Damage +5%
Level 4: Buff/Debuff Chance +10%
Level 5: Buff/Debuff Chance +10%
Damage Rating
Multiplier: 1.6*DEFOverall Grading*: Strong
Sinister Allies - 4 Turn Cooldown
Attacks all enemies. Has a 75% chance of placing a 30% [Decrease SPD] debuff for 2 turns. Places a 50% [Ally Protection] buff on all allies for 2 turns.
Level 2: Damage +10%
Level 3: Buff/Debuff Chance +5%
Level 4: Buff/Debuff Chance +10%
Level 5: Buff/Debuff Chance +10%
Level 6: Cooldown -1
Damage Rating
Multiplier: 3.5*DEFOverall Grading*: Strong
Single Combat - 4 Turn Cooldown
Attacks all enemies and places a [Provoke] debuff on them for 1 turn. Also places a [Shield] buff on Visix equal to a 20% MAX HP.
Level 2: Cooldown -1
Damage Rating
Multiplier: 4.1*DEFOverall Grading*: Strong
Aura
Increases Ally DEF in Faction Crypts by 37%
Offense
Defense
Support
Offense
Defense