Basileus Roanas
Last Updated: September 28, 2022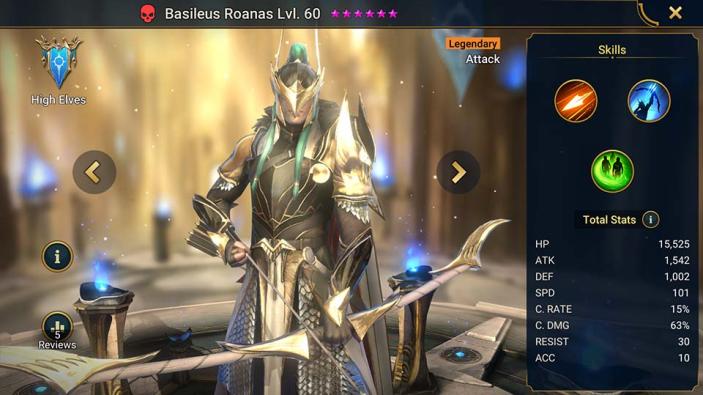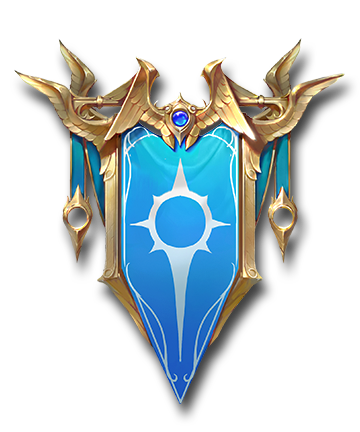 Champion Overall Rating:

3.5
Key Areas
| | |
| --- | --- |
| Arena Def: | 8 |
| Arena Atk: | 8 |
| Clan Boss: | 4 |
| Hydra: | 6 |
| Doom Tower: | 8 |
Dungeons
| | |
| --- | --- |
| Spider: | 9 |
| Fire Knight: | 8 |
| Dragon: | 9 |
| Ice Golem: | 6 |
| Iron Twins: | 2 |
Faction Wars
Damage:
Crowd Control:
Turn Meter Control:
| | |
| --- | --- |
| Magma Dragon: | 5 |
| Frost Spider: | 8 |
| Nether Spider: | 3 |
| Scarab King: | 4 |
| | |
| --- | --- |
| Eternal Dragon: | 7 |
| Celestial Griffin: | 4 |
| Dreadhorn: | 2 |
| Dark Fae: | 7 |
Basileus Roanas
Basileus Roanas is a master bowman that fits the description of High Elf perfectly. He is a Force affinity legendary from the High Elves faction. Basileus is overshadowed by extremely strong legendary and epic champions in the High Elves and will struggle to get into Faction War teams ahead of his fellow faction. He does however bring an AOE stun ability and some strong damage for the Arena and wave control. You will need to ensure you build enough accuracy to land his stuns to get the most out of his kit.
Basileus is a classic example of the issue of power creep in Raid, when released he probably dealt enough damage but with the raft of champions introduced over the past 18 months, Basileus simply was not hitting hard enough. In Patch 4.70, he received a significant increase in damage. His multipliers were increased between 50-80% and his A2 was adjusted to also ignore Defence Buffs. Additionally, his A3 was increased to 75% pre-books meaning he will be able to guarantee an AoE stun with decent damage.
He is a great alternative to Astralon if Magic is not a good affinity in the battle you are facing.
Bolts of Scorn
Attacks 1 enemy. Has an 80% chance of stealing 1 random buff from the target. Has an 80% chance of placing a Block Buffs debuff for 1 turn if the target has no active buffs.
Level 2: Damage +10%
Level 3: Buff/Debuff Chance +10%
Level 4: Damage +10%
Level 5: Buff/Debuff Chance +10%
Damage Rating
Multiplier: 3.6*ATKOverall Grading*: Godlike
Triple Puncture - 3 Turn Cooldown
Attacks 1 enemy 3 times. Will ignore [Increase DEF], [Shield] and [Block Damage] buffs, as well as 50% of the target's DEF.
Level 2: Damage +5%
Level 3: Damage +10%
Level 4: Damage +10%
Damage Rating
Multiplier: 1.8*ATKOverall Grading*: Godlike
Majesty - 4 Turn Cooldown
Attacks all enemies. Has a 75% chance of placing a Stun debuff for 1 turn. Decreases each target's Turn Meter by 50% if the Stun debuff is not placed.
Level 2: Damage +10%
Level 3: Buff/Debuff Chance +10%
Level 4: Damage +10%
Level 5: Buff/Debuff Chance +15%
Damage Rating
Multiplier: 3.7*ATKOverall Grading*: Strong
Offense
Defense
Support
Offense
Defense
Support
Offense