Doompriest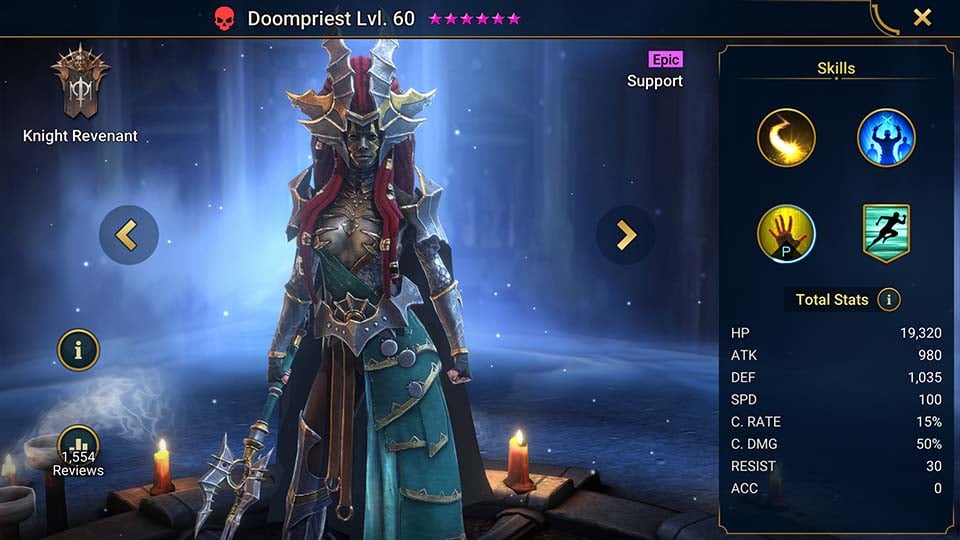 Champion Overall Rating:

4.5
Faction wars GOD
Key Areas
| | |
| --- | --- |
| Arena Def: | 6 |
| Arena Atk: | 6 |
| Clan Boss: | 9 |
| Faction Wars: | 10 |
Dungeons
| | |
| --- | --- |
| Spider: | 8 |
| Fire Knight: | 7 |
| Dragon: | 9 |
| Ice Golem: | 9 |
Doom Tower
| | |
| --- | --- |
| Magma Dragon: | 8 |
| Frost Spider: | 9 |
| Nether Spider: | 10 |
| Scarab King: | 8 |
Doompriest
Doompriest is a Force affinity Knight Revenant epic that is often overlooked despite her being one of the top 20 epics in the game.
She is one of the most valuable champions to take into Clan Boss when the affinity changes to Force, Magic or especially Spirit. This is because she has a passive which will cleanse 1 debuff off of every ally with every turn she takes. This same passive will cleanse debuffs the Clan Boss lays including the Stun on his third ability.
Doompriest has the same impact in a lot of dungeons such as Dragon, Ice Golem and Spider helping your team stay alive through the cleanse and heal passive ability. She also pairs really well with Ultimate Galek to allow his HP burn to activate on Spider 20 due to her Increase Atk ability.
Overall a fantastic epic and one of the most underrated epics in Raid: Shadow Legends.
Fate Weave [ATK]
Attacks 1 enemy. If the hit is critical, places a 15% Increase C.RATE buff on a random ally for 2 turns.
Level 2: Damage +5%
Level 3: Damage +5%
Level 4: Damage +5%
Level 5: Damage +10%
Damage Multiplier: 4.1 ATK
Mass Possession
Cooldown: 4 turns
Place a 50% Increase ATK buff on all allies for 2 turns.
Level 2: Cooldown -1
Bolster (Passive)
Heals all allies by 7.5% of their HP and removes 1 random debuff from them at the start of this champion's turn
(Aura)
Increases Force Ally SPD in all battles by 15%
Recommended PVE Artifact Sets
Lifesteal, Speed, Immortal, Shield
Recommended PVP Artifact Sets