Elhain
Last Updated: October 6, 2022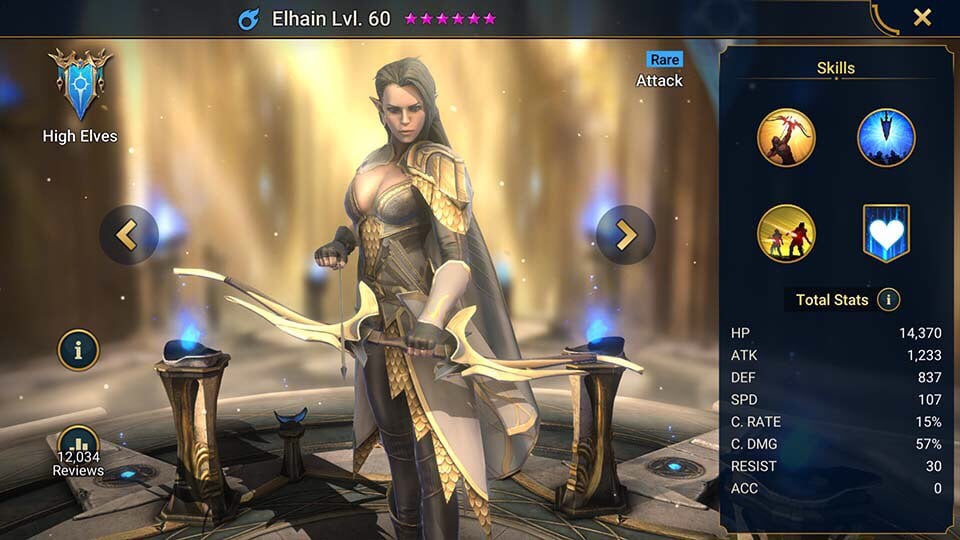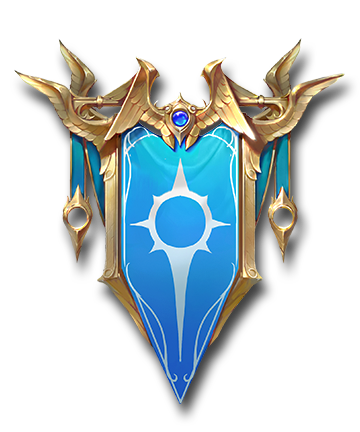 Champion Overall Rating:

2.5
Key Areas
| | |
| --- | --- |
| Arena Def: | 7 |
| Arena Atk: | 7 |
| Clan Boss: | 6 |
| Hydra: | 4 |
| Doom Tower: | 6 |
Dungeons
| | |
| --- | --- |
| Spider: | 4 |
| Fire Knight: | 6 |
| Dragon: | 5 |
| Ice Golem: | 6 |
| Iron Twins: | 2 |
| | |
| --- | --- |
| Magma Dragon: | 6 |
| Frost Spider: | 6 |
| Nether Spider: | 2 |
| Scarab King: | 7 |
| | |
| --- | --- |
| Eternal Dragon: | 6 |
| Celestial Griffin: | 4 |
| Dreadhorn: | 4 |
| Dark Fae: | 7 |
Elhain
Elhain is one of the starter champions in Raid: Shadow Legends. She was the champion that got eaten by the Dragon in the opening scene so should you revive her? She's good in arena with her nuke but that's all she has.
Elhain is a Magic affinity rare from the High Elves and like all starter champions is a solid rare capable of playing in all areas of the game. Elhain is thought of as the worst of the four starter champions, mainly because she does offer any strong debuffs against enemies. Elhain is all about damage and is pretty capable in that field.
If building as your all rounder you should concentrate on offensive and defensive masteries as she has no use of accuracy. Warmaster is usually the best pick for most situations.
Keen Shot
Attacks 1 enemy. Places an extra hit if this attack is critical.
Level 2: Damage +5%
Level 3: Damage +5%
Level 4: Damage +5%
Level 5: Damage +10%
Damage Rating
Multiplier: 2.2*ATK + 100Overall Grading*: Godlike
Lightning Arrow - 5 Turn Cooldown
Attacks 1 enemy, then all enemies. Has an extra 15% chance of inflicting a critical hit. Places a 30% Increased C. RATE buff on this champion for 3 turns if a target is killed.
Level 2: Damage +5%
Level 3: Damage +5%
Level 4: Damage +5%
Level 5: Damage +5%
Level 6: Cooldown -1
Damage Rating
Multiplier: 4*ATK (Single Target) 2.2 * ATK (AoE)Overall Grading*: Strong
Valley of Death - 3 Turn Cooldown
Attacks all enemies 2 times.
Level 2: Damage +5%
Level 3: Damage +5%
Level 4: Damage +5%
Level 5: Damage +10%
Damage Rating
Multiplier: 2.2*ATKOverall Grading*: Strong
Aura
Increases Ally HP in all battles by 15%
Offense
Defense
Support
Offense
Defense
Support
Offense
Defense