Karam
Last Updated: April 9, 2022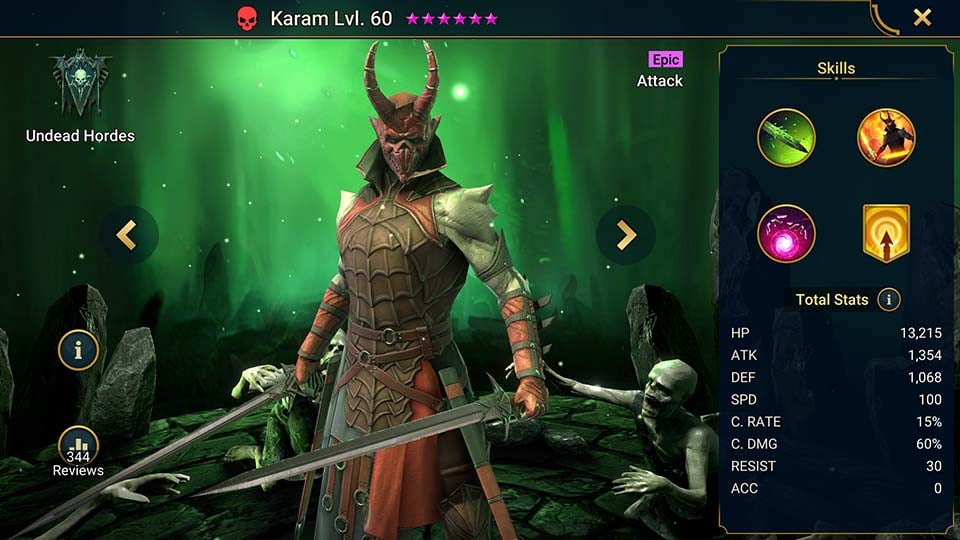 Champion Overall Rating:

2.5
Key Areas
| | |
| --- | --- |
| Arena Def: | 4 |
| Arena Atk: | 4 |
| Clan Boss: | 8 |
| Hydra: | 2 |
| Doom Tower: | 4 |
Dungeons
| | |
| --- | --- |
| Spider: | 4 |
| Fire Knight: | 2 |
| Dragon: | 8 |
| Ice Golem: | 8 |
| | |
| --- | --- |
| Magma Dragon: | 7 |
| Frost Spider: | 6 |
| Nether Spider: | 8 |
| Scarab King: | 1 |
| | |
| --- | --- |
| Eternal Dragon: | 6 |
| Celestial Griffin: | 4 |
| Dreadhorn: | 2 |
| Dark Fae: | 2 |
Karam
Karam is a Force affinity epic from the Undead Hordes. Karam was buffed in January 2021 to not use his poison explosion ability against the Clan Boss on auto. With a reasonable chance to land poison on his A1 he becomes a mid-tier prisoner however without any other true utility he will not go beyond that.
He is the wrong affinity for Ice Golem 20, and you should have a better poisoner for Clan boss you can bring into Dragon 20.
The strongest skill for Karam is his A3, potentially a boss slayer in areas such as Doom Tower but he needs to be paired with champions that lay a lot of poison, like Taurus or Dracomorph.
Bloodstained Swords [ATK]
Attacks 1 enemy. Has a 30% chance of placing a 5% Poison debuff for 2 turns.
Level 2: Buff/Debuff Chance +5%
Level 3: Buff/Debuff Chance +5%
Level 4: Buff/Debuff Chance +10%
Damage Rating
Multiplier: 4.3*ATKOverall Grading*: Strong
Fit of Rage [ATK] - 4 Turn Cooldown
Attacks 1 enemy. Has an extra 15% chance of inflicting a critical hit. Damage increases according to the amount of HP this champion has lost.
Level 2: Damage +5%
Level 3: Damage +5%
Level 4: Damage +10%
Level 5: Cooldown -1
Damage Rating
Multiplier: ATK*(4.8+(1-HP_PERC)*4)Overall Grading*: Godlike
Rot Away [ATK] - 6 Turn Cooldown
Attacks 1 enemy. Deals damage from all Poison debuffs on the target instantly.
Level 2: Damage +5%
Level 3: Damage +5%
Level 4: Cooldown -1
Level 5: Cooldown -1
Damage Rating
Multiplier: 6.5*ATKOverall Grading*: Strong
(Aura)
Increases Ally ACC in Faction Crypts by 40
Offense
Defense
Support
This champion is not recommended for use in PvP
Recommended PVE Artifact Sets
Lifesteal, Speed, Accuracy, Perception
Recommended PVP Artifact Sets