Maneater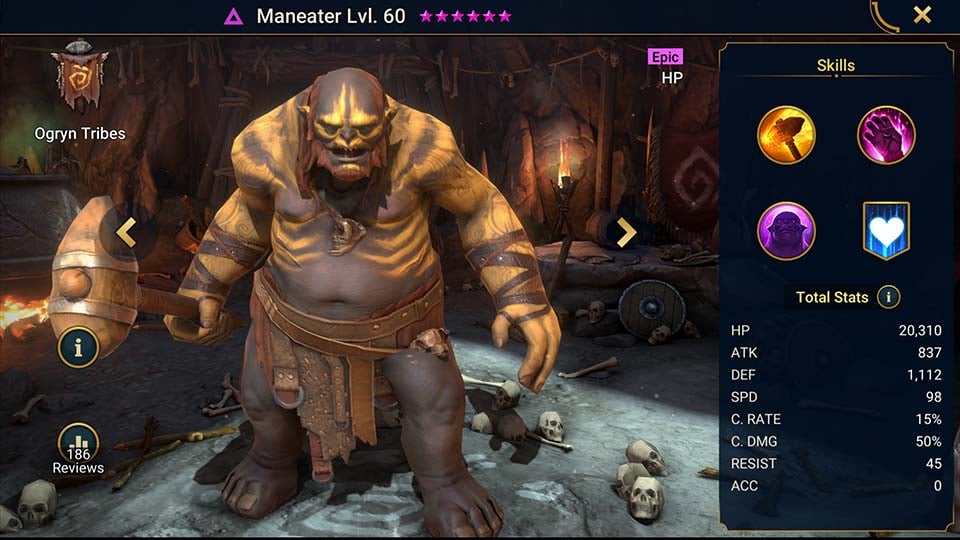 Champion Overall Rating:

4.5
Clan Boss GOD
Key Areas
| | |
| --- | --- |
| Arena Def: | 8 |
| Arena Atk: | 8 |
| Clan Boss: | 10 |
| Faction Wars: | 10 |
Dungeons
| | |
| --- | --- |
| Spider: | 10 |
| Fire Knight: | 7 |
| Dragon: | 8 |
| Ice Golem: | 8 |
Doom Tower
| | |
| --- | --- |
| Magma Dragon: | 5 |
| Frost Spider: | 8 |
| Nether Spider: | 4 |
| Scarab King: | 7 |
Maneater
Maneater is a Void epic from the Ogryn Tribes and potentially the most sought after champion in the entire game!
Maneater has an A3 which makes your entire team Unkillable for 2 turns whilst also blocking all debuffs. This ability once booked can enable teams to be built which do not let the Clan Boss hit you at all! Your team will run for a full 50 turns before Unkillable no longer prevents the Clan Boss from hitting you any longer. There are a lot of Unkillable teams built specifically around using 1 Maneater partnered with 1 Pain Keeper or with 2 Maneaters working together. These combinations are the easiest way to beat the Nightmare and Ultra Nightmare Clan Boss encounters.
Maneater is also a great champion for Spider, Dragon and Ice Golem although will not use his A2 ability on auto as his AI favours his A1 ability.
On Faction Wars Maneater is also one of the best in the Ogryn Tribes to keep your team alive, block the debuffs from bosses and reduce the turn meter of the final boss on stage 21.
Maneater is a truly amazing champion!
Pummel [ATK]
Attacks 1 enemy. Places a 50% Decrease ATK debuff on all enemies if this attack is critical.
Level 2: Damage +5%
Level 3: Damage +5%
Level 4: Damage +5%
Level 5: Damage +5%
Damage Multiplier: 5.5 ATK
Syphon [ATK]
Cooldown: 4 turns
Attacks 1 enemy. Fully depletes the target's Turn Meter. Fills this champion's Turn Meter equal to the amount the target loses.
Level 2: Damage +5%
Level 3: Damage +5%
Level 4: Damage +5%
Level 5: Damage +5%
Level 6: Cooldown -1
Damage Multiplier: 8.2 ATK
Ancient Blood
Cooldown: 7 turns
This champion receives damage, then places an Unkillable buff and a Block Debuffs buff on all allies for 2 turns. Damage received is equal to 5% MAX HP for each alive ally.
Level 2: Cooldown -1
Level 3: Cooldown -1
(Aura)
Increases Ally HP in Dungeons by 33%
Recommended PVE Artifact Sets
Speed, Accuracy, Perception
ACC, SPD, HP%, C.RATE, C.DMG, ATK%
Recommended PVP Artifact Sets
Speed, Lifesteal, Immortal, Cruel, Immunity